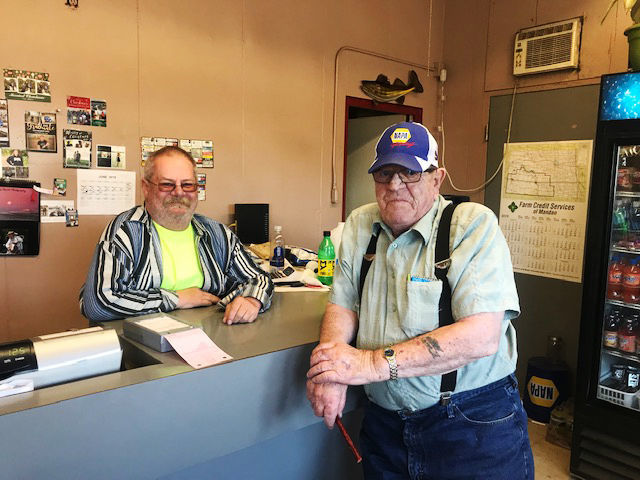 "If somebody wants to buy a cinnamon roll, by golly, if you read these rules, you probably better hand it to them wrapped and maybe taped and then maybe put in a sack and then tell them, 'Go back to your car and eat it, don't eat it in front of me.'"
-- LeAnn Harner, who runs a goat dairy northwest of Mandan, on proposed rules for North Dakota's cottage foods industry.
"These are precisely the types of things that we hope succeed and that we can partner with going forward."
-- U.S. Interior Secretary David Bernhardt, who toured potential sites in Theodore Roosevelt National Park for a proposed Roosevelt presidential library.
"He will be missed. Anytime you have someone in a position like that for that long, it presents challenges to replace him and opportunities as well. I wish him well and appreciate his government service to the citizens of our county."
-- Burleigh County Commissioner Mark Armstrong, on the pending resignation of longtime County Auditor/Treasurer Kevin Glatt.
"He's gotta get the parts out."
-- April Eide, of Bismarck, whose 80-year-old father, Floyd Frieze, of Mott, has logged hundreds of thousands of miles over nearly three decades delivering auto parts in southwestern North Dakota.
"We can put the hottest, nastiest stuff downhole."
-- Jacob Anderson, CEO of Hydroil Solutions, which proposes to construct a pair of "slurry wells" in McKenzie County for disposing of oilfield waste, including radioactive material.
"I'm not sure that we need another oilfield waste disposal site right in the same area."
-- Tri Township resident BJ Lindvig, on a proposal by Hydroil Solutions to construct a pair of "slurry wells" in McKenzie County for disposing of oilfield waste, including radioactive material.
"We think that this set of rule changes will tighten this up and prevent any increase in exposure. I can't fix where we're at right now, but we can avoid growing exposure."
-- State Mineral Resources Director Lynn Helms, on proposed oil and gas rule changes, several of which seek to halt the growing problem of abandoned wells and potential state liability for cleanup costs.
You have free articles remaining.
"When I was on the reservation, there were times when I was ridiculed, verbally ridiculed, harassed from a distance."
-- Cardinal Red Bird, originally of New Town, who has started a Two Spirit Society chapter in North Dakota to help promote inclusion for the Native American LGBTQ population.
"Without another interchange to the east of town, there's really no other area for commercial growth. It can't really go south because of the river, it can't go west, obviously, because of the river. It can't go east without another interstate, or interchange."
-- Bismarck Mandan Chamber EDC Vice President Nathan Schneider, on commercial growth in north Bismarck.
"We need more than 1,200 census team members, and (they) will be needed to contact households by mail and visit people in person. So while we made great progress, there's much more help still needed."
-- Lt. Gov. Brent Sanford, speaking at the opening of North Dakota's Area Census Office in Bismarck about the need for census workers around the state.
"These are documents that on paper have always been available to the public, and I think it's important that the court has recognized that making them available shouldn't necessarily make somebody get in a car and drive 100 miles. We should use the technology we have in the best way possible."
-- State Court Administrator Sally Holewa, talking about the January launch of remote, electronic access to North Dakota court system records.
"My goal as a group leader is to really to be able to get a few groups out in western North Dakota going. There's lots of quilting guilds out there, and I would love it if one of those groups started one Quilts of Valor group."
-- LouAnn Lee, leader of the Red River Quilters, a Quilts of Valor Foundation chapter in eastern North Dakota. Foundation chapters make custom-made quilts for military veterans.
"There's no consistent or conclusive link to one single thing that has been identified yet."
-- Clint Boots, epidemiologist with the state Department of Health, talking about the potential cause of vaping-related illnesses.
"I think it's good for defendants and it's good for taxpayers."
-- Rep. Karla Rose Hanson, D-Fargo, on a state pilot project that aims to keep indigent or less-serious offenders out of jail before trial.