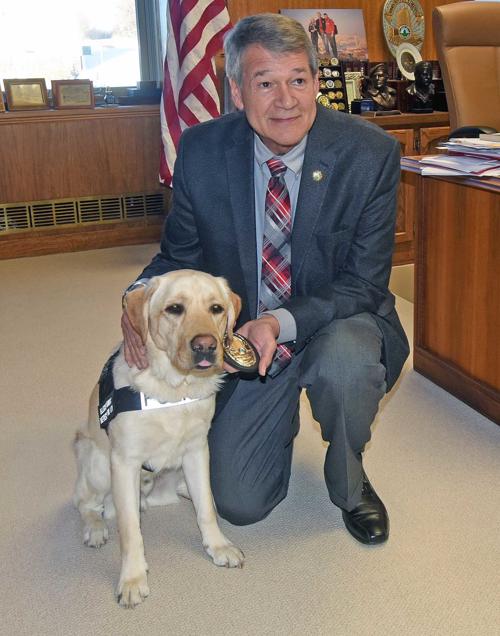 "Nine ounces. That's a lot of 8 balls."
-- South Central District Judge Bruce Romanick, talking to a drug defendant and using the street term for eighth-ounce measurements of illegal drugs.
"I really do miss him. Every time I go up that hill, it's like 'no Crawford.'"
-- Loretta Dunn, caregiver for the late Crawford Peltier, a Mandan resident who had health problems stemming from a head injury and became affectionately known as the "Mandan Greeter" due to his hobby of greeting vehicles passing on a busy street with a wave and a "yee haw!" He died last month from Lou Gehrig's disease.
"We're happy to have you on the team."
-- North Dakota Attorney General Wayne Stenehjem, introducing Hex, a K-9 agent with the state's Bureau of Criminal Investigation. The 2-year-old Labrador is trained to locate electronic devices such as hard drives, cellphones and memory cards -- items commonly associated with child pornography.
"A year and a half ago, if you said we'd be in the stained glass business, I'd say you're crazy."
-- Richard Ames, one of the parishioners at Messiah Lutheran Church in Mandan who are making stained glass windows for the church sanctuary.
You have free articles remaining.
"I apologize that we don't have enough space, but we do want everybody who wants to speak to have an opportunity to do that."
-- Burleigh County Commission Chairman Brian Bitner, on the group delaying a vote on whether to consent to the continuation of refugee resettlement in the county, due to an overflow crowd of people who wanted to weigh in.
"It's my most important work to date."
-- Bismarck photographer Shane Balkowitsch, on his photos of Swedish climate activist Greta Thunberg that are being archived in the Library of Congress in Washington, D.C., and the Swedish History Museum in Stockholm.
"Realizing the amount of work and effort that suffragists put in so that I have the right to go to vote makes me realize how important it is to vote and express my views."
-- Susan Wefald, the first woman to serve on the North Dakota Public Service Commission, and co-chairwoman of the North Dakota Woman Suffrage Centennial Committee.
"People have spent so much time and effort doing this … and the Health Department is just running roughshod over us."
-- North Dakota Food Freedom coordinator LeAnn Harner, on disputed rules that take effect Jan. 1 outlining how and what cottage foods can be sold in North Dakota.
"Our business right now is just like the car industry. It's starting to shift away from internal combustion engines to electric drive."
-- Troy Kraft, senior vice president of global engineering for Doosan Bobcat, as the company announced a $600,000 investment in its $43 million Bismarck-based Acceleration Center.