Did the pandemic -- and North Dakota's reliance on a vote-by-mail process for this month's election -- impact overall voter turnout? In brief, the scientific answer seems to be "probably not." 
By conventional scientific standards, election turnout in North Dakota is predictable. I used common statistical methods, along with statewide turnout rates from June 2000 to November 2018, to build a model of turnout. I then used this model to predict 2020 turnout rates. If actual turnout rates fall in line with my predictions, then the pandemic (and our reliance on vote-by-mail) didn't change statewide turnout beyond what we'd expect in a pandemic-free year. 
In my data set, the 20 elections from 2000 to 2018 are coded as either June primaries or November general elections. They also are coded as occurring in either a presidential election year or a midterm election year. The number of statewide ballot measures within each election also is included. Finally, I recorded turnout as reported on the Vote.ND.gov site. I used this information to systematically investigate which factors predict turnout in North Dakota. From there, I built the model of turnout mentioned above.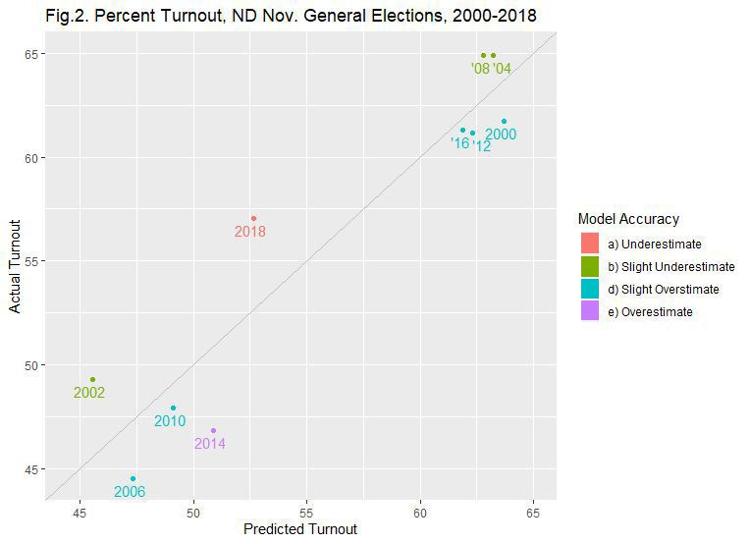 So, what did I find? First, I dropped ballot measures from the model because they failed to explain turnout. It's worth mentioning that in my September 2018 column, I did report the following: "The more measures on a ballot, the higher the percentage of voters who do vote on (rather than abstain from) a given measure." Additionally, it's worth mentioning that contentious ballot measures may impact turnout. Nevertheless, the sheer number of measures on a ballot does not seem to predict turnout. 
I also found that it didn't matter if a presidential election involved an incumbent (e.g. 2012) or not (e.g. 2016). As a result, I kept things simple and grouped all presidential elections together. Moving on, I examined the effects of midterm vs. presidential election status, June vs. November status, year, and interactions between these variables. Despite having only 20 past elections to draw upon, I developed a decent model of turnout. Like I said, election turnout in North Dakota is predictable. 
Ultimately, the model estimated June 2020 turnout would be 30.4%, give or take about 3.87 percentage points (the "standard error" of the 30.4% estimate). Thus, an actual June 2020 turnout rate between 26.5% and 34.2% would be unsurprising. It would also suggest that the pandemic and mail ballot process didn't disrupt our typical turnout trends.  
Was the model any good at predicting this month's turnout? Yes! Statewide turnout for the June 2020 election was 27.3%. This number is comfortably within the "unsurprising" range that I mentioned before (26.5%-34.2%). Now, it's possible that the mail ballot process brought in some lapsed voters. It's also possible that the pandemic made it too difficult for some North Dakotans to attend to the election. However, these forces were either too weak to significantly alter turnout, or they canceled each other out. Either way, we're left with a fairly predictable 2020 primary participation rate of 27.3%.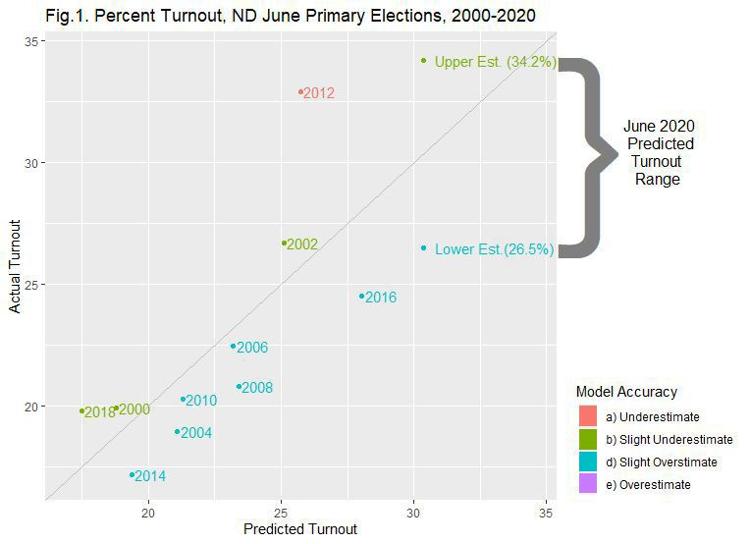 What does my model say about November's election? Well, it predicts statewide turnout will be 61.4%, give or take 3.76 percentage points. If November's actual turnout is outside that range, that could be evidence of a disruption of our typical turnout trends. In five months, we'll see what happens!
Ellie Shockley is a political psychologist, social scientist and education researcher. This column represents her personal views and not the views of any organization. She completed a doctorate at the University of Chicago and postdoctorate at Nebraska. She lives in Mandan. Find her past columns at EllieShockley.com
Catch the latest in Opinion
Get opinion pieces, letters and editorials sent directly to your inbox weekly!