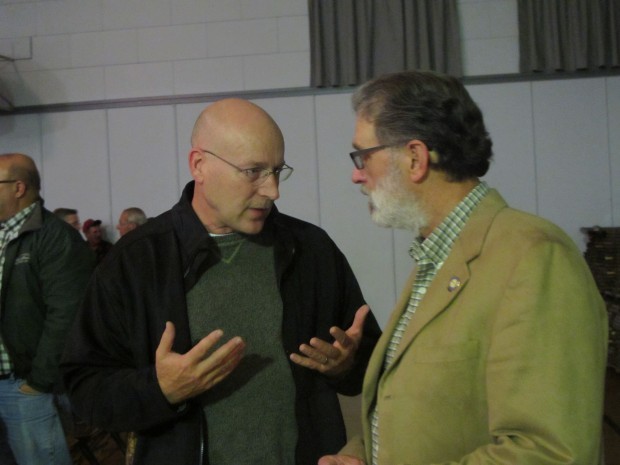 NEW ENGLAND - North Dakota's Department of Mineral Resources director looks north and sees something like a tsunami heading toward the agrarian countryside of Hettinger County and the deep southwest of North Dakota.
It's not that far off, and oil development will come over the countryside in a wave that will overwhelm people if they don't get ready now.
"That's why we're here. We don't want you to get blown away like some of your sister cities have," Lynn Helms told some 130 people who filled the stately Memorial Hall building on New England's Main Street on Thursday night to hear the latest.
He took the crowd on a geological tour of time from 300 million years ago, when the oil was formed, right into their very future, when it will be sucked from the earth on their farms and fields.
You could have heard a pin drop.
Outside the hall around New England, groups of men in orange vests, along with hunting dogs, were gathered here and there in the twilight after a day in the fields.
That traditional fall economic boost for towns in the pheasant belt may become old school when available housing goes to oil workers and the hunting grounds themselves are run over with thousands of semi trucks and oil construction.
Helms said the area south of Dickinson into northern South Dakota will be drilled slowly and methodically, as oil companies probe the oil formations and determine what drilling technology works best.
He said they'll first target the 10,000-foot deep Three Forks Formation, right below the Bakken, and then work to unlock the Tyler Formation, which is about a half-mile above it.
The key to the Tyler Formation will be in some sort of horizontal drilling technology, where long horizontal pipes pierce the formation and are used to fracture the dense rock.
The Tyler Formation has many of the same geologic characteristics of the Bakken, but it's a smaller reservoir, perhaps 15 billion to 50 billion barrels of oil, though most of it may not be recoverable.
"Nobody's put in a horizontal well yet, but they will," Helms said.
The first one - which will be located about five miles west of New England - is already permitted and will go into construction in December. Two more are in the works.
Helms said he expects that perhaps a dozen or so wells will be drilled each year for the first couple of years.
"Once they get the geology under their belt, you can expect 35 to 40 rigs to come on the scene very quickly," he said. When that happens, the Hettinger County area will be under the same siege as McKenzie, Williams and Mountrail counties, where about that many rigs are drilling now.
You have free articles remaining.
Helms said he did try to communicate a sense of urgency in that area three years ago, but encountered some hangover of doubt from the last oil boom.
"I understand that," he said. "But please don't do that."
Mark Resner, Hettinger County's economic developer, said the county is creating a comprehensive land use plan, plotting bypass routes around towns and setting up zoning rules for man camp housing.
Water will be a major problem for oil development in the southwest. It's semi-arid there and Helms said "the state is not going to let the oil companies come in here and suck the aquifers dry." Each oil well gulps
4 million gallons of water for fracturing in as many as
That's billions of gallons of water if some 7,000 oil wells are drilled in the Hettinger County region, as Helms expects.
"Where are you going to go for water in southwestern North Dakota? We're not really sure how to take care of that,"he said.
All that frack water, as well as the salt water that comes up with oil, will have to be disposed of in injection wells.
Helms said there's a need for three saltwater disposal wells in every township and as many as 1,500 more altogether to manage the water waste from all of the drilling in the oil zone.
"People don't like them as a neighbor. They generate tremendous truck traffic," he said. "All these things have to be thought about."
He warned the audience that the landman who comes by to strike a surface use agreement for an oil well pad will be only the first in a line. Others will come for electric line easements, pipeline easements and more.
"Once the landman comes to your door, you'll get seven of his evil twins coming behind him," he said.
He described the Bakken as the biggest oil field on earth at 15,000 square miles and growing as horizontal drilling development moves southwest into the Tyler Formation.
"This is not like any 20th-century oil field we've ever seen. We're getting more oil than we ever thought we could out of North Dakota," he said.