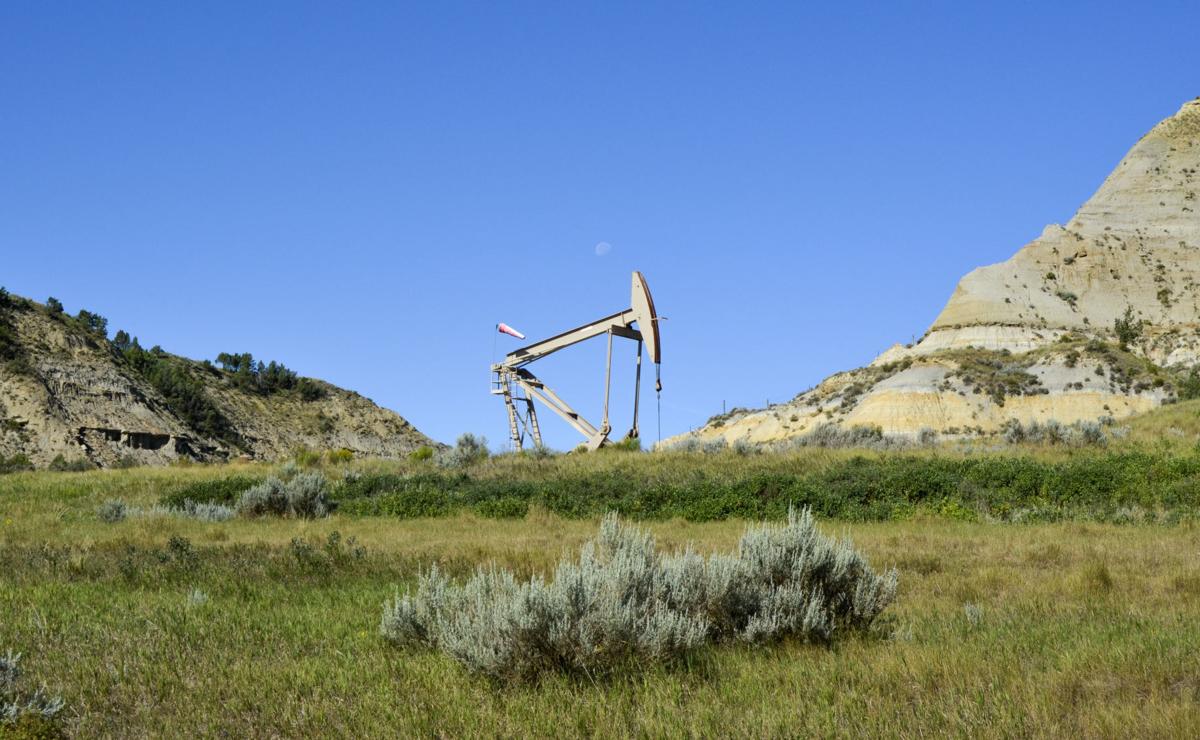 On the best day I've had this year, I scrambled up buttes and scanned the grass for rattlesnakes while hiking through four oil fields.
This was deep in the Badlands on a stretch of the Maah Daah Hey Trail, far from any paved roads or the more popular north and south units of Theodore Roosevelt National Park.
I came across a few pump jacks, not unexpectedly, as I had stayed up late earlier in the week studying the area's oil wells via an online map maintained by the North Dakota Oil and Gas Division. I'd wanted to learn about the well next to the Magpie Campground where I'd planned to pitch my tent (Cenex drilled it in 1984 and another operator later extended it horizontally underground, in case you ever camp there and want a piece of nerdy energy trivia to share around the fire).
I couldn't help but notice that the map shows outlines for what seem to be a gazillion oil fields throughout the western half of the state -- actually, there are 595, as I later learned. After consulting the map again upon my return home, I determined that I must have gone through parts of the Magpie, North Elkhorn Ranch, Devils Pass and Buckhorn fields.
While I pondered the geography, a question crept up: What, exactly, is an oil field, and why are there so many? As an energy reporter in North Dakota, I felt a bit ashamed to not know the answer.
So I reached out to the Oil and Gas Division to find out. I connected with Mark Bohrer, who manages the state's underground injection control and treating plant programs.
Historically, he told me, the state would establish a new oil field upon the discovery of a trap underground where oil collects below an impermeable layer of rock. Regulators would draw boundaries for the field based on where in the area companies thought they could produce oil. Each field has different rules regarding the location, drilling and production of wells, Bohrer said.
The state's oil fields are not consistent in size. The smallest, North Mouse River Park in Renville County, covers just 40 acres. The largest, Murphy Creek in Dunn County, is 203,800 acres.
Some of the larger oil fields were established within the past decade amid a drilling frenzy ushered in by the Bakken boom. Their boundaries tend to be based less on geology and more on what makes logical sense, such as the border of a township, Bohrer said.
He also told me that, no, there is no single "Bakken Oil Field." The Bakken refers to a rock formation deep underground, where many of the wells drilled today in North Dakota source their oil.
One perk of Bohrer's job is that when an oil company wants to drill a well outside of any existing oil fields, he's the guy who gets to name the new field the state establishes. To do so, he leaves his desk in the Oil and Gas Division offices to consult a map of the state, which he scans for features such as coulees, buttes and sloughs.
"I look for one that is right within or in very close proximity to the area where we're looking to establish a field," he said.
He named the state's most recent oil field Feldner Coulee after a feature by the same name. The oil field, established in January 2019, is in Renville County.
Bohrer said the Oil and Gas Division a while back went through a Theodore Roosevelt kick, giving fields names such as Rough Rider, Big Stick and Four Eyes, which is the taunt Roosevelt (who wore glasses) received from a man he once fought in a bar.
The oil field with, arguably, the most interesting name is called Poker Jim in McKenzie County.
It was established before naming responsibilities fell to Bohrer 15 years ago, but he read up on its history in a story published by the Sidney Herald newspaper. A cowboy named Jim left the ranch where he worked to pick up groceries and supplies in Glendive, Mont., and he attempted to return during a blizzard.
Jim died out in the cold and was later found by his friends, who brought his body back to the ranch. They could not bury him at the time because the ground was frozen, so they stored his body high up in the blacksmith shop.
"They were having a poker game one night and they started a fire to heat up the building," Bohrer recounted.
The warm air prompted Jim's body to thaw, "and eventually he fell out of the rafters and fell onto the poker table," Bohrer said.
Jim's buddies later buried him in a cemetery that now bears his name. I hope to visit his grave one day on another camping trip.
I'm told to expect numerous cows en route to the Poker Jim Cemetery along a gravel road that meanders through prairie and badlands. I imagine I'll see a number of pump jacks too, bobbing up and down in the oil field whose name will forever reflect Jim's unfortunate fate.
Newsroom Notebook is a periodic column written by members of the Tribune newsroom that focuses on our community and everyday life.
Be the first to know
Get local news delivered to your inbox!