All three Morrell brothers joined the Marine Corps after high school, because, recently asked why, Roger and Ray responded, "Why not?"
Roger, Tom and Ray Morrell, graduates of Mandan High School, enlisted one after the other. Roger was the first to join just six months after graduation in 1980. Tom enlisted in 1983, and Ray in 1985.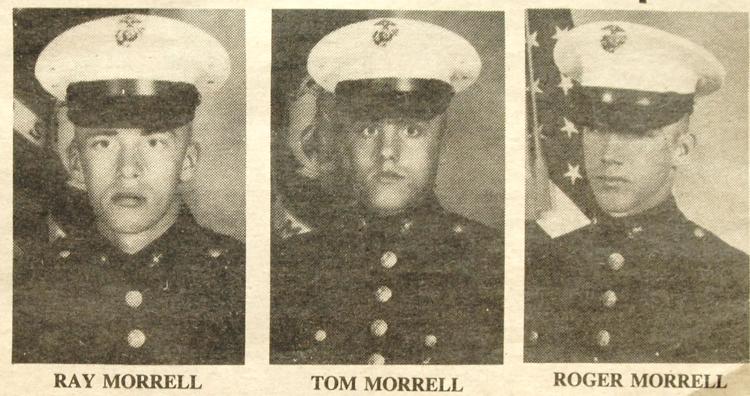 The Morrell name is "synonymous with Mandan," Ray says of the family with seven Morrell children, four girls and three boys.
"We're related to everyone," Roger says, and then laughs.
Roger, now 55, joined the Marine Corps because his life was quickly spiraling out of control, he said.
"Let's just say I had a problem with authority," Roger said.
Ray, now 49, graduated high school in 1985 and planned to ship out to Marine Corps boot camp, but a car accident put a small dent in his plans.
On graduation night in 1985, his '64 Chevrolet Impala with crushed velvet interior — as he so fondly remembers — was totaled after he crashed into a light pole trying to avoid a rear-end collision. He suffered a head injury, but, six months later, he signed a waiver and went to boot camp.
Since a young age, Ray knew he wanted to be a Marine.
"My mom can attest to this: I was 13 years old, filling out Marine Corps recruiting cards … so they were calling my home and mom would answer the phone (and say), 'You know he's only 13, right?'" he said.
A deceased brother
Their late brother, Tom, died June 14, 1987, while working as a military policeman. Tom, who was 21 at the time, died from injuries he sustained after falling from a four-story jet engine test cell at a Marine Corps Air Station in Yuma, Ariz.
"He wanted to be a cop, and he became an MP," Ray said of his brother whose name is enshrined in a memorial for fallen law enforcement officers in Washington, D.C.
Roger and Ray did 13 weeks of Marine Corps boot camp in San Diego. From there, Roger did additional logistics training for three months and Ray did aviation ordnance training for six months.
"You do nothing without being told," Roger said of boot camp.
Despite his self-described problem with authority, Roger conceded it was a shock, but he learned quickly.
After job training, Ray was first stationed in Hawaii, but he traveled to 32 states and five countries during his six years in the Marine Corps.
"My first year I had over 150,000 air miles," he said. "I truly enjoyed it."
As an aviation ordnance technician, it was Ray's job to load the bombs, rockets and explosives onto aircraft and maintain the weapons systems.
Roger was first stationed in El Toro, Calif., and he was part of a Marine group that did ground supply. His experience in the Marine Corps includes other jobs, including air supply, motor transport and Marine security guard.
"I've been around the world twice," said Roger, who has seen 10 countries and spent 10 years in California. Most recently, he lived in Quantico, Va., before recently moving back to North Dakota.
Action in Beirut
Roger was a Marine security guard in Beirut, Lebanon, during significant bombing on Oct. 23, 1983, when more than 225 Marines died. Roger was off-duty on the day of the attack, playing softball with other soldiers on the American University of Beirut campus.  He remembers immediately going into lockdown.
Ray, a sophomore in high school at the time, remembers that day, and being "glued to CNN trying to find any glimpse" of Ray's status "because I've got mom and the rest of the family."
It was two days before Roger got the opportunity to call home.
"They were concerned from the get-go," Roger said. "But it's where I wanted to go, it's exactly what I wanted to do, because it's different. I had purpose."
Roger then went to Helsinki, Finland, as a Marine security guard working as part of the entourage with President Ronald Reagan and Mikhail Gorbachev. After that, he came back to the United States and did logistics.
Civilian life
After six years as a Marine, Ray returned home and later became heavily involved in his community. His first job when he got home was as a carpet layer — the first thing he could get. He thought it was important to start working right away and get back on his feet making money.
Ray is the commandant of the Dakota Leathernecks Detachment #1419 of the Marine Corps League, which was chartered in 2014. His current largest undertaking is the renovation of a more than 100-year-old Price Consolidated School building west of Mandan. Marines are fixing it up to become a clubhouse for the group.
Ray said there's a real need for a place where Marines can come together.
"We are our own breed of people. We have our own language. We have our own way of doing things," he said. "And to understand that, first off, you have to be a Marine."
The group also is developing a plan of action to address veteran suicides, according to Ray, who said,lLast year, through social media, he was approached five times in regards to suicides and attempted suicides of Marines.
"They're coming home and they don't know what to do," Ray said. "They're sitting there spinning around trying to figure out where their life is."
When Roger left the Marine Corps in 1999, after 19 years of service, he decided he need some R&R.
"I just sat back and relaxed for a little bit, because it was just necessary," said Roger, who was married and resided with his wife in Quantico.
He found a job as a buyer for a local company, buying machines and tearing them apart to sell the parts. After that, he worked for General Dynamics, as part of the information technology team that renovated the Pentagon post-9/11.
Roger recently moved back home to be closer to family and lives just south of Tappen.