A two-wave winter storm expected to bring heavy snow, strong winds and blizzard conditions to western and central North Dakota began tracking just a bit farther east than expected on Thursday, sparing the Bismarck-Mandan area from the worst impacts but still affecting travel.
Roads and highways in the region were ice- or snow-covered, and the state Department of Transportation issued a travel alert for north central and south central North Dakota. That means motorists can still travel but should be aware of dangerous conditions. Numerous flights were delayed or canceled at the Bismarck Airport. 
The first significant snowfall of the season led to 35 confirmed vehicle accidents in Bismarck as of late afternoon, with seven more in Mandan. A semitrailer traveling westbound on Interstate 94 ended up on its side in the ditch west of Sterling. The Highway Patrol did not immediately have details.
"It has been a busy day for crashes," Bismarck Police Lt. Luke Gardiner said, adding that only one injury was reported and it appeared to be minor.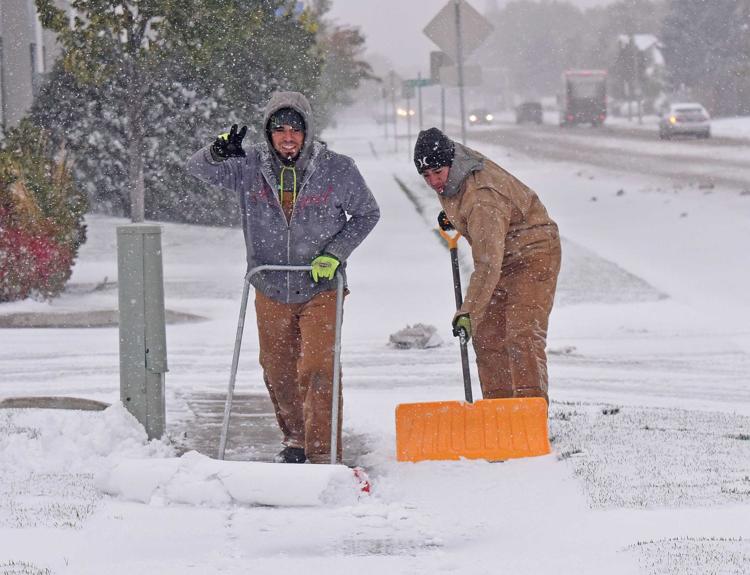 There also was one minor injury crash in Mandan, according to Police Lt. Pat Haug.
Bismarck road crews began sanding city streets at 5:30 a.m., when the bad weather arrived, the Public Works Department said. Crews planned to begin plowing emergency routes at 2 inches of snow. Snow was melting on many roadways at midday, though more snow was expected overnight.
Bismarck at midday was on the cusp of setting a daily record for snowfall, but the bar was low -- the city's Oct. 10 record is 2.3 inches in 1959.
Initial storm forecasts for western and central North Dakota predicted as much as 15 inches of snow in the first wave and up to another foot in a second wave Friday into Saturday. Expectations were lowered Thursday to less than 10 inches for most areas, with the anticipated heavy amounts falling to the east. The National Weather Service lifted a storm warning for south central North Dakota in the afternoon and replaced it with a winter weather advisory. Most of the western third of the state was no longer under any sort of storm warning or advisory.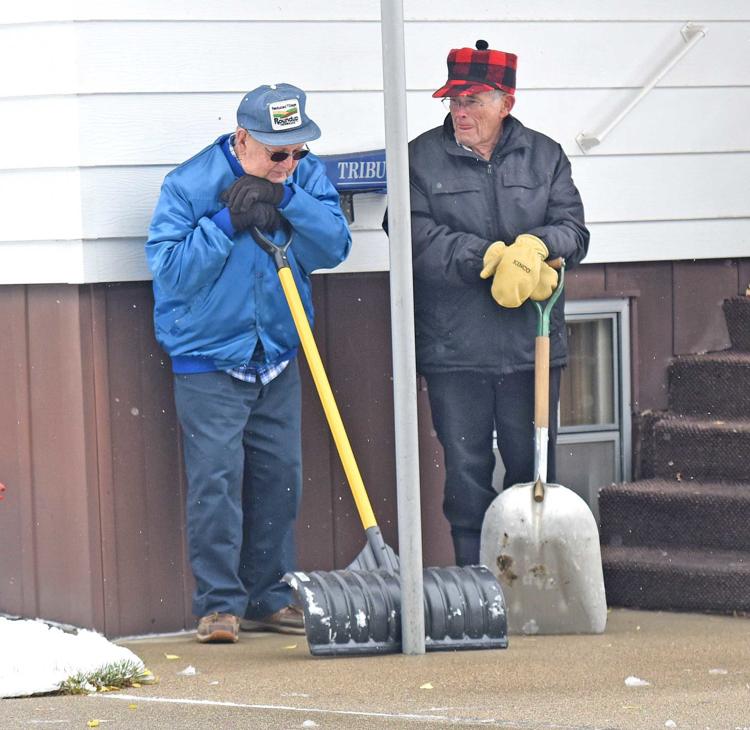 "Jamestown might be in the middle of it, but we might miss out by a hair," weather service meteorologist Alex Edwards said.
You have free articles remaining.
As for blizzard conditions, "I think we're out of that range," he said of the Bismarck-Mandan area.
Storms sometimes have a "tight gradient" -- meaning there's a line where there is a steep drop-off in snowfall amounts to either side, Edwards said.
For example, while Minot was expected to get 10 inches or less of snow from the two waves, Harvey could get as much as 3 feet, according to weather service forecast graphics.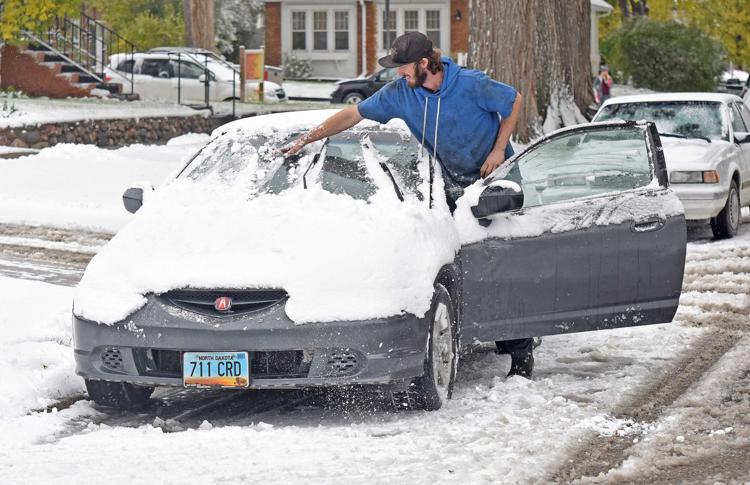 "Sometimes an area can miss out on what we thought would be a high amount, or sometimes it might be an unexpectedly high amount," Edwards said.
The weather was still impacting some sites and events in the region. Knife River Indian Villages National Historic Site near Stanton shut down for the day, and Fort Mandan near Washburn called off tours. Fort Abraham Lincoln State Park said its Haunted Fort holiday attraction would not be open Friday and Saturday night. The state boys soccer tournament at Starion Sports Complex in Mandan was postponed a week.
Power outages were a big concern in areas with high snowfall amounts, with wet, heavy snow piling up on leaf-laden trees. That can lead to broken branches and downed power lines. A similar storm at the same time last year led to widespread outages in eastern North Dakota.
The PowerOutage.us tracking website did not report any widespread outages in North Dakota as of late afternoon. It did report about 300 outages in McLean County.
State Agriculture Commissioner Doug Goehring and Gov. Doug Burgum issued a joint statement expressing support for farmers and ranchers who have been struggling in the midst of extremely wet weather and now an early snowstorm. The state is exploring potential help such as seeking a federal disaster declaration.
"This difficult harvest season is putting farmers and ranchers under tremendous stress, both emotional and financial," Burgum said. "Just as we did during the drought of 2017, we're exploring every avenue to assist producers through these unseasonably and extremely wet conditions."
Reporter Travis Svihovec contributed to this story.