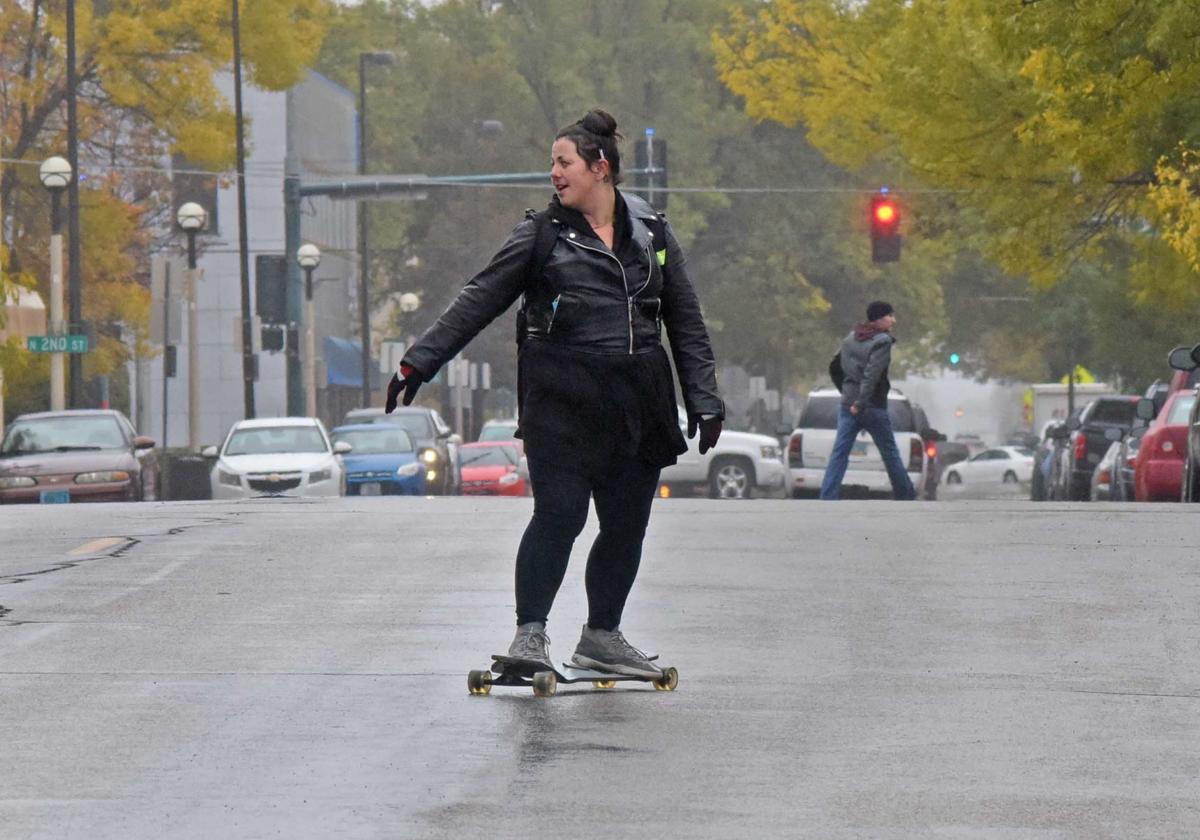 Storm systems expected to deliver a "one-two punch" in the Northern Plains could dump up to 2 feet of snow on parts of North Dakota and create blizzard conditions, National Weather Service forecasters said Wednesday.
Much of western and central North Dakota was under a winter storm warning, with up to 15 inches of snow possible over a wide area. The biggest impacts were expected in a diagonal swath from Elgin, southwest of Bismarck, up through the Langdon area to the northeast, according to weather service meteorologist Jeff Schild.
"It looks like either side of a foot (of snow) is possible," he said.
The warning is in effect from Wednesday afternoon into early Friday. The weather service also posted a winter storm watch for Friday morning through Saturday morning, with an additional 6-12 inches of snow possible in the second wave. That means some areas, particularly from the Steele area northward to the Turtle Mountains, might be at risk of 2 feet of snow by the end of the weekend.
"This is a storm we're quite concerned about (but) there's still a fair amount of question about the path of this storm," Schild said of the second wave.
The pending storm began impacting events even before it hit. The state boys soccer tournament at Starion Sports Complex in Mandan was postponed from this weekend to Oct. 14-16. Fort Abraham Lincoln State Park said its Haunted Fort holiday attraction would not be open Friday and Saturday night.
Crews working on the Interstate 94 Mandan-Bismarck Expressway project removed all but one lane closure to prepare for the weather, with work scheduled to resume next week. The lane reduction that remains in place due to ongoing work is on westbound I-94 near Exit 153 at the Collins Avenue bridge.
Road-clearing crews on Wednesday were busy preparing equipment. The Mandan Public Works Department issued a statement saying it was "prepared to run 24 hours." The state Department of Transportation urged motorists to check road conditions before traveling. Burleigh County Highway Engineer Marcus Hall urged people to be patient with snow-removal crews in rural areas.
"Gravel roads are not frozen, which makes snow removal problematic," he said in a statement. "Heavy equipment can cause extensive damage to the road beds, and plowing will be limited."
The city of Bismarck issued a statement urging residents to prepare for the storm and potential power outages.
"Be ready to protect your family from the dangers of winter weather by planning ahead," Emergency Manager Gary Stockert said.
The first storm system originated off the Pacific coast and moved across the Rockies. The second will move out of the Rockies, lift to the north and "then sit" for a while, Schild said.
You have free articles remaining.
"It looks to deliver a one-two punch over our area," he said.
The systems might pack wind gusts as strong as 50 mph, which could create blizzard conditions.
"Travel may be difficult to impossible," Schild said.
The AccuWeather company said the storm will evolve into an "all-out blizzard" over the Dakotas.
The bad weather could have a big impact in rural areas, where "there's a lot of cattle still out in the field, and along with that a lot of crops out in the field," Schild said.
The latest crop report released Monday by the National Agricultural Statistics Service showed that about 10% of the state's staple spring wheat crop is not yet in the bins. The harvest of all crops in the state is well behind the average pace, as is the development of major late-season crops including corn and sunflowers.
"They're supposed to be harvesting, and now they're going to get a foot or two of snow -- and that might take a week to melt and then you still have saturated ground," AccuWeather Senior Meteorologist Jason Nicholls said.
State Agriculture Commissioner Doug Goehring on Wednesday urged ranchers to be mindful of the incoming storm.
"We hope that producers were able to move cattle back home or to areas with protection from the potential storm conditions being forecasted," he said. "Producers should keep in mind that feed supplies need to be close to where cattle are being fed."
Six years ago, an early October storm with a ferocity that took many ranchers by surprise killed thousands of cattle in western South Dakota, with lesser impacts in southwestern North Dakota. 
Last year at this time, a system similar to what's predicted this week hit eastern North Dakota and caused widespread power outages. That's possible again this year, with snow-collecting leaves still on trees. That could lead to downed branches taking out power lines.
The systems also are bringing much cooler weather -- high temperatures only in the 20s and 30s. Only a slight warm-up is expected next week, but that could be a good thing.
"We do expect this (snow) to eventually go away; we do expect it to melt," Schild said. "With that being said, we do expect it to be a slower melt. We don't have major flooding concerns at this time."