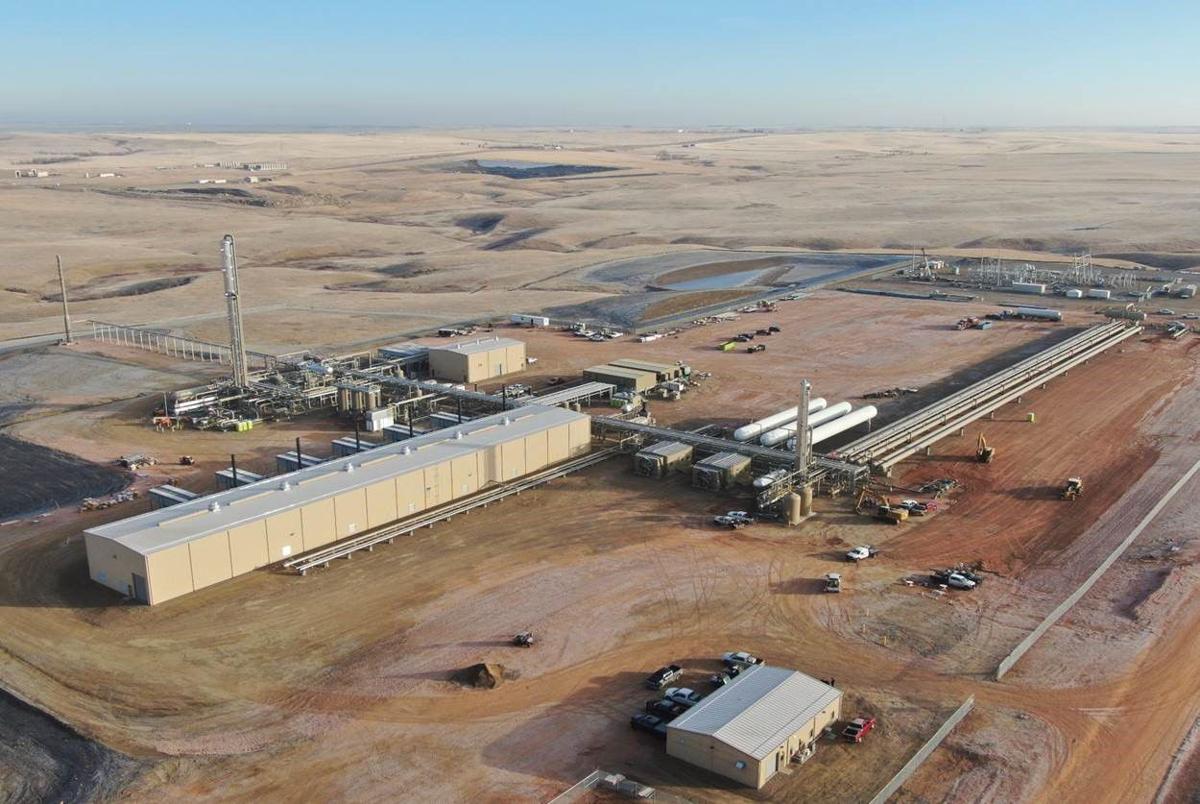 Construction has finished on a natural gas processing plant west of Williston.
Outrigger Energy II's Bill Sanderson Gas Processing Plant can handle up to 250 million cubic feet of natural gas per day. It's a cryogenic facility, meaning it can go further than some of the other processing plants in the state by cooling the gas enough to separate out ethane and propane from methane, the main component of raw natural gas.
An 80-mile pipeline starting in southeastern Williams County connects to the facility. It will pick up natural gas from wells along the way, including from anchor customer XTO Energy, a subsidiary of ExxonMobil.
The pipeline system and processing plant are not yet operational but likely will be later in 2021, as oil and gas production is expected to pick up, said Alex Woodruff, executive vice president and chief commercial officer for Outrigger.
North Dakota's oil and gas output fell in 2020 amid a price collapse brought on by the coronavirus pandemic, though prices have slowly trickled back up in recent months. West Texas Intermediate crude, the U.S. pricing benchmark, hit $53 per barrel Thursday. Many oil watchers say $55 per barrel is needed to spur more drilling in North Dakota.
"While Williston Basin activity levels clearly slowed due to the 2020 crude oil pricing and COVID-19 environments, we are seeing substantial interest from producers to accommodate future drilling plans as crude oil prices near sustainable levels for the Basin," Outrigger CEO Dave Keanini said in a statement. "Our assets are perfectly situated to provide producers with a competitive midstream option for both new development and volumes that are currently flaring due to infrastructure constraints."
North Dakota officials have said Outrigger's plant will help curb the wasteful flaring of excess natural gas in the northern part of the Bakken oil patch, where gas infrastructure has not kept pace with the southern half.
The Outrigger plant will bring processing capacity statewide to 3.6 billion cubic feet per day, according to data from the North Dakota Pipeline Authority. The state produced nearly 2.9 billion cubic feet of gas per day in October 2020, the most recent figure available.
The new facility is connected to two other pipeline systems in the northwest corner of the Bakken that will carry the gas to market. They include the Northern Border Pipeline and Oneok facilities.
Construction of the Outrigger plant began in May 2020 and employed 350 workers, Woodruff said. Work on the pipeline began two months later and employed another 400 people. As many as 30 people are expected to work at the plant.
The facility is named for Bill Sanderson, a leader of Western Gas Resources, a company where some Outrigger employees used to work. Outrigger plans to expand the facility down the road, depending on demand, the company said.