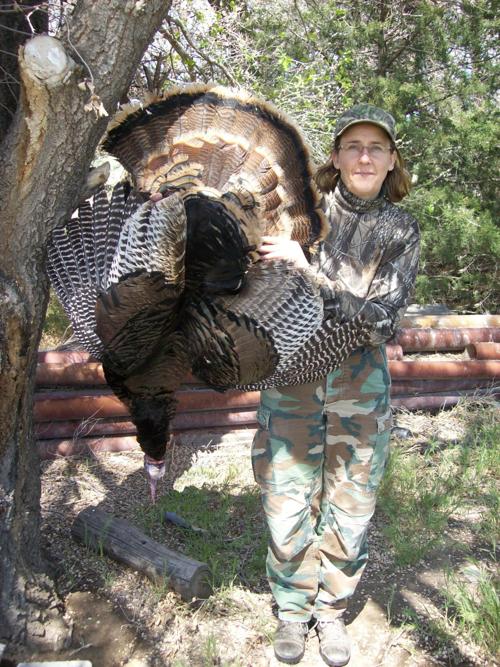 Turkey will take center stage at dinner tables across the country Thursday when Americans sit down for their Thanksgiving feasts, but many hunters will be giving thanks for the wild birds, which provide hunting opportunities in both North Dakota and Minnesota.
"I used to love elk hunting, and then I got a taste of turkey hunting," said Kristi Coughlon, an information officer for the Minnesota Department of Natural Resources in Bemidji and -- you guessed it -- an avid turkey hunter.
It's all about the challenge of trying to outwit a bird that's exponentially smarter than its domestic counterpart, Coughlon says.
"They're so wary, and their eyesight is so good that you literally have to be at a higher skill level moving or sitting in the woods than you do, really, for any other type of hunting that I can think of," Coughlon said. "Any little movement, they can notice it, so you've got to be ready when they get in shooting range.
"It just fascinates me; I absolutely love it."
N.D. turkey history
In North Dakota, wild turkeys aren't native to the state, and southern South Dakota and Minnesota were at the northern edge of the birds' historic range, according to the state Game and Fish Department.
"The northern limit of the turkey range at the time of the first white explorers appears to have been about 200 miles south of North Dakota," Joseph Knue writes in "Feathers from the Prairie," a 1989 book published by the North Dakota Game and Fish Department.
That all changed in the 1950s, when the first wild turkeys were introduced along the Missouri, Knife and Heart rivers. Today, turkeys can be found along the Missouri River and other major river systems, the Badlands, forested areas of Slope County and wooded areas of Dunn, Pembina and Bottineau counties, according to the Game and Fish Department.
North Dakota offered its first turkey season in 1958, Knue writes in his book.
Turkey numbers have faltered in recent years because of cool, wet spring weather, the Game and Fish Department said. In addition, drought this past summer likely hampered chick survival.
In an effort to reverse the decline, Game and Fish has offered fewer fall turkey licenses since 2008. Last fall, 2,361 hunters harvested 929 birds, the department said, and the best hunting was in central North Dakota.
Game and Fish offered 5,685 licenses for the spring season, which is when most hunters prefer going afield. The fall season began Oct. 14 continues through Jan. 7
Minnesota success story
Meanwhile, in Minnesota, the DNR on its website calls the restoration of wild turkeys one of the state's "greatest conservation success stories" of the past 25 years. According to the DNR, Minnesota's native turkeys had disappeared from the state by 1880, and despite several reintroduction attempts dating to the 1920s, trap-and-transplant efforts weren't successful until the early 1970s.
"A favorable habitat mix has pushed the wild turkey range well beyond its pre-settlement location, which was limited to southern Minnesota," the DNR said.
That range today extends as far north as northwest Minnesota, thanks to trap-and-transplant efforts beginning in 2006 that included releases near Thief River Falls and Red Lake Falls, Minn.
According to John Williams, Northwest Region wildlife supervisor for the DNR in Bemidji, there was a time when wildlife managers believed average snowfall depths were too great for turkeys to survive in the northern third of the state.
Minnesota's turkey population today has grown to more than 30,000, the DNR said, and wild turkeys now can be spotted as far north as the Manitoba border.
"It's an amazing thing," Williams said. "You never would have gotten me to believe that before it happened."
Like North Dakota, Minnesota offers both spring and fall turkey seasons. In 2016, for example, the DNR issued almost 50,000 spring permits, and hunters registered 12,313 turkeys, the second-highest harvest ever recorded.
The fall season is less popular, and the DNR issues about 8,000 permits.
"Our fall turkey season would be an excellent opportunity for anybody who wanted a wild turkey dinner," Williams said. "We just don't see the interest in fall turkey hunting so much.
"Even spring turkey hunting in the northwest, I don't think it's utilized anywhere near the degree it could be. And there are certain areas, I think, even in our region, where turkey numbers are getting to be a little bit of a problem."
Learning the ropes
Coughlon, who moved to Bemidji, Minn., from Colorado, said she's still learning about hunting wild turkeys in Minnesota. Before selling her home in Colorado, Coughlon said she'd make spring trips to check on the house and stop in Kansas to hunt.
She had great success, she says, but now that she's sold her house, Coughlon says she's trying to learn more about hunting the birds in Minnesota.
"I just have a ball when I go out there, and it's me -- it's nobody else," she said. "I've seen some incredible things, where I haven't even taken a shot because it's too fun watching what's in front of me. Six, seven, eight gobblers marching in a row like they're in a battalion and they're all fanned out and thumping -- just amazing things."
Wild turkey facts
Here are some wild facts about wild turkeys from the U.S. Fish and Wildlife Service and the National Wild Turkey Federation:
Turkeys do more than gobble and make all kinds of sounds: fly-down or fly-up cackle, kee kee run, excited yelp and more.
There are six subspecies of American wild turkey: Eastern wild turkey, Osceola or Florida wild turkey, Gould's wild turkey, Merriam's wild turkey and Rio Grande wild turkey.
North Dakota has Eastern and Merriam wild turkeys; the DNR released Eastern strain turkeys in northwest Minnesota.
Turkey droppings tell a bird's sex and age. Male droppings are j-shaped; female droppings are spiral-shaped. The larger the diameter, the older the bird.
An adult turkey has 5,000 to 6,000 feathers on its body.
Turkeys may look off-kilter – tilting their heads and staring at the sky – yet they're fast. In a poultry race, they can clock more than 12 mph, beating chickens by 3 mph.
Tom turkeys aren't the only ones that swagger and fan their tail feathers to woo mates and ward off rivals. Some hens strut, too.
Young turkeys – poults – scarf down insects like candy. They develop more of a taste for plants after they're four weeks old.
Move over, American bald eagle. Ben Franklin called the wild turkey a "bird of courage" and thought it would make a better national symbol.
Be the first to know
Get local news delivered to your inbox!