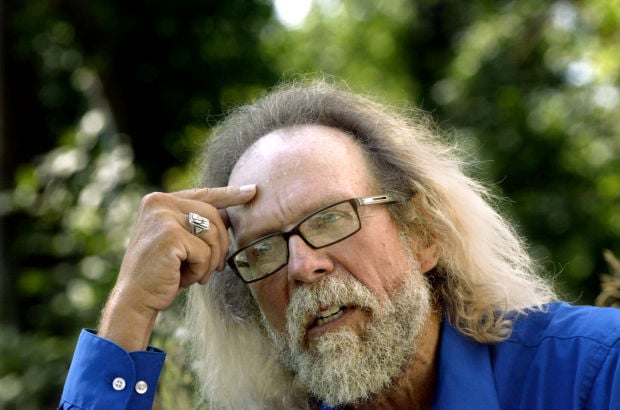 Craig Cobb, a white supremacist who owns property in the tiny Grant County town of Leith and plans to take over the town government, said he's grateful that the commander of a national pro-white organization is coming to Leith later this month in a show of support.
Jeff Schoep, a leader of the National Socialist Movement, said he will be in Leith Sept. 22-23 on a fact-finding tour to protect Cobb's legal standing in the community.
In an open letter to Leith Mayor Ryan Schock posted on his website, Schoep says he has a simple message that Craig Cobb "will NOT be ousted from the community.
"Craig is not breaking any laws or ordinances, and has a right to reside in Leith just as any other American does," the letter says
In an interview with the Tribune, Schoep, who lives in Detroit, said, "Our goal is to help Craig and look at property and land in the area."
Cobb has been living in Leith, population 24, for more than a year and has purchased 13 lots, including one with his personal residence. He has been promoting Leith on white supremacist websites as a place where others like him could live, take over the city government and fly Nazi flags.
Schoep said Cobb's property in Leith and the potential to take over the town government provide an important opportunity.
"It's an opportunity to have an area under our control in the United States' jurisdiction. If there's social war, or civil war, or an uprising, it's good for people to have areas to go to to operate independently," Schoep said.
He hopes to meet with the mayor and may hold a town hall meeting to set the public's mind at ease.
Schoep said he wouldn't guess at how many people might come to Leith, but he said others are talking about "heading up there with me to see if there's an opportunity for them and their families."
Cobb said Friday he's pleased that Schoep and other young men from the movement will travel thousands of miles "to help a senior citizen such as myself keep my civil rights."
Cobb said he expects somewhere between 50 and 100 supporters to show up as well as state troopers, helicopters and snipers in plain view.
"I'm pretty sure we'll be outnumbered," Cobb said.
He said Schoep will attempt to meet with the mayor while he's in Leith, either privately or publicly.
"It would be good if he could talk to the whole town, if we could all sit together," Cobb said.
Grant County Sheriff Steve Bay said the situation has resulted in a lot of propaganda and that he'll believe in Schoep's visit when he sees it.
"If it does happen, we'll deal with it, but I don't expect any problems," he said.
The sheriff said his deputies continue to patrol Leith more frequently these days. "He (Cobb) hasn't done anything illegal and neither has anyone else," the sheriff said.
Cobb said he's fielded at least three dozen calls and emails from people interested in buying his lots and a supporter put up $3,000 to cover gas for people to travel to Leith.
He said he's also fielded dozens of calls from national media and believes the intense interest in the story turns on what he calls the "incongruity" of the situation.
"Here's this white guy trying to get 17 people together in a democracy who think like he does and they just go bananas, while there's 50 million Mexicans running around. People understand that and they're bitter about it," Cobb said.
Cobb said he was calling from the state Department of Labor, where he is filing a claim of religious discrimination against his employer, who fired him from his highway construction flagging job after his plans for Leith were made public last month.
Schock, the mayor, said Friday he wouldn't comment.
The city has been exploring options, including whether to dissolve the city's incorporation so it no longer has a government to take over.
Schoep said if the city dissolves its government, the obvious recourse would be to reincorporate Leith.
Eight people attended a meeting called by the city council Friday night.
"If he (Cobb) does take over, where does that leave us?" asked Heather Cook, a city councilwoman.
The group talked generally about their rights as a community and as individuals, but no action was taken except for a decision to meet again in about a week.
Sherrill Harper of Leith, who, along with her husband Bobby Harper, were recently appointed to fill vacancies on the council, said the mayor wants to keep peace in the community.
She said Cobb has every right to live where he wants to, "but so do I.
"Why do I have to change? They're the ones planning on taking over the city council and changing city ordinances to make it difficult for people to live here," Harper said.
In his letter to the mayor, Schoep claims to own the abandoned and derelict creamery building adjacent to Cobb's two-story, red-roofed residence.
According to Grant County Tax Director Muriel Ulrich, Cobb is still the owner of record, not Schoep.
Cobb said Schoep's visit may include a visit to the Grant County Courthouse where he can personally sign a deed to the property.
Schoep describes himself as leader of the largest pro-white organization in the country.