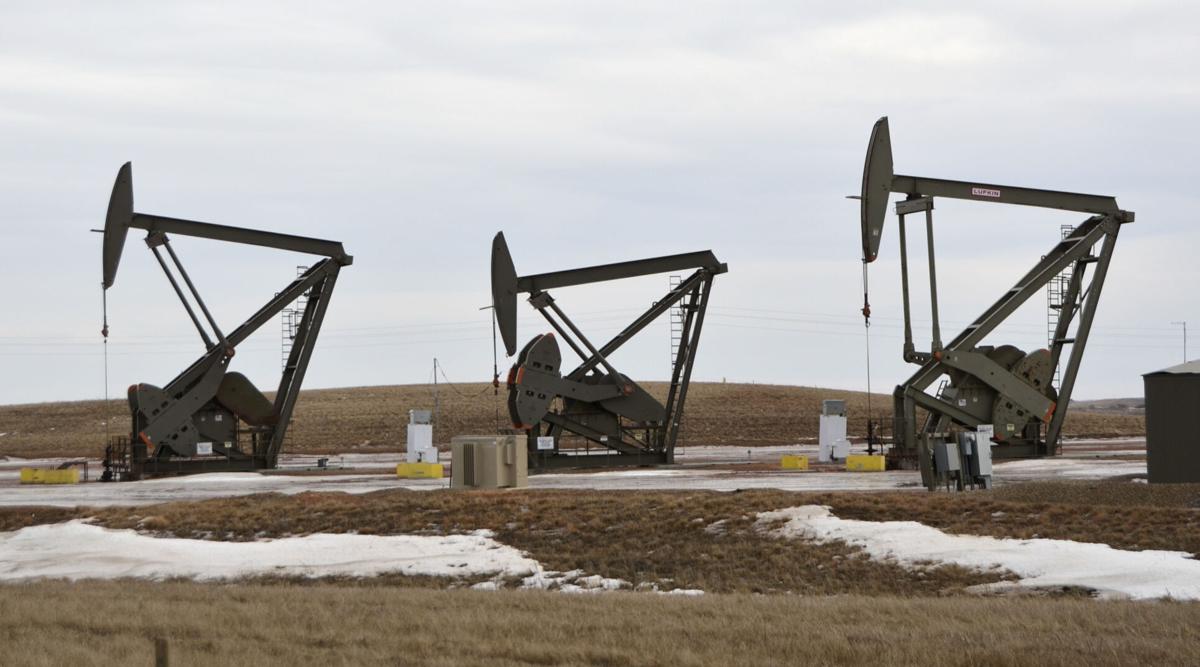 High winds led to power outages in parts of the Bakken in January, causing oil production to fall, the state's top regulator said Thursday upon releasing North Dakota's latest oil figures.
The state's daily crude output for January was 1.147 million barrels, a 4% drop from December. Oil data reported to the state lags by several months.
"We had a day of 90 mph winds in the oil patch, so electric power was lost through significant portions of oil and gas fields," State Mineral Resources Director Lynn Helms said. "It took about 10 days to fully restore the power."
The outages knocked about 50,000 barrels per day offline during that time, he said.
North Dakota Pipeline Authority Director Justin Kringstad said February could be "another tough month." Western North Dakota faced bitterly cold temperatures for a number of days, as well as blackouts caused by extreme cold in the southern United States.
The U.S. oil pricing benchmark, West Texas Intermediate, has risen above $60 per barrel, where it sat at the start of 2020 before the coronavirus pandemic hit and sent prices crashing. Experts view the current price as a blip and expect it to drop as the year progresses, Helms said. As a result, he does not anticipate companies drilling a significantly greater amount in the Bakken than already planned.
Instead, they are likely to bring any remaining wells idled during the pandemic back online, in addition to wells that were drilled during the pandemic but never fracked due to poor economics, he said.
Natural gas production fell by just over 1% during January, to 2.848 billion cubic feet per day, and flaring figures held steady. Statewide, oil companies captured 94% of the gas they produced and burned off the rest. North Dakota is meeting its 91% gas capture target that aims to reduce wasteful flaring that results at times from a lack of pipeline and processing infrastructure.
DAPL, federal drilling
There's a lot of chatter throughout the Bakken about the potential shutdown of the Dakota Access Pipeline, a prospect that could come out of a court hearing slated for April 9.
A federal judge revoked a permit for the pipeline's Missouri River crossing last year while an environmental study is underway, and the decision was upheld by an appeals court. The U.S. Army Corps of Engineers is expected to say how it plans to address the pipeline's lack of a permit at the upcoming hearing.
Ahead of the proceeding, companies are talking about making alternate plans for transporting oil if it can no longer be pumped under the river. Those conversations involve moving more oil by rail or potentially trucking it from the Bakken across Interstate 94 past Bismarck and then south to Linton, where it could be loaded into Dakota Access beyond the pipeline's river crossing, Helms said.
Another issue getting attention is President Joe Biden's pause on federal oil leasing, and his administration's review of leasing and permitting activities on federal land. The public will be allowed to weigh in on the topic this spring.
Helms said he expects North Dakota will submit comments about the impact a permanent ban would have on the state. Those comments likely will focus on the checkerboard nature of mineral ownership in the state, and how prohibiting drilling through federal minerals could prevent the development of private minerals and state-owned minerals in the surrounding area, even where a tract of federal minerals is small, he said.
"North Dakota has a unique situation," he said.
By preventing drilling across federal lands, the federal government could subject itself to litigation "from private mineral owners and the state by blocking the leasing of those small tracts and preventing the drilling of those state and private minerals," Helms said.