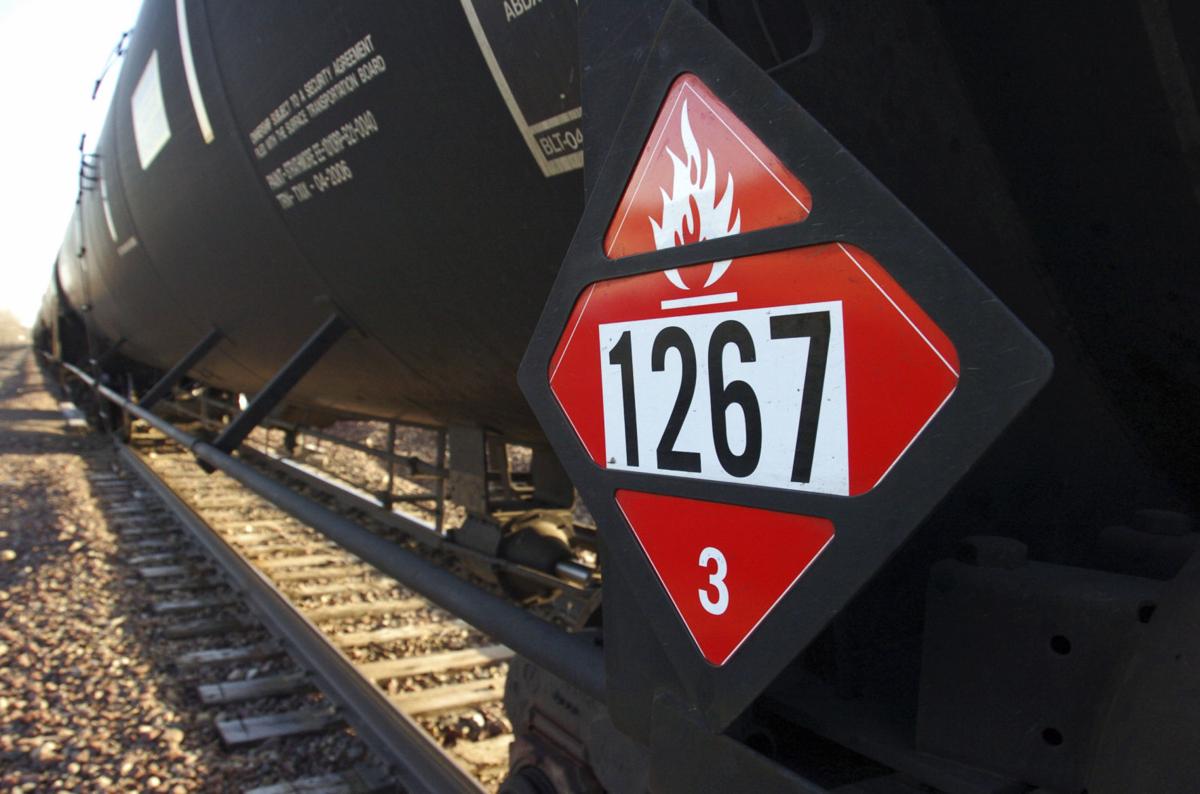 The governor of Washington state signed a bill Thursday with new requirements for Bakken crude oil shipped by rail, setting up a likely legal battle with North Dakota.
Gov. Jay Inslee signed legislation supporters say aims to reduce the risk of fiery train derailments, but North Dakota officials say is not backed by science.
The bill requires Washington refineries and other facilities that offload or load crude oil from a rail car to meet lower vapor pressure standards than what North Dakota requires. The standard would take effect if the state has an increase in rail traffic or if new facilities are constructed.
"As the federal government continues to fail to exercise its full powers to ensure the safe transport of oil by rail, Washington needs to remain vigilant in protecting our communities from the very real risk of derailments," Inslee said Thursday.
North Dakota ships about 150,000 barrels of crude oil a day by rail to refineries in Washington.
The North Dakota Industrial Commission has said the state would likely sue the state of Washington over the bill, which commissioners believe violates interstate commerce law.
North Dakota's congressional delegation had urged Inslee to veto the bill, calling it a "de facto ban" of crude-by-rail traffic from the Bakken.
Inslee, who is seeking the Democratic nomination for president, has made climate change a focus of his campaign. He also signed a bill this week banning hydraulic fracturing in Washington.
North Dakota requires oil to have a vapor pressure of no more than 13.7 pounds per square inch, a requirement added in 2015 that aimed to reduce the volatility of Bakken crude.
The Washington legislation requires crude oil to have a vapor pressure limit of less than 9 pounds per square inch. Existing facilities that expand crude oil volumes would have to adhere to the new limit within two years of the expansion. Failing to meet the standard could lead to fines of up to $2,500 per day per rail car.
North Dakota's top oil regulator, Lynn Helms, has said there is no scientific basis for the 9 psi limit. Helms had urged Washington lawmakers to wait for the results of an ongoing Sandia National Laboratories study.
Supporters of the legislation have criticized the federal government for not adopting a nationwide vapor pressure standard for crude oil shipped by rail. Sen. Andy Billig, D-Spokane, the primary sponsor of the bill, said in a statement Thursday that the oil trains "pose a serious risk" for communities.
"While we know there is more to do to reduce the risk of a catastrophic event, this bill puts in place protections if we see an increase in oil train traffic travelling through our state," Billig said.