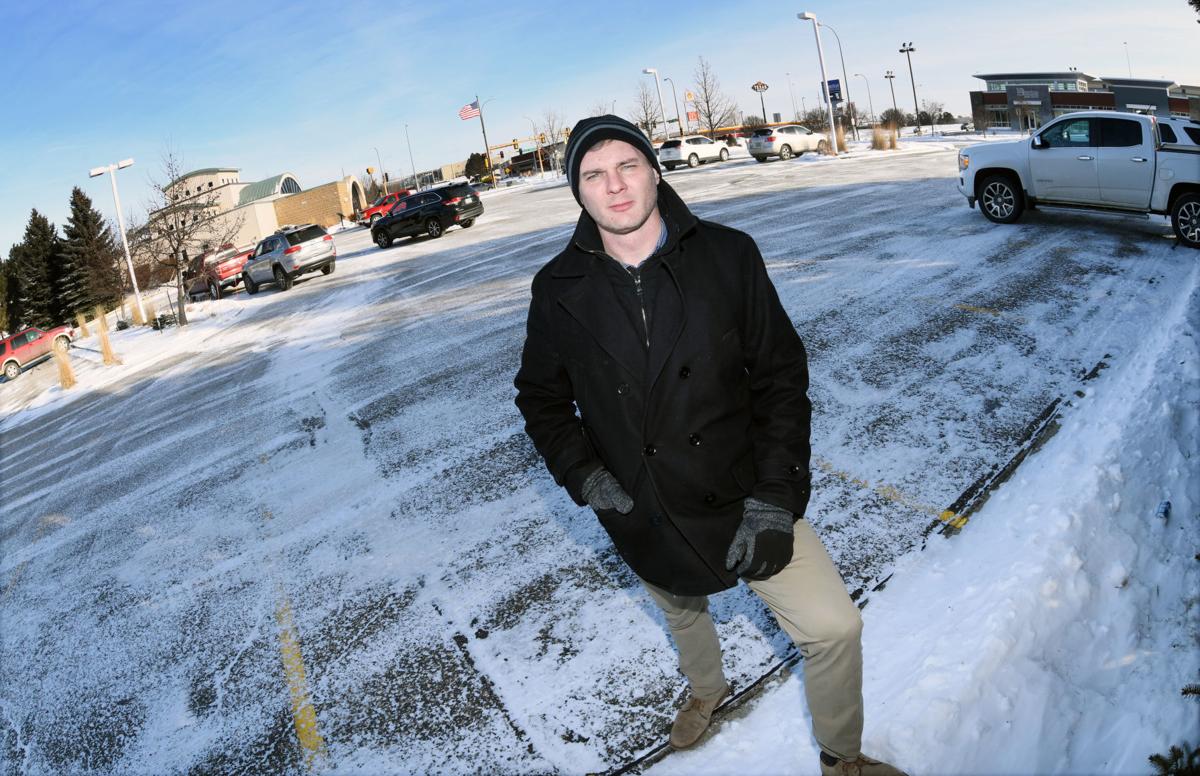 Bismarck and nine other communities throughout North Dakota will soon offer "fast" charging stations to give electric vehicle owners a speedy option for powering up their cars.
The stations will be funded, at least in part, by the $8.1 million awarded to North Dakota through the 2016 Volkswagen settlement between the federal government and the auto manufacturer. The settlement followed an admission by Volkswagen that it programmed some of its diesel vehicles to cheat on emissions tests.
Just under $2.7 million will be distributed by the North Dakota Department of Environmental Quality to local governments and businesses for clean vehicle projects, including the charging stations.
Seventeen sites have been chosen for charging stations statewide. All but one will include a Level 3 fast charger, which can offer cars a nearly complete charge in 30 minutes, said Keith Hinnenkamp, compliance program manager for Environmental Quality.
The stations will be somewhat spread across the state, with the Interstate 29 corridor in the Red River Valley having the highest concentration.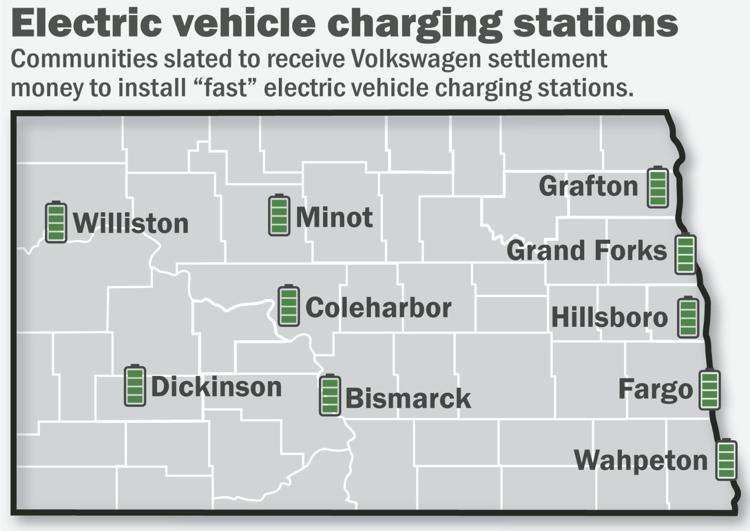 Hinnenkamp said the department aimed to select locations "to at least get usable travel routes for electric vehicle owners, or at least good starts on routes." He said the department was limited to choosing locations included in the applications, and it did not receive applications for all parts of the state.
Electric vehicle drivers in North Dakota often speak of "range anxiety," or a fear of running out of power when driving long distances across stretches of land where there are no chargers. Just 187 electric vehicles are registered in the state, and North Dakota has no fast chargers.
Several dozen Level 2 chargers exist in the state, however. They are far cheaper to install than fast chargers, but they take hours to provide a full charge.
The city of Bismarck is expecting to receive $205,000 in settlement money to fund two fast charging stations, as well as a new, more efficient diesel-powered forestry chipper truck to replace an old one. About $65,000 will go toward the truck, and the state will require the city to put up matching funds for its purchase.
Bismarck will install the new charging stations at the airport and at the Bismarck-Mandan Convention and Visitors Bureau off Burnt Boat Road near the Pinehurst shopping area, city planner Will Hutchings said. The locations were deliberately chosen for their convenience to users, and they are on public land to fit certain parameters of the state's Volkswagen settlement program.
"This is just another amenity that makes our city attractive to not just our citizens, but also travelers across the interstate," Hutchings said.
The city plans to hire a contractor to begin work on the installations this spring and finish by the end of summer. It will charge electric vehicle owners to use the stations, likely based on the amount of time spent there, though officials have not yet determined rates, Hutchings said.
He also anticipates another fast charging station in the Pinehurst area to be installed by Tesla, for Tesla vehicles. That station will not receive funding through the Volkswagen settlement.
The next nearest fast charging station to Bismarck to receive settlement funds will be installed near Coleharbor, just north of Lake Audubon at the gas station off U.S. Highway 83.
McLean Electric Cooperative plans to install the station this spring. It will also be located near a bar and restaurant, as well as a recreational area with RVs and cabins.
"We thought we could be the bridge from Minot to Bismarck or Bismarck to Minot," general manager Marty Dahl said. "There are a lot more electric vehicles in those cities than we have out in the rural area."
He estimates the installation will cost around $50,000 and anticipates receiving 80% of the money through settlement funds. The project could have been fully funded if it were on public land, but that would mean a less-than-ideal location for users, Dahl said.
The co-op plans to charge drivers for the electricity they consume, though it has not yet determined rates, he said.
"We're not looking to make money on it," Dahl said. "We're just looking to break even."
Around the same time the co-op installs the fast charger, it plans to put in a slower Level 2 station at the Lewis and Clark Interpretive Center in Washburn. Dahl said the co-op is also considering purchasing an electric vehicle, as several co-ops around the state have done, for staff to drive to meetings and to use as an educational tool.
Other fast charging locations funded with settlement money will be located in Dickinson, Williston, Minot, Grafton, Grand Forks, Hillsboro, Fargo and Wahpeton. Nine school districts will also receive funding for cleaner school buses, and several other entities will for cleaner trucks.
The settlement money is meant to go toward projects that reduce emissions of nitrogen oxides, which are released by diesel engines and can contribute to smog.
Hinnenkamp said Environmental Quality will soon mail out contracts to entities receiving the funds to finalize the projects.
North Dakota's share of the settlement money is based on the 3,000 vehicles here involved in the scandal.
Another $2.7 million will be awarded next year, and Hinnenkamp encourages projects that were not funded this year to apply again. The rest of the money will be awarded in future years.
Meanwhile, a group led by the North Dakota Department of Transportation continues to study electric vehicle infrastructure ahead of the 2021 legislative session. Their work has prompted the North Dakota Public Service Commission to take a closer look at its role in electric vehicles, given that it regulates investor-owned electric utilities. The PSC is planning a work session next Thursday to discuss the topic.
Be the first to know
Get local news delivered to your inbox!