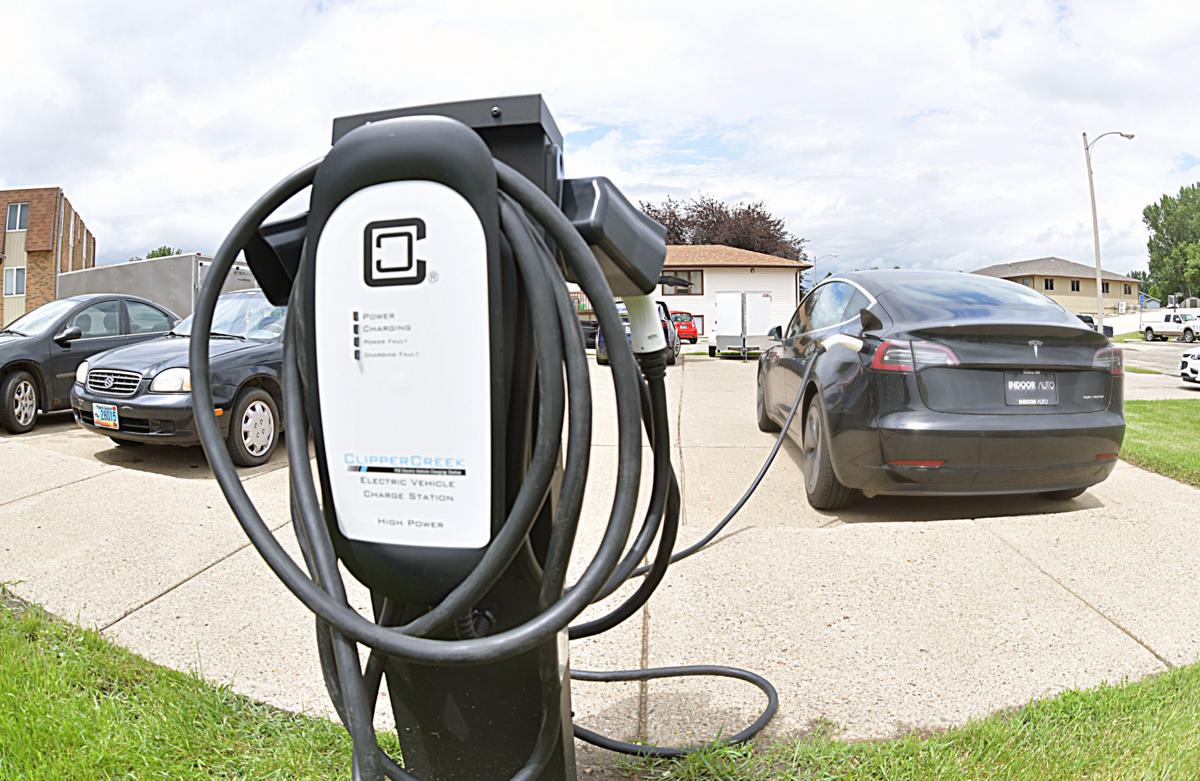 North Dakota could soon see more electric vehicle charging stations, as well as cleaner buses and trucks on the roads now that the public can apply for funds from a settlement with Volkswagen.
The $8.1 million available in North Dakota stems from the 2016 settlement between the federal government and the auto manufacturer after Volkswagen admitted to programming some of its diesel vehicles to cheat on emissions tests.
States must comply with the parameters of the settlement when awarding the funding to applicants. The proposed projects must reduce emissions of nitrogen oxides, which are released by diesel engines and can contribute to smog.
Government entities, businesses and organizations have until Oct. 25 to apply for the first round of funds. The North Dakota Department of Environmental Quality will administer the money, which will be doled out over several years.
The department will use the funds to reimburse up to $2.7 million this year for projects seeking to replace old vehicles or repower engines to run on cleaner fuels.
Up to 15% will go toward charging stations, which electric vehicle advocates say are desperately needed in the state. Just 22 stations are open to the public across North Dakota, and none are the speedy kind that can give a vehicle a nearly full charge within a half hour. Obtaining a full charge at an existing station takes up to 10 hours.
One of the groups eyeing the funds is the Lignite Energy Council, the trade group for North Dakota's coal industry. The organization recently leased a Tesla and has been pushing to bolster electric vehicle use.
President and CEO Jason Bohrer said the ideal location for a fast charging station would be just off Interstate 94 in a commercial zone. 
"It's walking distance to many different types of things, whether it's a grocery store, a movie theater, a gas station, a series of restaurants," he said.
He's charged the council's Tesla at places like that in Minnesota.
Fast-charging stations come with a hefty price tag. Bohrer estimated a facility could cost $30,000 or more.
Under North Dakota's Volkswagen program, settlement money could reimburse up to 80% of the cost of a station built at a nongovernment property.
North Dakota's share of the settlement money is based on an estimated 3,000 vehicles here involved in the scandal, said Keith Hinnenkamp, compliance program manager for Environmental Quality.
The bulk of the money will go toward retiring old engines, either by retrofitting vehicles with new engines or by replacing the entire vehicle. The replacements could still run on diesel, though with new engines they would be more efficient than older models, Hinnenkamp said.
The funding also can go toward alternate fuel engines that run on compressed natural gas or propane. Electric and hybrid vehicles are eligible as well, as are proposals to upgrade airport ground support equipment, forklifts and freight switchers used to move trains in rail yards.
Applicants seeking cleaner vehicles will need to foot part of the bill. They can be reimbursed up to 50% of the cost of the project, with the exact amount dependent on the type of upgrade and whether the vehicles are owned by a government or a private entity.
"We wanted to make it worthwhile to apply for it and get a good portion of a vehicle reimbursed and at the same time make the money go farther so we can do more projects and get more emissions reductions," Hinnenkamp said.
When evaluating applications this fall, Environmental Quality will consider potential emissions reductions and benefits to the community, among other factors. The department will select recipients by the end of the year, and entities awarded funds will have two years to complete their projects.
Hinnenkamp said applicants should not be discouraged if they are not selected during the first year of funding because another $2.7 million will be available next year. The remainder of the state's share of the settlement is expected to be awarded in subsequent years.