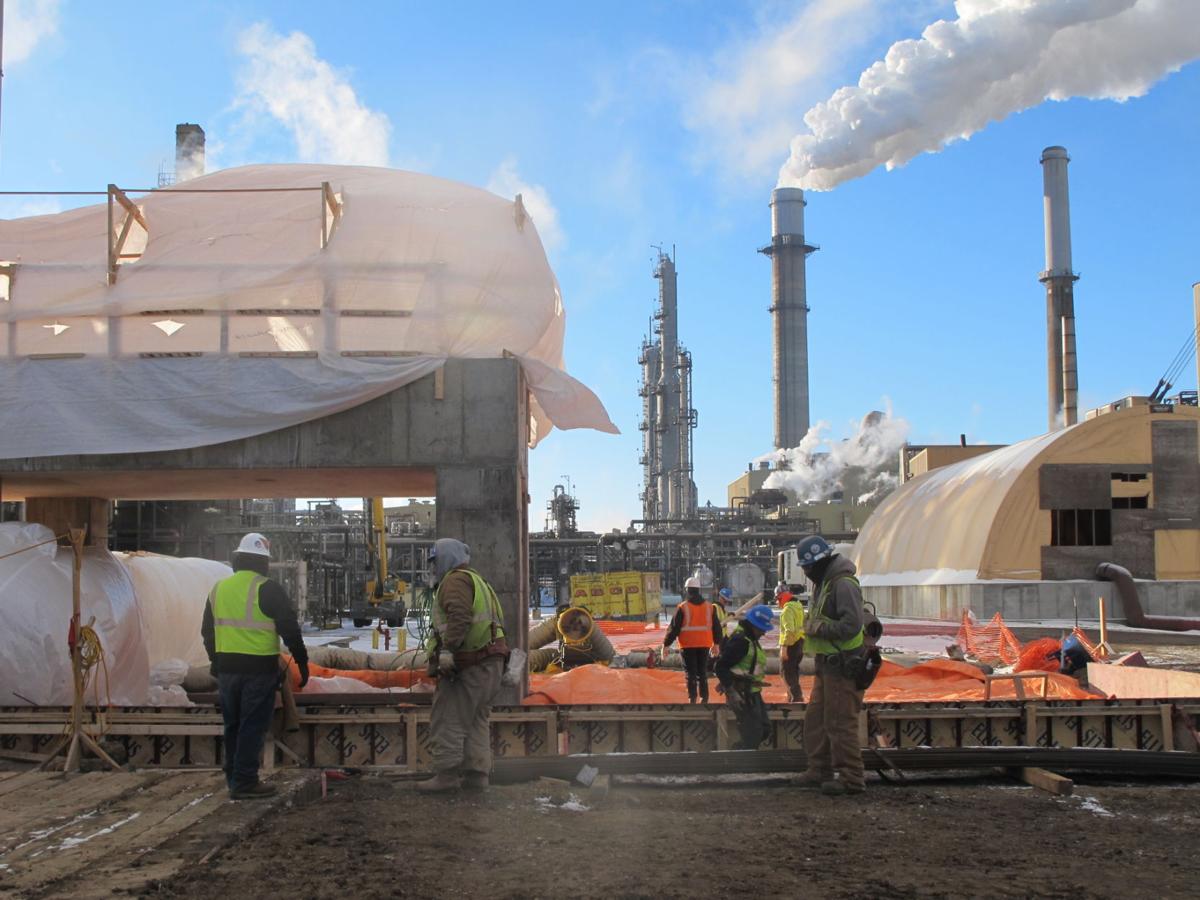 The road to success is rarely without a slippery curve or an unexpected detour.
Basin Electric Power Cooperative — a power provider to 141 rural electric systems in nine states, headquartered in Bismarck — is no stranger to challenges. A case in point is the ongoing construction of a urea fertilizer plant co-located at its Dakota Gasification Co. plant near Beulah that has brought hundreds of workers into the area.
The co-op's board of directors recently made some hard decisions to keep the project viable and moving forward.
The board readjusted its financial commitment from an initial $500 million, when the project was green-lighted in 2014, to an estimated $740 million.
The board also terminated contracts with AECOM/RUST, its lead engineering, design and construction companies and took over construction and cost control, replacing its in-house project manager. The move also reflected a new timeframe for the project. Instead of going on line this spring, it's now expected to be complete in early 2018.
The plant will produce up to 1,100 tons daily of dry pellet urea fertilizer, concocted primarily from anhydrous ammonia and carbon dioxide byproducts from the adjacent gasification process. The urea process plants can be shifted to production of diesel exhaust fluid, which reduces the nitrous oxide in diesel exhaust, and also liquefied CO2.
Going on three years of construction brings the plant to the 60 percent completion point, including the tear down and rebuild of a 53,000-ton storage facility after summer storm damage, the loadout facility for trucks and 110-car rail trains, and construction of two main urea production units for the wet and dry processes.
In a statement on the situation, Basin says it still expects to maintain a positive rate of return on its investment, based on current projections.
"We believe that the urea plant will contribute a positive benefit to the long-term future viability of Dakota Gas, but more importantly, rural America," says Paul Sukut, Basin Electric CEO and general manager.  "This project represents our vision for the future of Dakota Gasification Company and continues our innovative history of transforming a domestic, abundant coal — lignite — to develop several beneficial products for our agricultural and manufacturing industries. Urea will mark our third fertilizer produced at the plant and will directly serve our farming community within the tri-state area."
When complete, the plant will provide 60 jobs. DGC plant manager Dale Johnson told the Tribune that the production of both anhydrous ammonia and urea fertilizers will give the company a foothold in both markets, particularly as farmers move away from potentially dangerous and cumbersome cylinders of anhydrous ammonia.
Johnson said about half the plant's anhydrous is shipped elsewhere.
"The cost and risk of that shipping is what is driving us toward urea. It's easier to store and safer to ship," Johnson said.
When online, the DGC-made urea will be the only source in North Dakota. A CHS Inc. urea plant planned at Jamestown was canceled and one in Grand Forks by Northern Plains Nitrogen was issued a permit to construct almost two years ago, but the company has not yet announced plans to start construction.