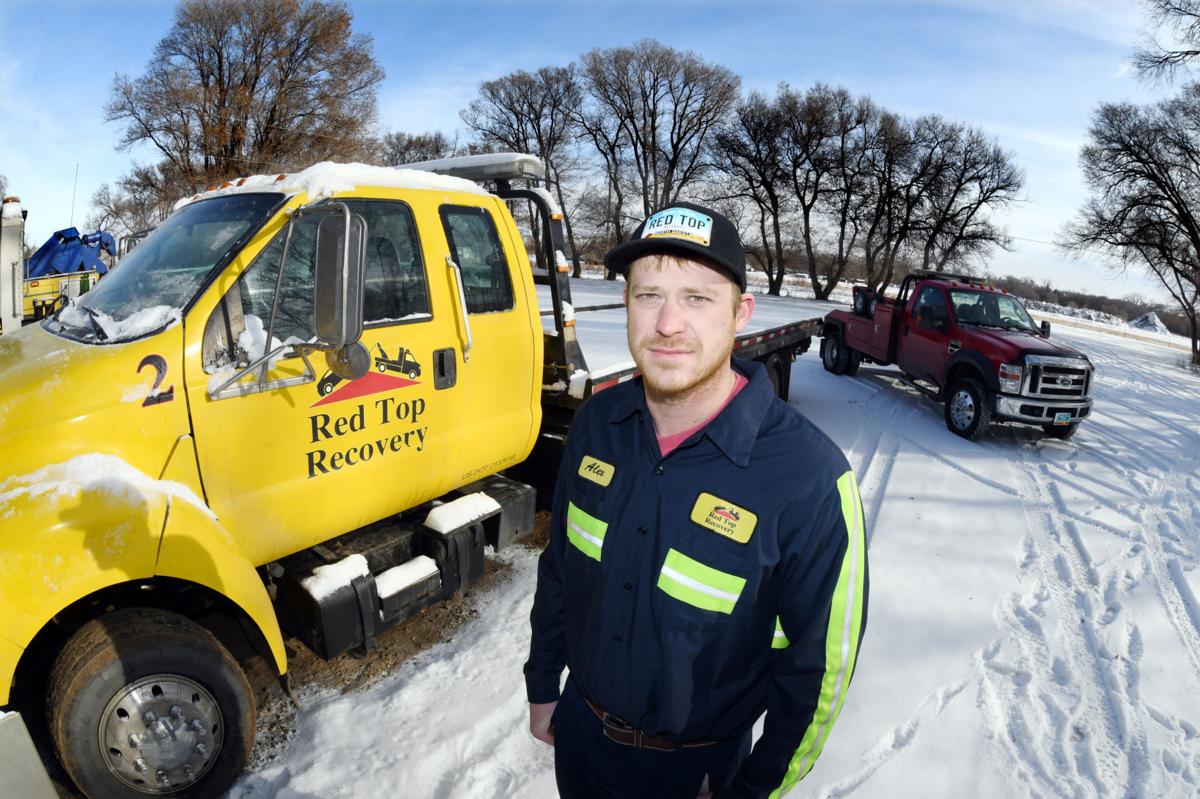 A west Mandan property owner plans to seek a city exemption to operate his towing business in a residential area after losing a battle with neighbors.
City commissioners on Nov. 5 unanimously rejected a request from three residents operating businesses in their homes along Sunny Place South to rezone their properties for industrial use. During the meeting, five neighbors spoke against the proposal, including one who said he worries his property will become devalued due to Red Top Recovery and Towing operating in the area.
"We have a right too. We don't want it industrial back there," neighbor Max Voight said. "It would be a detriment to us as far as what the value of our residence is."
Voight lives along the entrance of the gravel road leading to the towing business, where its trucks pass, loaded and unloaded.
Company owner Alex Pool said he plans to apply for a variance that would allow him to park heavy trucks and use his property for "short-term vehicle storage." He said one of the other business owners, who has operated a trucking terminal in the area for 50 years, plans to apply, too.
If the variance doesn't pass, Pool said, he will need to sell.
"I don't need 10 acres of property where all I can do is mow the grass," he said.
The Morton County Sheriff's Office became involved in the dispute after Pool complained in August that one of his neighbors repeatedly took pictures of his property and made obscene gestures at his friends. During the last city commission meeting, a neighbor opposed to the rezoning proposal, Jim Sackman, read part of a letter from his wife, Charolette, which called the claim a "downright lie." Sackman said they filed their own complaint with the sheriff's department, alleging false accusations. 
Pool has been operating his towing company since moving to the wooded area on the outskirts of Mandan three years ago. He said he was unaware the property was in a residential zone when he bought it.
In January, four surrounding property owners, including Sackman, complained about Pool's business in a letter to the city. 
"The property in question has an accumulation of junk and junk vehicles," it read. "Our concern is that having a junk yard in our backyard will certainly devalue our properties."
Sackman declined to answer additional questions about the complaint. Property owner Greg Wetch declined to comment, and Voight didn't respond to phone calls. Janice Meier, who also signed the letter and lives next door, said she has no issues with the business after Pool removed some of the discarded vehicles.
Pool said the complaint prompted him to develop the rezoning request, and two neighboring businesses joined him. If city commissioners had passed the proposal, it would have allowed "everyone to continue what they're doing," he told the Tribune. He said the discarded vehicles in his yard are race cars and off-road vehicles he likes to "tinker" with as a hobby.
"I've got nearly 10 acres of land. You can't see any of them from any public roads. You have to come down private roads in order to see this stuff," Pool said. 
On Oct. 1, city staff recommended commissioners reject the proposal, citing opposition from neighbors. Staff said city ordinance doesn't allow industrial or commercial operations in the area and that such activity could have "adverse effects" on the environment and public health since it's in a low-lying area adjacent to Dead Heart Slough.
"You can imagine something like a junkyard or wrecking service, where you are going to have some accumulation of vehicles that's sitting in the floodplain and at some point a lot of that fluid, or pieces of the vehicle itself is going to become waterborne," said Principal Planner John Van Dyke, who presented the request for denial. "And as it floats around, it's going to become someone else's problem."
Van Dyke also said the gravel road leading to the property is "not built to adequate standards" for emergency situations.
Commissioners tabled the rezoning proposal during the October meeting, after Pool requested more time to compromise with neighbors. Before Commissioner Scott Davis voted against the proposal a month later, he said he was concerned no compromise was introduced. 
Pool told the Tribune he had "knocked on about six or seven doors" to make a deal with neighbors but received no answer.  
The city has yet to receive an application for a variance from Pool. Van Dyke said there needs to be "proof of hardship" for a variance to pass.
"In this particular case, there's not exactly hardship tied specifically to the land," he said. "But I just make staff recommendations, and it's ultimately up to the (planning and zoning commission) and city commission to make that decision on granting a variance."
Be the first to know
Get local news delivered to your inbox!