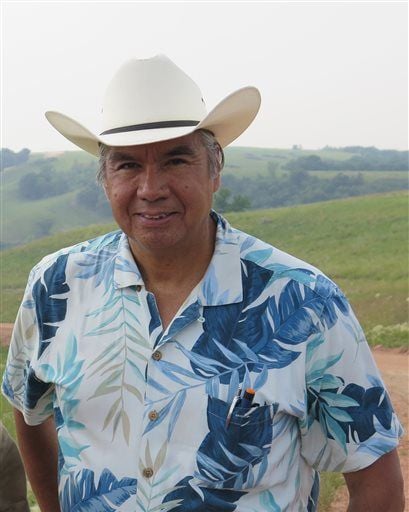 Members of the Three Affiliated Tribes staged a protest a day before Tuesday's primary election to demand the release of a months-long investigation into the business activities of tribal chairman Tex Hall.
Tribal police locked the doors to the administration building. However, tribal council members unlocked them and distributed the report, which flew across social media and emails around the reservation and beyond Monday evening.
The 66 pages of factual findings into Hall's activities, along with 100 pages of legal analysis and 200 pages of exhibit documents, were presented to the tribal council Aug. 14 by special investigator Stephen H. Hill.
The report lays out a timeline that alleges just days after being elected in 2010, Hall used his office to demand $1.2 million from Spotted Hawk Development, an oil and gas company, before he would sign off on the company's development plan. It also alleges he used his office to secure more than $580,000 in payments for water-hauling to a man who has since been implicated in a separate murder-for-hire scheme. The report further alleges he unfairly competed with other tribal oil service companies.
In his own statement, Hall dismissed the report as a "smear campaign" aimed at the primary election, most notably by one of his opponents, Damon Williams, a tribal attorney.
Hall and Williams were among six candidates on Tuesday's primary election ballot. Others were Ken Hall, Mark Fox, Randy Phelan, and former chairman Marcus Levings. Hall was defeated, and the two top vote-getters — Fox and Williams — will face off in the Nov. 4 general election.
"Believe me, I understand that these guys want to be chairman so badly," Hall said. "But at some point, the people are going to find out just what lengths they are willing to go, including misusing tribal resources and manipulating the people, in order to get what they want."
The Dentons firm has billed the tribe $220,000 for "unauthorized work," he said. The tribal council this spring hired Hill, a former U.S. attorney and now of the Dentons Litigation and Disputes Resolution practice, to look into the chairman's activities.
Williams said the report contains evidence of at least nine potential federal crimes, including extortion and the misuse of tribal funds.
He said both the U.S. attorney's office and the Federal Bureau of Investigation have been briefed on the report.
U.S. Attorney Tim Purdon provided the office's usual response, which is that he can neither confirm nor deny that his office is involved.
Williams said he pushed for the investigation because he was disturbed by what can happen when power like Hall's goes unchecked.
"I'm hoping whatever happens to the parties involved, that future council members will take a moment to think about being in private industry while serving the people. Even though this report is bad, it's still good because it will force us to change the way we think," Williams said.
The tribe now has access to more financial resources than at any time in its history and it's time to secure the future of education and other need, he said.
Elmarie Conklin, a tribal member and appointee to the tribe's employment rights commission, said she was among protesters who demanded the report.
"What we wanted it for was to confirm what we already knew," she said. "It confirmed what we suspected."
The report lays a direct path between Hall and James Henrikson, who's in jail and implicated in the murder-for-hire of a former oil field partner, and Henrikson's wife, Sarah Creveling.
It says the couple essentially operated Maheshu, Hall's private company with first-tier reservation hiring preference, while running their Blackstone trucking company under it.
Hall said the two businesses shared profits, but later denied making that statement, according to the report.
The report also alleges Hall used tribal employees to make payments for water-hauling based on Blackstone invoices that were never seen or approved by the tribal council. It also alleges that the Spotted Hawk demand for $1.2 million ended only when attorneys said a so-called "settlement" would require Hall to make financial disclosure to the tribal council and remove himself from any official action on the lease and drilling deal.
Hall said the fact that he never received any money is evidence of the report's flaws.
"Nothing ever actually happened which would have required the chairman to recuse himself from any actions. The report relies only on speculation and cloak-and-dagger allegations that may or may not have happened in a hotel room ... the allegations that the chairman used his office to secure any sort of personal payment whatsoever are unfounded for the simple reason that there never was a payment," Hall said in his response, using a third-person tense.
Neither Hall nor his attorney, Tom Dickson, supplied requested documents for the investigation. The report also says that no oil companies other than Spotted Hawk Development would be interviewed.
Steve Kelly, a former tribal attorney who owns an oil service company on the reservation, is mentioned in the report for raising the question of ethics with Hall at a council meeting.
Kelly said the report does make it clear the tribe needs an ethics commission, especially if council members won't hold each other accountable.
"The tribal council has to understand that this kind of behavior is not going to be tolerated," Kelly said.