The early October storm pounding much of North Dakota reached a record level in Bismarck on Friday, shutting down schools and offices and snarling traffic.
The state Department of Transportation closed Interstate 94 between Bismarck and Fargo. Officials also advised no travel in central or southeastern North Dakota. Gov. Doug Burgum activated the state's Emergency Operations Plan, making state resources including the National Guard available to help local and tribal officials if needed.
"The extraordinary intensity of this early winter storm threatens to test the limits of local response capabilities across a large portion of our state," Burgum said. "We're committed to a whole-of-government approach to protect human life and property and ensure our citizens have the resources necessary to respond and recover from this crippling event."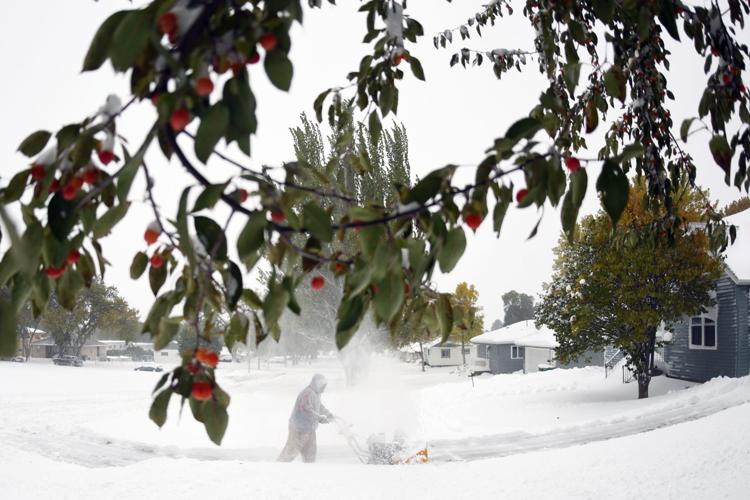 The storm on Thursday had begun tracking farther east than forecasters had expected, but overnight it "wobbled a little further west than what we were thinking," putting central North Dakota and the Bismarck-Mandan area on the western edge, National Weather Service meteorologist Ken Simosko said. 
"That main band that set up overnight -- yesterday, it looked like it would be a little further east, (but) it happened to be a little further west," he said.
Residents woke up to a foot of snow on the ground, and the 11.6 inches that fell between 7 a.m. Thursday and 7 a.m. Friday set a Bismarck record for one-day, 24-hour total snowfall in October. The previous record was 8.6 inches on Oct. 29, 1991.
"Beat it by a good 3 inches," Simosko said.
You have free articles remaining.
Schools in Bismarck and Mandan and other parts of the region -- including Bismarck State College and the University of Mary -- shut down for the day, along with offices including Burleigh County and Morton County agencies. Bismarck and Mandan police reported more than 60 vehicle crashes since the storm's onset early Thursday. At least a couple of flights at the Bismarck Airport were impacted. Road crews were working around the clock to keep local emergency routes open. The Bismarck Fire Department urged residents to help keep the city's 4,500 fire hydrants clear of snow.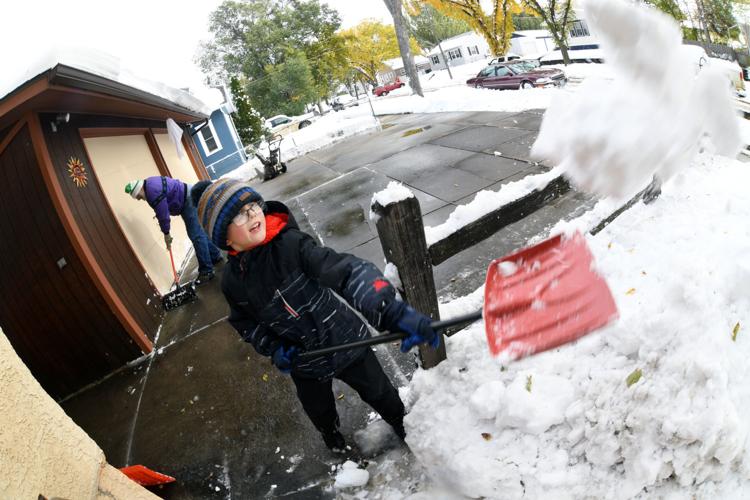 Northeastern North Dakota, where portions of Interstate 29 and U.S. Highway 2 were closed, was worse off than Bismarck, with as much as 2 ½ more feet of snow expected through Saturday. A blizzard warning was posted for that region. In the Bismarck-Mandan area, the expectation was for about another 4 inches --"unless (the storm system) wobbles even further west," Simosko said. 
Storms sometimes have a "tight gradient" -- meaning there's a line where there is a steep drop-off in snowfall amounts to either side, according to weather service meteorologist Alex Edwards. Bismarck-Mandan, and central North Dakota, fell on that gradient early Friday. Bismarck was on the western edge of an area under a winter storm warning, with areas to the west under a winter weather advisory. Additional snowfall there was forecast to be minimal.
Power outages were a big concern in areas with high snowfall amounts, with wet, heavy snow piling up on leaf-laden trees. That can lead to broken branches and downed power lines. A similar storm at the same time last year led to widespread outages in eastern North Dakota.
The PowerOutage.us tracking website midafternoon Friday reported only about 300 people without power in North Dakota.
The storm system that pushed eastward from the Rockies impacted a wide swath of the central U.S., spreading from Colorado through the Dakotas and into the Canadian prairies. But the brunt of the storm into Saturday was expected to be in the central and eastern Dakotas, with an "all-out blizzard" unfolding, according to meteorologists with AccuWeather. 
State Agriculture Commissioner Doug Goehring and Burgum issued a joint statement Thursday expressing support for farmers and ranchers who have been struggling in the midst of extremely wet weather and now an early snowstorm. The state is exploring potential help such as seeking a federal disaster declaration.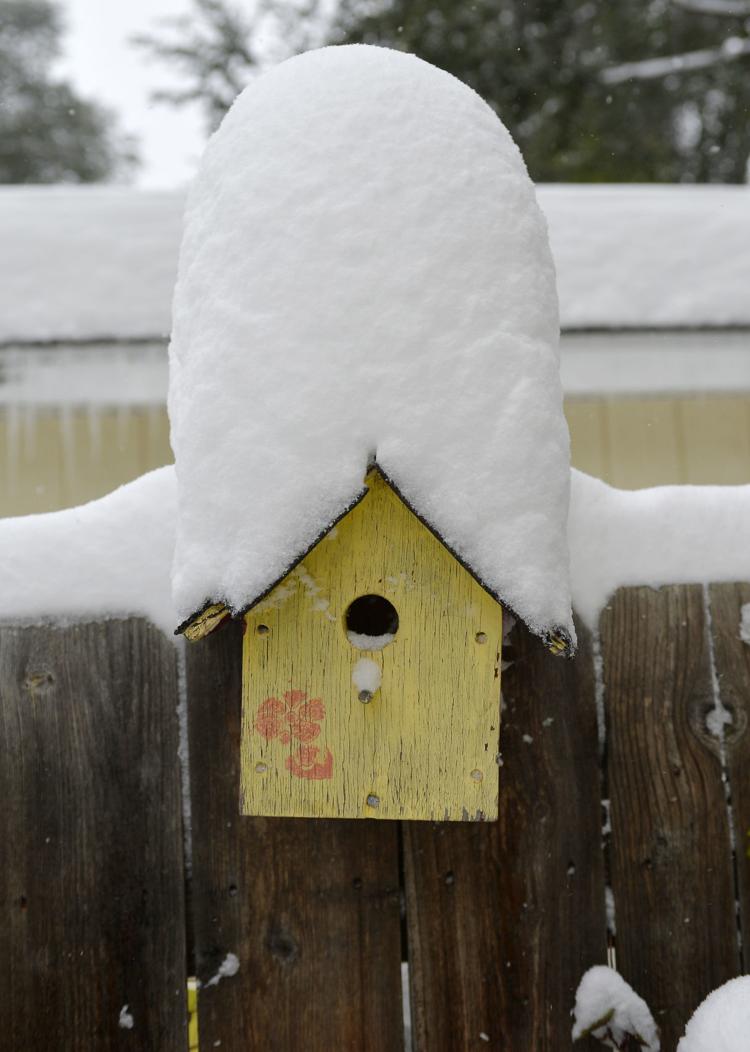 "This difficult harvest season is putting farmers and ranchers under tremendous stress, both emotional and financial," Burgum said. "Just as we did during the drought of 2017, we're exploring every avenue to assist producers through these unseasonably and extremely wet conditions."