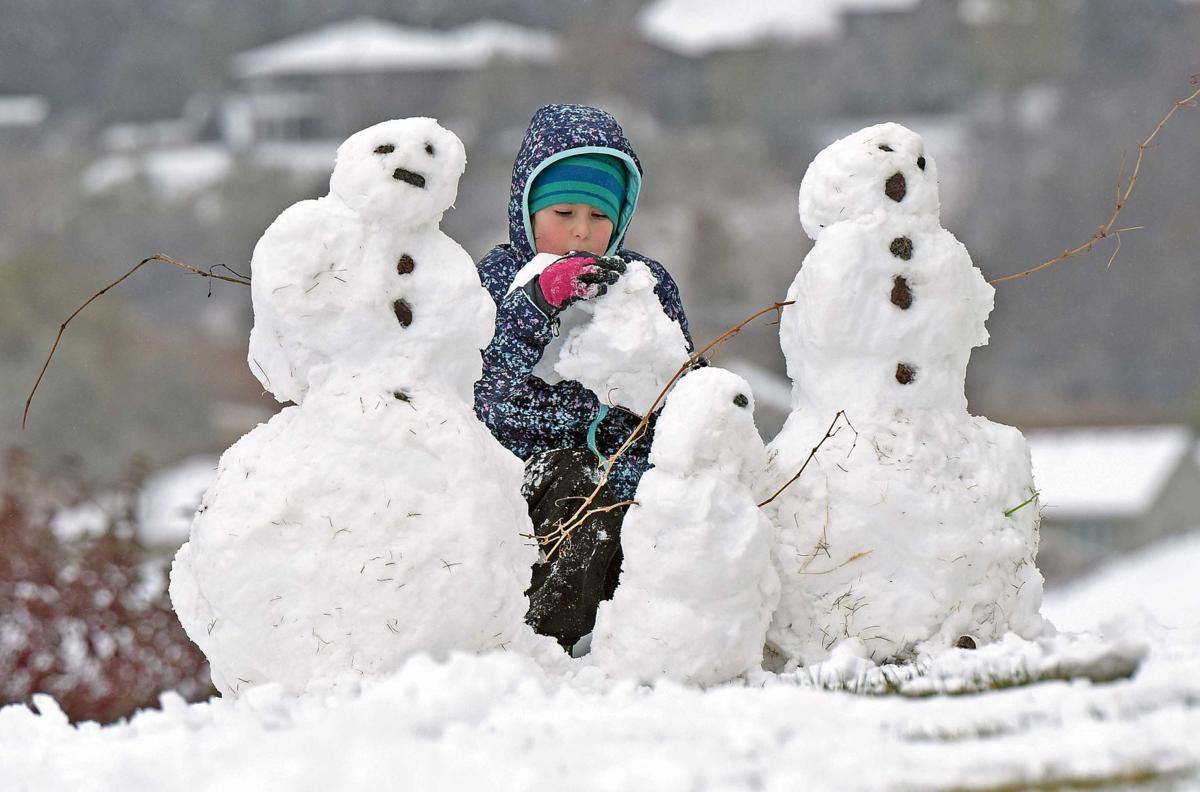 The fall snowstorm bearing down on North Dakota is forecast to drop several inches of snow on the Bismarck-Mandan area by Friday.
The system also could produce near record-cold weather for this time of year.
The National Weather Service forecast for Bismarck earlier Wednesday was for up to half a foot of snow, but forecasters revised that in the afternoon to 4-5 inches, saying the track of the storm system was shifting slightly southward. Bismarck was in a winter weather advisory area that covered much of the lower half of the state.
A winter storm warning was posted for a large chunk of the southeast -- roughly from Linton to Wahpeton -- with 6-9 inches of snow possible.
The storm is expected to create difficult traveling conditions and could damage tree limbs and power lines, leading to power outages.
The state Department of Transportation issued a statement Wednesday urging motorists to be prepared and cautious. Motorists can find road conditions and view highways along their route at the ND Roads map at https://travel.dot.nd.gov/, which is now integrated with the National Weather Service.
The early season winter storm was moving east out of the northern Rockies, with snow likely to spread from southwestern North Dakota to the northeast late Wednesday and continuing through Thursday. Only about an inch or two of snow is expected in northern North Dakota.
Bismarck-Mandan is expected to get an inch or two of snow late Wednesday and another 4 inches on Thursday, according to the forecast. Bismarck got about 1 ½ inches of snow on Tuesday, though most of it has melted.
The early week storm was much more severe to the east, dropping about 8 inches of snow on Minneapolis. It was the earliest in the season that the Twin Cities had seen that much snow, breaking a 115-year-old record, according to AccuWeather. The storm led to hundreds of crashes on Minnesota roadways and cut power to more than 30,000 residents.
A dip in the jet stream is allowing for arctic air to drop south.
"The air is forecast to be so cold at its peak as to bring nighttime low temperatures to within a few degrees of zero in parts of Idaho and much of Montana and Wyoming, as well as the western parts of the Dakotas and northern Colorado," AccuWeather Senior Meteorologist Alex Sosnowski said.
The National Weather Service forecast for the Bismarck-Mandan area calls for weekend highs in the lower 20s, with overnight lows dropping into the teens and single digits. There's also a good chance for more snow over the weekend.
Be the first to know
Get local news delivered to your inbox!