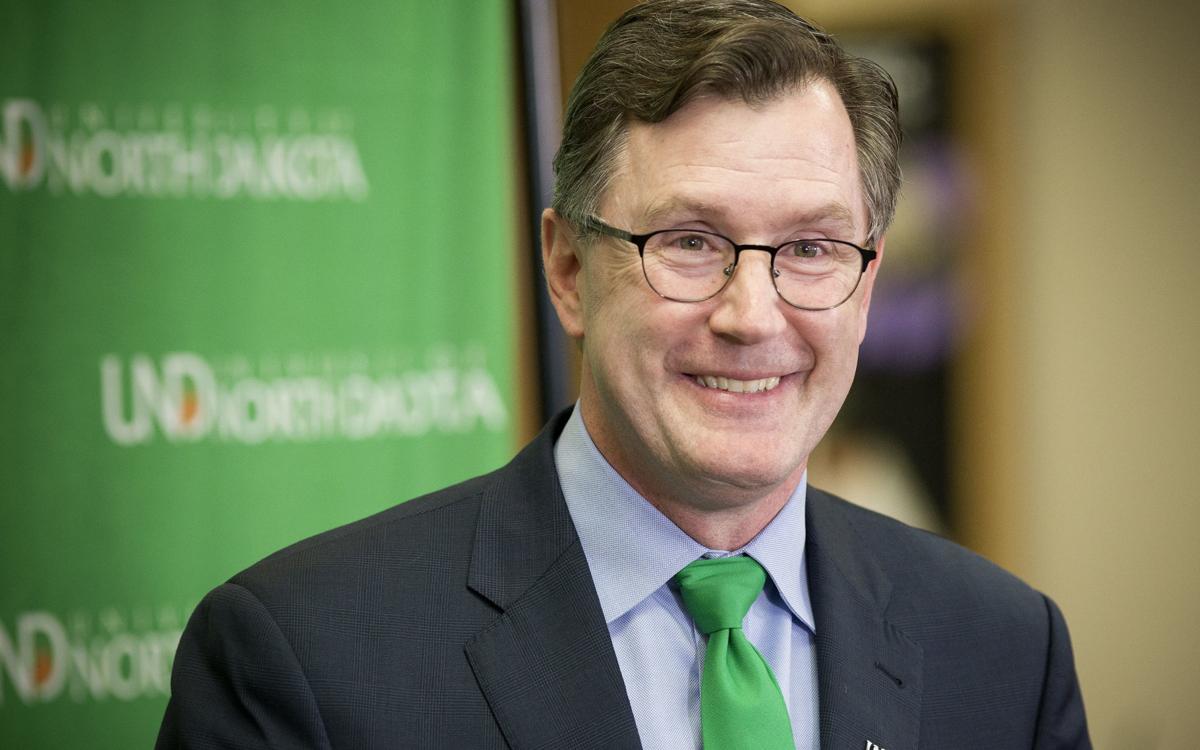 GRAND FORKS -- Andrew Armacost has been chosen as the University of North Dakota's next president.
The State Board of Higher Education chose Armacost on Tuesday after spending an hour interviewing each finalist. He takes over for former UND President Mark Kennedy, who was selected to be the president of the University of Colorado system this spring. Joshua Wynne has been serving as UND's interim president since June.
"This is a distinct honor for me," Armacost told reporters after the meeting. "I'm so proud to be able to be called president of the University of North Dakota. I've had the chance over the last two weeks to participate in many meetings with constituencies here at the university, students, faculty, staff, members of the Grand Forks community and what I've seen in them is love of the university and a love of the state of North Dakota. I'm honored to be able to take the helm of the university and to really continue to propel it in a direction that will take the university far."
Armacost, former dean of the faculty at the U.S. Air Force Academy, will be the 13th leader of the university. He will start on or before June 1. His annual salary is $369,800.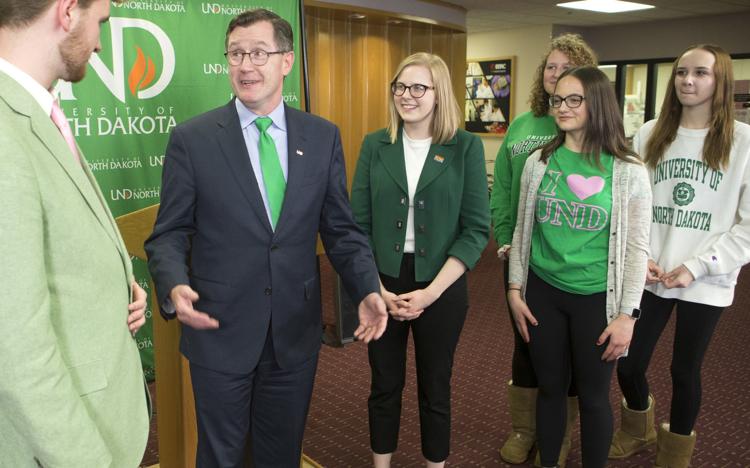 Nick Hacker, chairman of the State Board of Higher Education, selected Armacost because of his "deep passion for service" and "love for students."
"As you listened and read about him (you learned he) is someone who is a real, true servant leader," Hacker said. "I really look forward to seeing his leadership style here."
Armacost, 52, was chosen from a field of 61 applicants. Last month, six candidates each spent two days visiting campus and in public forums, meeting with students, faculty and staff and interviewing with the Presidential Search Committee. The committee narrowed the field to three finalists on Nov. 22.
With more than 30 years on active duty and 20 years at the academy, Armacost served in the rank of brigadier general as the chief academic officer for the institution. As a member of the Academy's senior leadership council, he was part of the team that guided an annual operating budget of more than $500 million and a capital improvement portfolio of nearly $1 billion.
As the dean of the faculty and chief academic officer, he had direct responsibility for an annual operating budget of more than $350 million, a faculty of 550, an academic program with 31 majors and a student body of 4,300.
Though the Air Force Academy is a smaller institution than UND, Hacker said he's not concerned about Armacost's ability to navigate the many aspects of the university.
You have free articles remaining.
During the interview, Armacost spoke about his leadership philosophy being "largely collaborative." Armacost pointed to his experience helping to start a faculty senate organization at the U.S. Air Force Academy.
Speaking about UND's strategic plan, Armacost said he feels the UND plan is "strong" but is missing aspects of building community on campus. He said he would consider adding that to the plan if he's selected as president.
Armacost envisions his first 90 to 100 days in office involving meeting people and getting to know the issues of the campus. He said key relationships between the community, students, faculty, staff, donors and the State Board of Higher Education also will be important.
"I can guarantee you it's going to be a lot of time and effort spent with people, individually and in groups to understand what issues they faced and how they think this university can grow and become even better," he said.
Armacost said he sees a great partnership between UND and the Grand Forks Air Force Base that can continue to be built between the two. There is also work to be done on unmanned aerial systems and other forms of autonomous vehicles.
"I think there's a great partnership both with the active duty Air Force units and seeing how technologies that are created here can support the Air Force," he said, also pointing to relationships with Grand Sky, which is stationed at the base.
While he wouldn't say the number of years he expects to stay at UND, Armacost said his commitment to UND is long-term.
"I do not view this as a stepping stone to other opportunities," Armacost said. "I will live in the moment of leading this great institution and not looking forward to the opportunities that don't exist. So, I can't pick a number but I know that my commitment is true and it's from the heart."
The board also interviewed Laurie Stenberg Nichols and David Rosowsky on Tuesday.
The process has been relatively quick compared to other nationwide searches. The process to replace Kennedy began in May after Kennedy was officially appointed to president at the University of Colorado. The UND Presidential Search Committee, made up of faculty, staff, community members and students, spent time conducting listening sessions and having other meetings throughout the summer and fall.
The committee was co-chaired by Dr. Casey Ryan, a State Board of Higher Education member, and Denny Elbert, former dean of the UND College of Business & Public Administration and a UND alumnus.
Ryan said in a news release: "We had a dedicated group, and we all knew that we were doing very important work for the future of the University of North Dakota. I appreciate everyone who provided input to the presidential search committee. Through the process, we realized that we wanted a president who has a philosophy that is consistent with North Dakota values. Dr. Armacost is that person."
Elbert added: "We had a dedicated, hard-working team. We held 12 listening sessions to gain input from all facets of the community, both on campus and off, and attendees consistently focused on the importance of research. We are here to find the right leader for UND, and today we have found the right leader, Dr. Armacost, to take UND into the future."