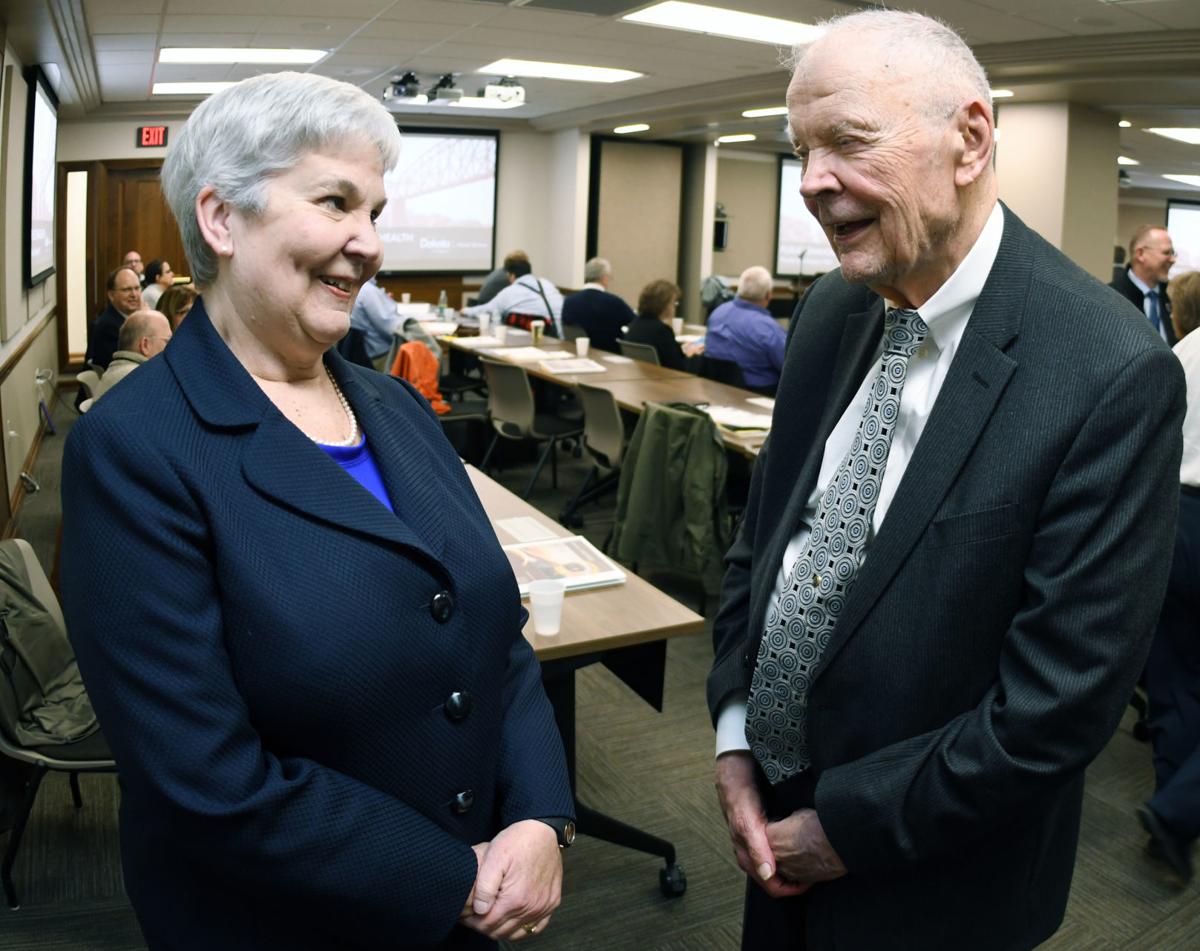 South Central District Judge Gail Hagerty is resigning next spring after more than three decades behind the bench to put more of her life's focus on ministry work.
Hagerty in a letter Monday to Gov. Doug Burgum and state Supreme Court Chief Justice Gerald VandeWalle said she is not retiring but planning to seek new professional opportunities "and pursue a call to ordained ministry." Her last day as a judge will be March 16.
Hagerty, who will turn 67 that month, has been involved the past five years in an educational program for emerging ministers through Iowa-based Wartburg Theological Seminary. She serves as a pastoral minister at Grace Lutheran Church in Driscoll, east of Bismarck.
After she leaves the bench, she plans to remain in Bismarck with her husband, retired Supreme Court Justice Dale Sandstrom, but continue her work in the ministry.
"I can't tell you exactly how it will work out," she said in an interview. "If I receive a call (from a church), I can be ordained. It all has to kind of fall in place."
Hagerty was hired as an assistant Burleigh County state's attorney in 1980. She was elected state's attorney two years later and served until being elected as a Burleigh County judge and taking office in January 1987. She's been a district court judge since January 1995, after the Legislature changed the structure of the state's court system, and presiding judge in the district since 2004.
Hagerty plans to continue working with the Uniform Law Commission, a national nonprofit that works toward uniformity of state statutory laws. Hagerty chairs the group's Criminal Justice Reform Committee.
"I'm looking at all kinds of different opportunities and possibilities, kind of piecing together what life will look like," she said. "My primary responsibility will be ministry."
The South Central Judicial District comprises Burleigh, Emmons, Grant, McLean, Mercer, Morton, Oliver, Sheridan and Sioux counties. It currently has 10 judges. 
The district is the busiest in the state and has had a shortage of judges for years, based on weighted caseload studies. The Legislature earlier this year approved a new judgeship and companion court reporter. Burgum in August appointed South Central District Magistrate Pamela Nesvig to the new judgeship. She was sworn in last month.
Burgum ultimately will appoint a successor to Hagerty, whose term runs through 2020. Other judges in the district will vote on who succeeds Hagerty as presiding judge, overseeing the district.
Court Reporter Ronda Colby, who has worked with Hagerty for 17 years, called the judge's knowledge and experience "invaluable."
"We will miss having her leadership, her mentorship and her friendship on a daily basis," she said.
Hagerty said there isn't one particular thing that has prompted her to decide now to leave the bench, though her age is a factor.
"I've been planning for what I'll do when my time as a judge is done, and the pieces have been falling into place," she said, adding later that "I've been telling people for a long time I wouldn't run again, and it turns out that March is the right time for me to move on."
Colby said Hagerty "has mentored myself and countless others to strive for excellence."
"Her dedication to the profession speaks volumes, being a woman of integrity who is fair and just in her role," Colby said. "She has always been the calm in a storm."