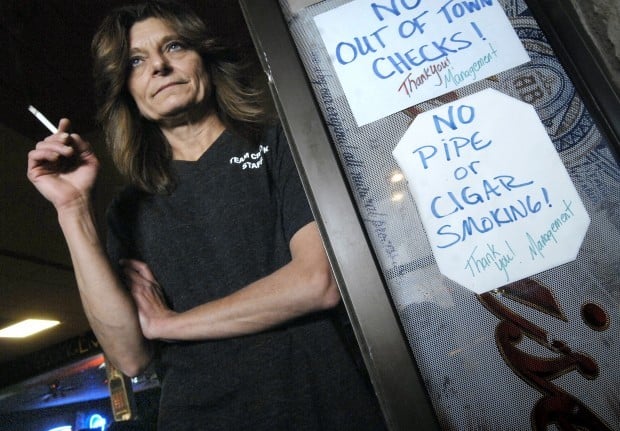 More than 66 percent of the 313,000 North Dakotans who voted Tuesday favored expanding a statewide smoking ban to include bars and other public places.
The majority of counties passed the ban with more than 60 percent of voters favoring the measure. Sioux County had the lowest percentage of supporting votes, with 54.02 percent. Eight counties had more than 70 percent of voters favoring the ban.
"We had widespread support," said Chelsey Matter, chairperson of Smoke Free North Dakota. "There was no county that didn't agree with it. That was really nice to know."
The new law prohibits smoking in most indoor workplaces including bars, tobacco shops, truck stops, taxis, motel rooms and private nursing home rooms. It bans the use of electronic cigarettes in public places and requires people to be at least 20 feet away from buildings when smoking.
The ban will be enacted 30 days after it is certified. The certification process will take about 10 days, Matter said.
"We're looking at mid-December," she said.
As of Sept. 1, eleven North Dakota cities already had laws banning smoking in bars: Bismarck, Fargo, West Fargo, Grand Forks, Linton, Napoleon, Lisbon, Devils Lake, Munich, Cavalier and Pembina.
Voters in three more small towns — Casselton, Cando and Walhalla — voted to ban smoking in bars Tuesday.
North Dakota is the 30th state to adopt a comprehensive statewide smoke-free law. The last state to adopt such a law was Wisconsin in 2009.
Bar owners have mixed reactions
The Burnt Creek Club, a bar north of Bismarck on Northstar Drive, has traditionally allowed smoking. Laurie Anderson manages the bar that she and her husband own.
"Personally, I'm OK with it (the smoking ban,)" she said. "My kids are happy about it. But business wise, I don't know what to think."
Anderson said business might slow down initially but then pick up once nonsmokers start coming more often. When Bismarck passed a citywide smoking ban, Anderson didn't see an increased number of patrons.
Now that the ban has passed, Anderson will have the carpet replaced and minor remodeling done.
"We were going to do it last summer and then we said, 'Let's wait and see what happens with this smoking ban,'" she said.
Luke Berger, owner of the bar Silver Dollar in Mandan, said he isn't happy about the ban but he saw it coming.
"I don't like it but it happens. What can I say?" he said. "We got by longer than Bismarck did."
Berger said he believes the ban will affect his business. He said more people may choose to buy off-sale alcohol in order to drink and smoke at home.
Shannon Doll, manager of the bar Last Call in Mandan, said he isn't surprised that the ban passed.
However, "It should be up to the business owner," he said. "There are plenty of places to go non-smoking if you don't want to smoke ... What's next? Are they going to tell us what kind of beer to sell?"
Doll said he hoped the ban wouldn't affect his business.
"I haven't seen a Bismarck bar close yet because of it," he said. "(But) we'll have to wait and see I, guess."
Milissa Bauer, general manager of Army's West Sports Bar in Dickinson, said she is personally in favor of the ban but doesn't know how it will affect business.
"We do expect to be building a smoking area outside," she said.
Bauer said she knows many people will be upset about the ban but she thinks the bar will get more business from "the younger crowd."
"I think it's going to be a good thing overall," she said.
The Center for Tobacco Prevention and Control Policy will work with state and local health departments to help the hospitality industry transition to being smoke-free, Matter said.
Local health departments will serve as a resource to bar owners, she said. There will be informational packets for bar owners and information will be posted on breathend.com "very soon," she said.
The law was written as clearly as possible to avoid confusion or gray areas, she said.
"The 20-foot law is pretty clear, laws for enclosure are pretty clear," she said.
The law bans smoking in public enclosed areas — spaces that have 33 percent or more of the surface area of its perimeter surrounded by opened or closed walls, windows or doorways.
Bismarck City Attorney Charlie Whitman said four or five Bismarck businesses have smoking huts. He wasn't familiar with the layout of all the huts but said they would probably need to be modified in order to comply with the new law.
"Most of them aren't completely closed in compliance with our current ordinance," he said. "I think the new law will require they be less closed."
"Do I think it'll affect them? Yeah, I do. I just don't know to what extent," he said.
Once the law goes into effect, a person could be fined $50 for smoking inside a bar. If owners of an establishment chose not to comply, the first time violation fee would be $100. Continuing infractions could result in an establishment having their liquor license suspended or revoked, Matter said.
"I don't know if it's gotten to that point anywhere else in the U.S.," Matter said.
The ban will be self-enforced by businesses and the health department will investigate on a complaint basis, she said.
Banning smoking in bars will make smoking less of a social norm, Matter said.
"We don't want smoking to be cool anymore," she said.
"(People who see smoking in bars) are more likely to smoke themselves or not be too hard on their kids for smoking because they have a perception that it's really normal," she said.
States that have implemented similar bans have had "a large number of health benefits" Matter said.
"Ten years from now, we're going to say 'People used to smoke indoors,' ... and (kids will) say 'Wow, you guys are crazy.'"