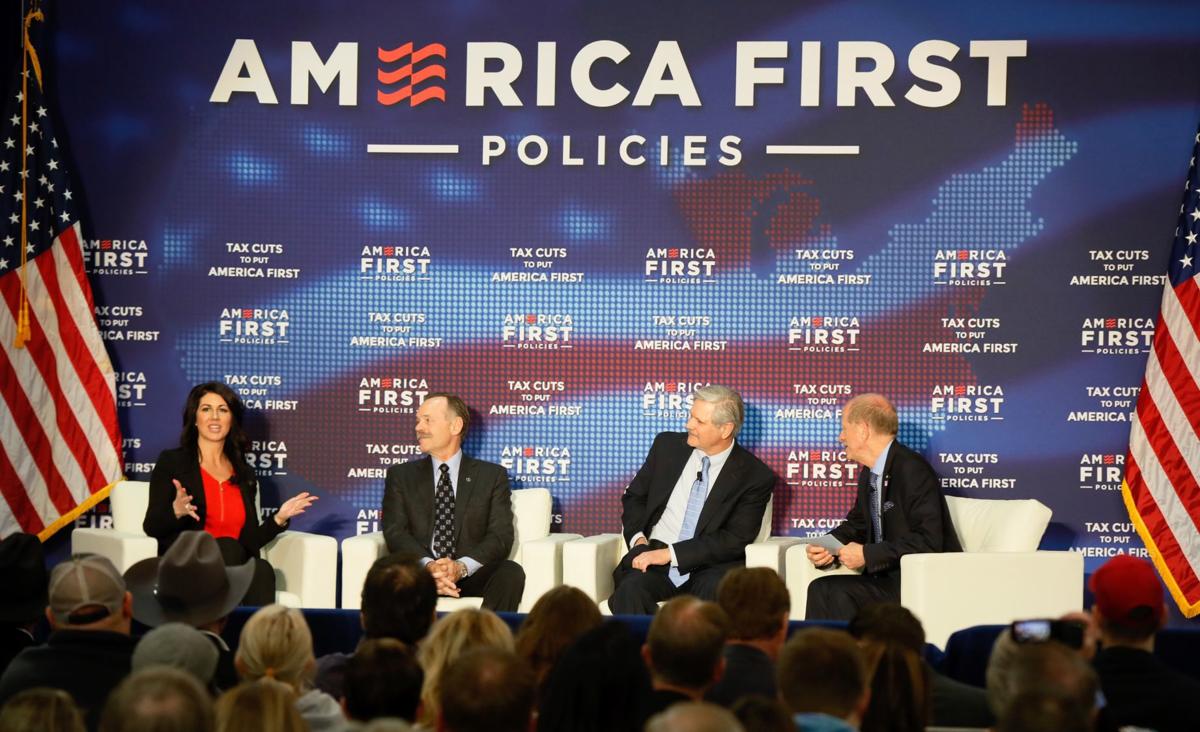 FARGO – Right after the tax reform bill became law in December, leaders of Fargo-based Scheels All Sports decided employees would get some extra money, a company official said during Vice President Mike Pence's campaign-style rally here Tuesday.
"We knew we wanted to do something intentional right away," said Chief Financial Officer Michelle Killoran. "So we decided to give a tax-reform bonus to our associates."
After hearing from employees, it became clear many didn't know what tax reform was or that it had happened, she said. Company leadership responded by holding meetings to explain to employees the "positive impacts" of the reforms to them and their employer, she said.
Killoran was one of several guests at a panel discussion that was the opening act to Pence's speech at the Delta Hotels by Marriott here. Others included Jeffry Volk, president and CEO of Moore Engineering in West Fargo, and Sen. John Hoeven, R-N.D.
The event was organized by America First Policies, a nonprofit group formed by President Donald Trump's political advisors in January 2017 to promote his campaign's agenda.
The panel was meant to highlight the advantages of the tax reform, which included tax cuts for most Americans but especially for top earners as well as deep cuts in the corporate tax rate. It also eliminates Obamacare's individual mandate that required everyone to buy health insurance or suffer a tax penalty.
Curtis Ellis, America First's senior policy advisor and former advisor to the Trump campaign, called it "the most significant reform of our tax code in a generation."
Besides news of Scheels' tax-reform bonus, Killoran said the company is continuing to grow – Ellis suggested this is thanks to lower taxes.
Scheels now has 27 stores in 12 states and Killoran said it's replacing stores in Lincoln, Neb., and Eden Prairie, Minn., with bigger stores before 2020, when it opens its first Texas store at The Colony. She added, to the crowd's delight, that this is near Frisco, where North Dakota State University often plays its national championship games.
Volk said that at Moore Engineering, employees have seen a 17-percent decrease in tax withholding on their paycheck, so the tax reform has been "pretty significant right out of the chute." He said he expects an annual valuation done for employee-owned companies like his will show Moore's value has gone up.
Ellis said another benefit of tax reform is change to the "death tax," a term many conservatives use for the estate tax. Previously, individual Americans could leave $5.5 million to their family tax-free; it was $11 million for married couples. The reform doubled those amounts.
Hoeven said that will allow more farm families to stay in the business instead of selling to pay their taxes.