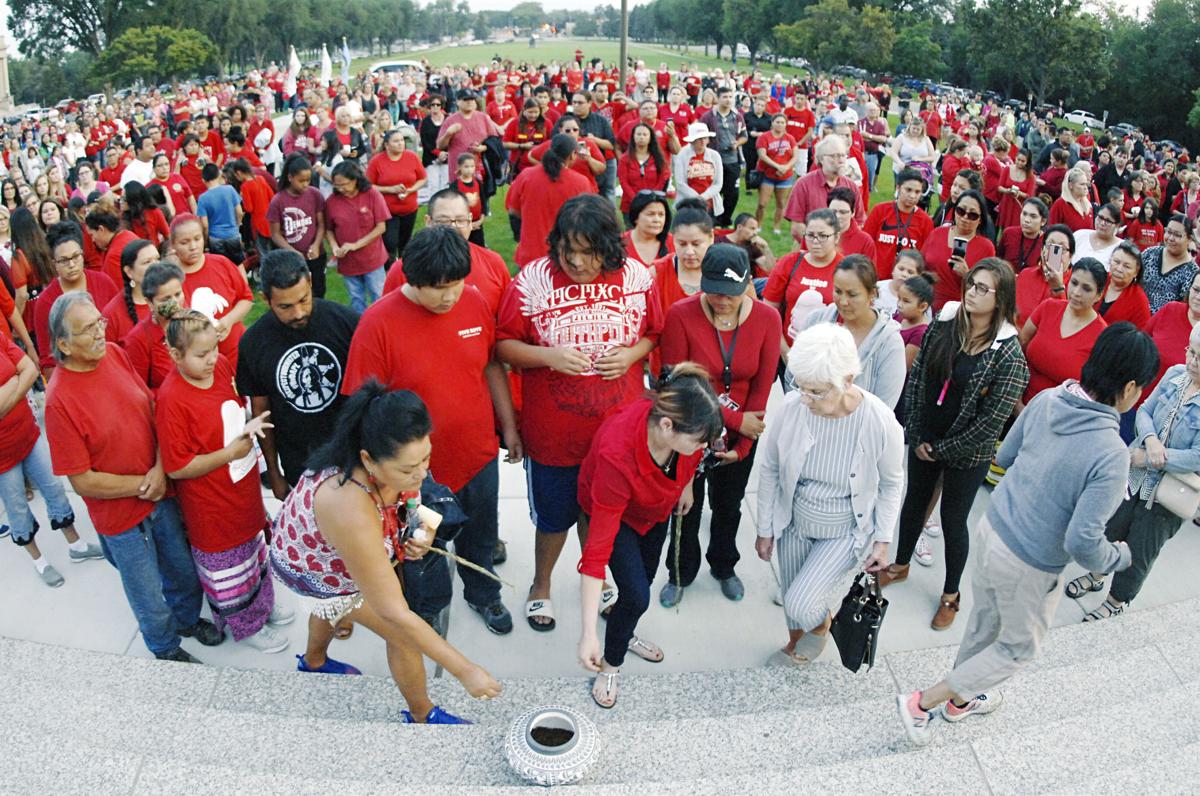 With a lack of statistics on missing and murdered Native American women, some tribal members in North Dakota give Sen. Heidi Heitkamp personal stories and handwritten lists.
Heitkamp highlighted stories of five women from the Dakotas on Thursday as she introduced legislation that would require data collection and remove barriers to help tribal law enforcement seek justice.
"It's time to give a voice to these voiceless women," said Heitkamp, D-N.D., during a speech from the Senate floor. "It's time to bring their perpetrators to justice and give a voice to the families who are struggling even today, sometimes decades later, to understand how this can happen in America."
Heitkamp named the legislation Savanna's Act in honor of Savanna LaFontaine-Greywind, a member of the Spirit Lake Tribe who vanished in August in Fargo while eight months pregnant. Her body was found eight days later in the Red River.
"Her death was an incredible tragedy, and, unfortunately, one that happens way too often to Native women," Heitkamp said.
In 2016, North Dakota had 125 cases of Native American women and girls reported missing to the National Crime Information Center. However, the actual figure likely should be higher due to a lack of reporting.
What happened to those 125 cases is not clear. According to the NCIC database, all but four of those cases were closed last year. But no information is available about how they were closed.
"This has added to not knowing what the actual magnitude of this epidemic really is," Heitkamp said.
Savanna's Act would require an annual report to Congress with statistics on missing and murdered Native women and recommendations on how to improve data collection.
Phil Two Eagle, the brother of one of the women Heitkamp highlighted in her speech, said he's glad the issue of missing and murdered Native women is now getting exposure.
His sister, Mona Lisa Two Eagle, a member of South Dakota's Rosebud Sioux, was last seen in the winter of 1979 when she left her sibling's house in a pickup with two guys. Two weeks later, her father and brother found her frozen body in a pasture, beaten, possibly raped and left alone in a blizzard. No one was ever charged with the crime.
"This thing's been weighing heavily in our family for a long time," Phil Two Eagle said. "We never did get any information from the FBI or law enforcement back then. It was good that we could shine some light on my sister's case. I'm hoping that we can get some answers."
Savanna's Act also seeks to improve tribal law enforcement access to federal crime databases and create standardized protocols for responding to cases of missing and murdered Native Americans.
In addition, Heitkamp said she's also continuing to push for more federal law enforcement resources in Indian Country.
"We need law and order on Indian Country to be a top priority for the federal government," she said in an interview. "They have a unique obligation to perform those functions."
Also Thursday, Sen. John Hoeven, R-N.D., chairman of the Senate Indian Affairs Committee, introduced the Tribal Law and Order Act Reauthorization and Amendments Act. The bill aims to enhance the current law to ensure tribes have tools to combat crime and increase coordination between tribal, federal and state law enforcement officials.
The legislation also would require the Justice Department to track and analyze data on human trafficking of Native Americans both in and outside Indian Country.
"We need those statistics, not only to better understand the problem in order to combat it, but also to understand if we're making progress or where we're making progress," Hoeven said.
In addition, Hoeven has introduced the SURVIVE Act, with Heitkamp as a co-sponsor, that will increase crime victim assistance funding provided to tribes.
The United Tribes of North Dakota recently called on federal leaders to take action after the killing of LaFontaine-Greywind. Some of their recommendations are included in the proposed legislation.
Rep. Kevin Cramer, R-N.D., said in a response to the tribal leaders' letter that he has asked the Department of Justice to review their recommendations.
"Justice should have no jurisdictional gaps," Cramer wrote. "As members of Congress, we should be committed to providing not only the necessary resources, but the consistent oversight in order to insure public resources are utilized to their fullest extent."