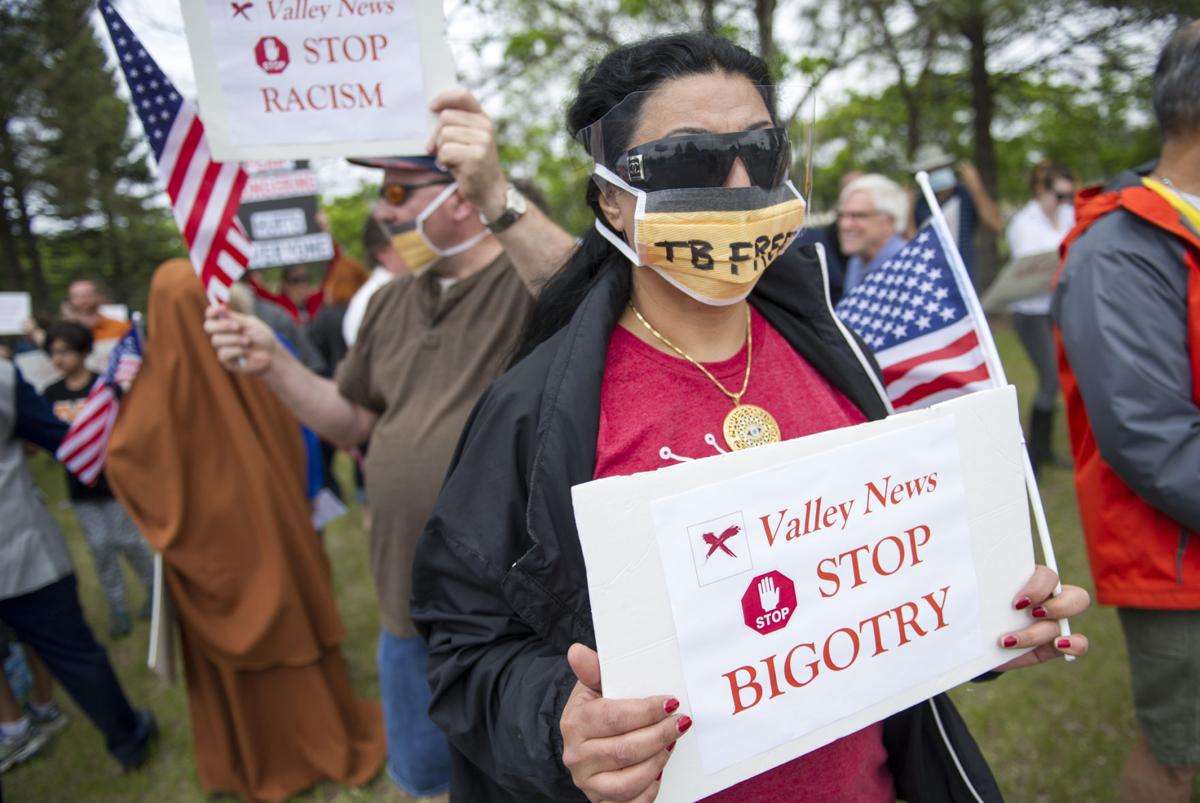 FARGO -- Top elected leaders joined about 100 protesters outside a Fargo TV station on Sunday to criticize a report it aired earlier in the week about the supposed health risks of living near refugees.
For two hours, the protesters chanted slogans like "Just tell the truth!" and marched around the offices of KVLY, also known as Valley News Live, a local CBS and NBC affiliate. The mayor of Moorhead and the deputy mayor of Fargo each made statements condemning the TV station and its story.
Sparking the protest was a KVLY report on Monday. It said "everyone, U.S. born or foreign born, who lives in a refugee resettlement area is at risk for contracting tuberculosis." An on-screen graphic for the story asked: "Could kindness be bad for your health?"
Health officials in North Dakota and Minnesota tell Forum News Service that living in a neighborhood with refugees is not a tuberculosis risk. The disease is not easily transmittable. North Dakota has one of the lowest rates of tuberculosis in the country and while Minnesota's rate is higher, it's still below the national average. "It's not a major problem for our community," said Dr. John Baird, health officer at Fargo-Cass Public Health.
The protesters demanded an apology and accused KVLY of fearmongering at the expense of refugees, who undergo intensive medical screening, including for tuberculosis, before entering the U.S.
Protester Madan Rana, 25,  of West Fargo, who is Bhutanese, described how his health was scrutinized before coming to the U.S. from Nepal as a refugee. "When I came from refugee camp, we had to do like one year of medications. We were checked of each and every single things," including tuberculosis, he said.
"The people that have moved here from overseas have been screened. Some of them have 30 pages of health reports," Fargo Deputy Mayor Mike Williams told protesters, using a loudspeaker. "We can treat tuberculosis, and it's not a large issue. There are real issues in Fargo: Heroin overdoses are a large issue that's worth news reporting."
Moorhead Mayor Del Rae Williams called KVLY's reporting "abuse."
"Our community cannot be at risk by journalism that is false. It can't be at risk because people get excited about things that are not true," she said. "We won't stand for this kind of abuse for our community. We will stand for things that are true and I greatly appreciate everybody being here."
She noted it was unusual for a politician to publicly criticize a media outlet that regularly covers her city. "For a mayor, it is not the easiest thing to stand up against a media thing, a group. I want my news to go out, I want it to be positive news, and to do this is not an easy thing. But I got to tell you, when it needs to be said, it needs to be said because this is important."
In a phone interview Saturday, Fargo Mayor Tim Mahoney, a medical doctor, weighed in, too. "It was unfair," he said of the report. "They seem to have a bias in their reporting." He said he was out of town and would not attend the protest.
The protest started at noon outside the station's office at 1350 21st Ave. S. A KVLY reporter came out to take some video and went back inside.
One of the protest organizers, Hukun Abdullahi, told the crowd that the story unfairly labeled New Americans like him as a public health risk.
"What Valley News did is not acceptable. They violated their basic journalism principles and any journalistic integrity--if they had any left--to go one step beyond to classify us as a vector for disease," said Abdullahi, who came to the U.S. from Somalia and runs the Afro-American Development Association in Moorhead.
"We are not mosquitoes. We are survivors with families and children, who fled violence, persecution, wars and death," he said. "All of us are here after cleared for admission after stringent medical examinations before arrival."
Wearing face masks and carrying signs with phrases like "Valley News stop hatred" and "TB = terrible broadcasting," the protesters walked around the station and along busy University Drive. Abdiwali Sharif of Fargo said KVLY should apologize. "They're trying to create fear," said Sharif, who came to the U.S. as a refugee from Somalia.
"Valley News have to correct what they did wrong, and what they did wrong is labeling the entire community with a message that is not true," said Hamida Dakane, 27, a Fargo resident who came from Kenya on a green card.
Abdullahi said he will contact KVLY's advertisers and ask them to stop doing business with the station if it does not apologize for the story. "We'll start with Sanford," he said, referring to the major local health provider. A Sanford Health spokesperson could not be reached for comment.
Someone who answered through the intercom in the KVLY lobby on Sunday said nobody was there and hung up after being asked if anyone wanted to comment on the protest.