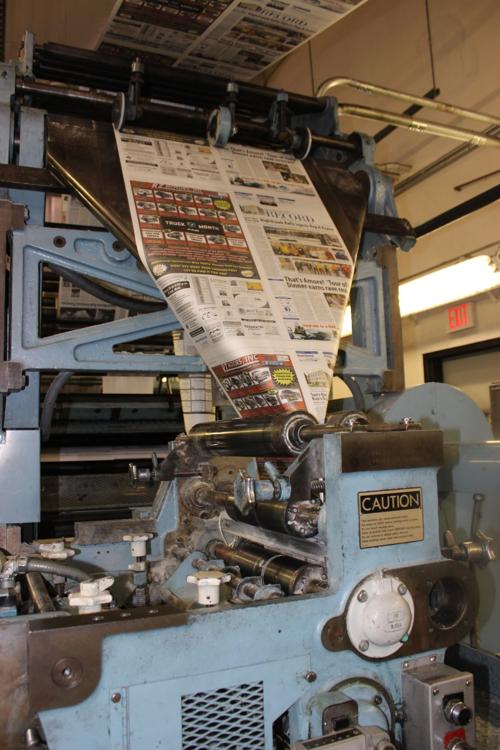 DICKINSON — The front pages of three southwest North Dakota weekly newspapers announced their closure last week, but at least two of them will continue to publish after an ownership change.
The Herald of New England and the Adams County Record ran news of their paper's closure on Friday, Nov. 29 — a sad day for small town papers, conceded Steve Hungerford, president of Country Media, which owned the papers.
According to Hungerford, The Herald, Adams County Record and Dunn County Herald's' pool of subscribers, advertisers and employees "had been slowly eroding" forcing the company to sell the papers. Without initial success, each of the three newspapers, all newspapers of record in their respective counties, closed operations.
When all seemed lost for area residents to receive a local paper, Jill Friesz, owner and publisher of the Grant County News and Carson Press in North Dakota, acted quickly to save two of the three papers.
"Steve Andrist, the executive director of the North Dakota Newspaper Association, reached out to me last Monday afternoon and told me that those papers were closing as of Friday," Friesz said. "He kind of put a bug in my ear that maybe that would be a great opportunity for me to grow a little bit and take care of those communities."
Friesz began the process of purchasing two of the papers — The Herald in New England and the Adams County Record.
You have free articles remaining.
"I signed the papers today and we go to the press at 4 p.m. tomorrow with both papers, so there will be no delay and the people of those communities will have their paper on Friday just like they always have," Friesz said Tuesday morning. "I think it's important because things are happening in those communities and I don't want the people to believe that those newspapers died. We will keep those papers going, we are going to keep covering events in those communities, there has to be continuity in that."
The future of the Dunn County Herald remained unclear Tuesday, Dec. 3, though The Dickinson Press was voted "newspaper of record" by the Dunn County Commission to publish legal notices in the interim.
According to Friesz, local news' value for rural western North Dakota communities is priceless and something she feels cannot be done from afar.
"Local news is so important because we are the historians for our communities," she said. "Bigger papers cover wide areas, but they can't come down to Mott, Regent, New England, Hettinger or New Liepzig and cover these areas the way that we can cover them."
Friesz said her newest papers will continue doing business as usual.
"We let people know who the homecoming king and queen are, we let people know what the score of last night's game is, we tell people what's going on in the school board and city council. We are the ones that are really keeping everyone informed on what is going on in their community, while also taking pictures of their child sitting on Santa's lap," she said. "That's what we do, we take care of our own communities."
While headlines across the country continue to paint a grim image for local newspapers, Friesz doesn't believe that they are dying as reported.
"We are the only ones that are providing that local news. No one else is covering those local things," she said. "People want to see their children in the paper, they want to see their neighbors doing well, they want to know what's going on. That will never die."