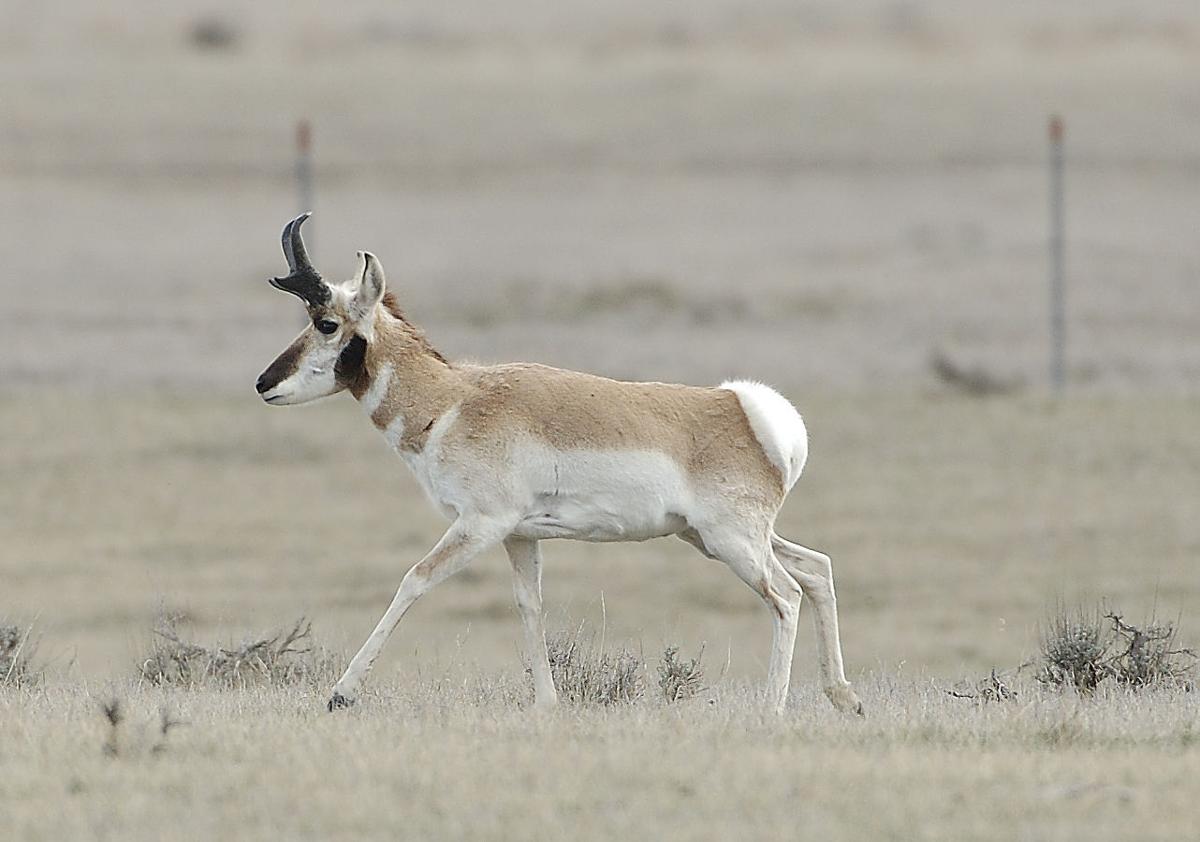 The pronghorn population in western North Dakota is nearly all the way back from a string of harsh winters in the late 2000s that decimated herds and prompted state wildlife officials to ban hunting of the animals that resemble the African antelope. 
A recently completed annual survey indicated a 6% increase in pronghorn numbers, according to the state Game and Fish Department. That's on top of a 4% rise last year.
The state will make 1,790 licenses available for the fall hunt, a 35% increase from last year. That's on top of a 24% jump in 2019. Open units will increase from 12 to 15. A large hunting unit north of the Missouri River will be open this fall for the first time in 27 years.
"I wouldn't say that we are completely back -- there are still two units that we haven't opened up yet, south and west of the Missouri River," state Wildlife Chief Jeb Williams said. "That's probably the signal of when things are completely back."
Game and Fish halted pronghorn hunting from 2010 to 2013 to allow the animals to recover from the harsh winters that followed the 2007 hunt -- in which 6,000 licenses were available.
Hunting resumed in 2014, but over the next four years, licenses averaged only 451 per season, in an average of four units. The past three years, licenses have averaged 1,398, with open units increasing every year.
This fall, two units -- 8A and 11A in southwestern North Dakota -- will be open for the first time since 2009. Unit 13A in the northwest -- which is secondary range for pronghorn -- will be open for the first time since 1993.
"In addition, doe/fawn licenses will be issued in units 1A, 2A, 5A, 6A, 7A and 11A to address areas of high pronghorn density and provide additional hunting opportunities," said Bruce Stillings, big game management supervisor for Game and Fish.
Those units all are in the southwest.
It's only the second year of doe/fawn licenses since the resumption of hunting.
"All in all, we're seeing some really good things," Williams said. "Any time our survey indicates that population of around 10,000 critters, that's a good thing."
Pronghorn hunting is popular in North Dakota. Last year, nearly 13,000 hunters applied -- meaning nearly 10 hunters vied for every license that was available.
Assuming no harsh winters, the two remaining closed units could be reopened in "not too terribly long," Williams said.
"Anytime you can have those additional opportunities in an area, it's good for a lot of reasons," he said.
Seventy-four percent of licensed hunters who went after a pronghorn last fall bagged an animal, slightly below the 80% threshold that Game and Fish considers a good year. Williams said an excessively wet fall that led to poor hunting conditions might have played a role.
"But when we are in the rebuilding mode, those success rates can sometimes vary," he said. "Back 10-plus years ago, when all units were open, success rates were around 80% and even higher some years." 
The bow-only portion of this year's season is from noon on Sept. 4 through Sept. 27. Eligible hunters can use guns or bows from noon on Oct. 2 through Oct. 18.
Only North Dakota residents are eligible to apply for a pronghorn license. Applicants can apply online at the Game and Fish Department website, gf.nd.gov, or by calling 800-406-6409.
The pronghorn license fee is $30 for hunters ages 16 and older, and $10 for those under age 16. Applicants must be at least 12 years old on or before Dec. 31. The deadline to apply is Wednesday. 
Be the first to know
Get local news delivered to your inbox!