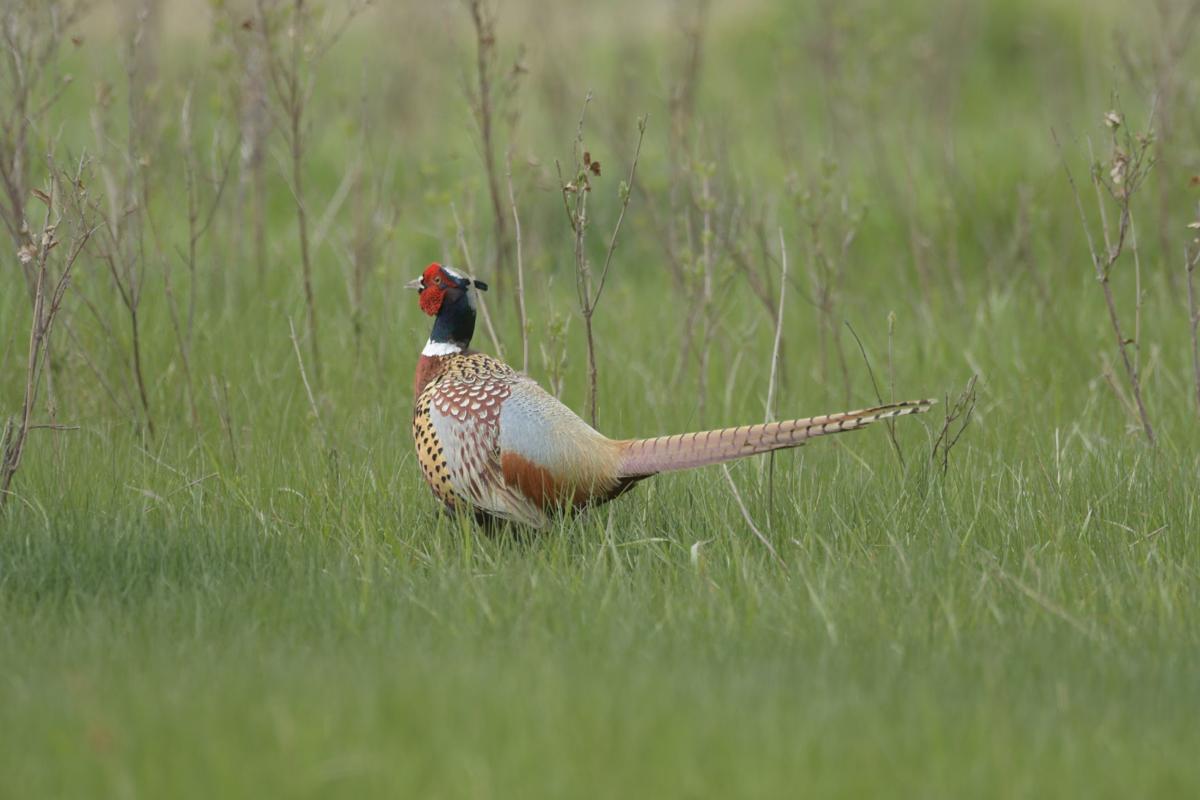 North Dakota's pheasant population continues to rebound from devastating drought three years ago, though a state wildlife expert says hunters still will need to find "hot spots" to have a successful hunt.
Roadside surveys conducted in late July and August indicate pheasant numbers are up from last year, along with sharp-tailed grouse and gray partridge, according to the state Game and Fish Department. The data is based on 275 survey runs made along 100 brood routes across the state.
"We had good residual cover to start the year, and good weather for nesting and brood-rearing," upland game biologist RJ Gross said. "There were some areas that experienced abnormally dry periods throughout the summer, but nesting appeared to be successful."
Total pheasants observed per 100 miles are up 38% from last year, though 14% below the 10-year average. Broods per 100 miles are up 30% from last year, but 16% below the 10-year average. Average brood size is up 10% from 2019 and just 5% below the 10-year average.
"While these numbers are encouraging, it's important to remember that bird numbers in the last five years have been lower than what upland game hunters have been used to for many years, due to changing habitat conditions and the drought of 2017," Gross said. "For context, these numbers put us about halfway back to where we were prior to the 2017 drought."
Pheasant hunting thrived in North Dakota in the early 2000s, when there was plentiful Conservation Reserve Program acres in the state. Pheasant harvests in the middle of the decade reached 700,000, 800,000 and even 900,000 birds.
CRP land has dwindled as farmers have put idled grassland back into crop production. Game and Fish has lowered its benchmark for a good season from 500,000 pheasants to 400,000 birds.
In the drought year of 2017, the harvest dwindled to about 309,000 birds, and it rose only slightly the following year to 343,000. Last year it plummeted to 257,000 -- the worst this century -- due to record wet fall weather and miserable hunting conditions. 
State Wildlife Chief Jeb Williams said this summer's survey numbers are encouraging.
"Since wild pheasants are a relatively short-lived bird, the outlook for the fall hunting season is usually determined by how successful the hatch and brood rearing is over the summer months," he said. "Based on our survey information, pheasant hunters can look forward to a better fall than 2019."
Gross said local populations of pheasants are building back up from the 2017 drought, "but they are not at the point yet of spreading out into new territories."
"Hunters will need to find localized hot spots of pheasants," he said.
Survey statistics from southwestern North Dakota -- prime pheasant habitat -- indicated eight broods and 70 pheasants per 100 miles, up from six broods and 41 pheasants in 2019.
Survey observers in the northwest counted 12 broods and 91 pheasants per 100 miles, up from five broods and 39 pheasants last year.
Results from the southeast showed five broods and 41 pheasants per 100 miles, down from six broods and 51 pheasants in 2019.
The northeast is generally containing secondary pheasant habitat.
Pheasant hunting attracts hundreds of thousands of hunters to the state who spend an estimated $60 million in an average year, according to state Tourism Division data. The pheasant season opens Oct. 10 and continues through next Jan. 3. The two-day youth pheasant hunting weekend, when licensed residents and nonresidents age 15 and younger can hunt statewide, is Oct. 3-4.
The grouse and partridge seasons opened Sept. 12 and continue through Jan. 3. Sharptail grouse observed per 100 miles were up 54% statewide, and partridge were up 45%.
Be the first to know
Get local news delivered to your inbox!