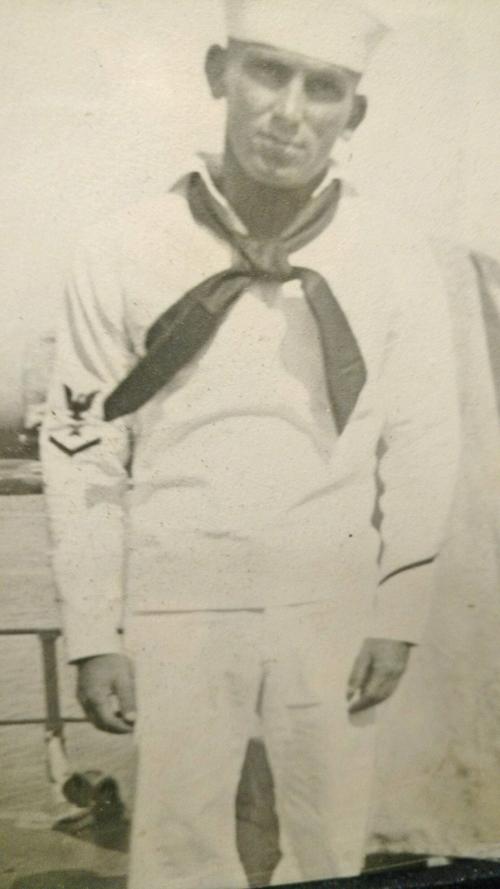 FESSENDEN -- Gunner's Mate 1st Class Arthur C. Neuenschwander was a little over two weeks shy of his 34th birthday on Dec. 7, 1941.
He never made it to his birthday as he was in the U.S. Navy aboard the USS Oklahoma, which was one of the first ships on Battleship Row at Pearl Harbor that was damaged by the Japanese Navy.
After 75 years, seven months and 17 days, Neuenschwander is returning home to Fessenden. Ross Johnson, Neuenschwander's nephew, said there will be a memorial service in the old Fessenden gymnasium at 2 p.m. June 24, followed by a military burial at 3 p.m. at Hillside Cemetery.
Fessenden is about 80 miles northwest of Jamestown in central North Dakota.
The USS Oklahoma was hit by eight or nine torpedoes in the first 10 minutes of the Japanese Navy's attack on Pearl Harbor. The battleship was so damaged by the torpedos that it capsized at its berth, trapping hundreds of men, including Neuenschwander, inside.
Johnson said where his uncle was stationed in the ship was also part of the ship's tool shop, including welding equipment and shears, which are large scissors used for cutting metal. When the Oklahoma capsized, all that equipment went flying and likely killed Neuenschwander.
Finding Arthur
Johnson said a representative from the Navy called him in 2010 or 2011 stating that the Navy was attempting to contact family members of sailors who died on the USS Oklahoma and were buried in a mass grave after the attack on Pearl Harbor.
Through the use of DNA from surviving family members, the U.S. Department of Defense POW/MIA Accounting Agency was able to identify Neuenschwander's remains. Johnson said he was contacted by Gerald Bach, a naval officer with the POW/MIA Accounting Agency, to review the information provided by Neuenschwander's family. The family was notified on Feb. 4 that Neuenschwander's remains had been found.
Johnson said his uncle's remains will arrive Wednesday, June 21, at Hector International Airport in Fargo and will be transported to a crematorium. Neuenschwander's remains will be buried next to his parents in Hillside Cemetery.
He said he and members of his extended family are grateful for the effort that went into finding and identifying his uncle's remains.
"The United States of America goes all out to always bring back wounded and/or deceased veterans," he said, "sometimes at awful risk and some deaths just to get people back."
Johnson, a decorated Vietnam War veteran, said he was initially shocked to learn that the U.S. military used mass graves to bury dead service members during World War II.
"We had body bags in Vietnam," he said. "We identified people, we pulled them off the battlefield and brought them back home. When this lady said, 'There was a mass grave,' that just threw me."
Johnson said he didn't know a lot about his uncle growing up because his mother, Bertha Johnson, and grandmother didn't talk about him.
"She (his mother) lived to be a little over 99, but she never wanted to address the war issue," he said.
Letter from a friend
Johnson said Neuenschwander was the first of Otto and Lillian Neuenschwander's seven children.
"Arthur was the first of the Neuenschwander family to leave Fessenden," he said, "and the last to come home."
Johnson said in 1981 Jalmer H. Skjaret, a retired U.S. Navy commander in San Francisco, contacted the U.S. postmaster in Fessenden seeking information on the family of an "old friend and shipmate" -- Neuenschwander.
Skjaret, originally from Moorhead, Minn., was put in contact with Bertha Johnson, who is also Neuenschwander's sister. Skjaret wrote a letter to Bertha Johnson in October 1982 that described his friendship with Neuenschwander and his battle station on the USS Oklahoma.
Neuenschwander was stationed in the ammunition magazine on the third deck between gun turrets 3 and 4. He was responsible for getting the ammunition for the 5-inch guns for both sides of the ship.
Neuenschwander joined the Navy in February 1927. Skjaret said he and Neuenschwander had "gone on a holiday together" and traveled on a train to get back to their respective homes.
Ross Johnson said he kept Skjaret's letter as well as a letter his mother sent to Neuenschwander dated Dec. 10, 1941, which was a response to a letter his uncle sent her dated Nov. 16, 1941.
"Her letter to my uncle is stamped 'Return to sender, address unknown,'" he said.