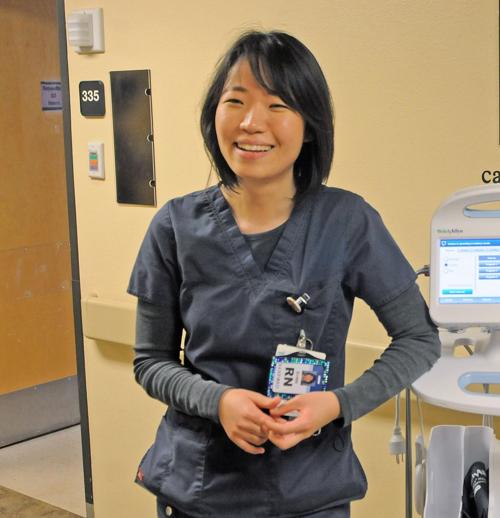 Sweeping changes stand on a precipice for hospitals and health systems. An aging population is driving a need for more nurses, health care is moving out of the walls of hospitals and technology is creating more jobs in this sector.
The projected employment of registered nurses is expected to grow and so, too, are shortages in the field.
National shortages are expected to result from a surge of baby boomer nurses retiring in the next decade. At the same time, more nurses will be needed to account for a growing number of people who are accessing health care as a result of federal health care reform.
By 2020, there will be 1.6 million job openings for nurses in the U.S.
To account for current and projected shortages, hospitals in the state are getting creative in their hiring practices, including recruiting international nurses as well as younger nurses.
Technology also is expected to impact nursing jobs, with more outpatient centers and fewer hospital stays. Technological innovations are making it possible for people to live longer, creating a need for more nurses in long-term care facilities and assisted-living facilities.
"Yes, technology may reduce the need for or demand for particular types of jobs, but, at the same time, it can open up other types of jobs," said David Flynn, an economics professor at the University of North Dakota. "Everyone seems to think technology means that we're putting people out of work and there's no opportunity for them to find work anywhere else, and that's very depressing," he said.
There are about 700 registered nurse openings in the state, with 112 positions open at Sanford Health, said Jan Kamphuis, chief nursing officer at Sanford.
Through 2020, North Dakota will have 4,430 registered nurse openings, according to a recent report from Georgetown University Center on Education and the Workforce.
As the population grows in Bismarck and North Dakota, that translates into a growing need for nurses at Sanford Health and CHI St. Alexius Health.
"All of our volumes have increased in the medical center. We broke our volume for deliveries, for ER patients, for surgical; our volumes in the clinic are bigger. That takes more staff when you have growth," Kamphuis said.
To recruit more nurses, Sanford is using an arsenal of tactics, Kamphuis said. The hospital has had various success with signing bonuses, including a $20,000 bonus in December for nurses with one year of experience.
You have free articles remaining.
"We didn't really attract any nurses with that, but we thought, 'Well, let's try it,'" she said.
Sanford hired a nurse recruiter in December, who goes to various colleges in the state and promotes nursing at Sanford. The hospital partnered with North Dakota State University to create a nursing program and had its first graduating class in December. Of the 36 graduates, 31 came to work at Sanford, Kamphuis said.
Recruitment and retention are issues for many hospitals in the state. With a growing aging population and a large number of retiring nurses in the next decade, Kamphuis said Sanford is "looking at everything."
The hospital recently hired a company to bring in more nurses from overseas. Sanford Bismarck hired three nurses in August, including a nurse from Nicaragua and another from the Philippines.
Mercy Medical Hospital in Williston hired 12 international nurses through the company, and these nurses have a high retention rate, according to Kamphuis.
"The goal is hopefully at the end of their two-year contract, they will commit to stay in the community," she said.
For the first time, CHI St. Alexius hired five international nurses who will be starting March 14, said Rosanne Schmidt, the hospital's chief nursing officer.
"We know there's a shortage; we just have to work smarter," Schmidt said.
And working smarter includes retaining younger nurses, she said.
According to estimates, nationally, the average age of U.S. registered nurses is about 50 years old. Traditionally, people retire at age 65, and the North Dakota Center for Nursing predicts 21 percent of current registered nurses will retire by 2026.
St. Alexius' nurse recruiter Tabitha Beede is working to recruit and retain more millennial-age nurses.
Still, as both Sanford and CHI St. Alexius are working to develop new and creative ways to hire more nurses, officials at both hospitals say they are unsure whether they will be able to fill all of the projected openings.
"I think we're going to be in a state of flux for a long time. Will we ever come out of it? I know we won't come out of it by 2020," Kamphuis said.
"I think we're going to be in a state of flux for a long time. Will we ever come out of it? I know we won't come out of it by 2020." — Jan Kamphuis, chief nursing officer at Sanford Health

"Technology may reduce the need for or demand for particular types of jobs, but, at the same time, it can open up other types of jobs." — David Flynn, economics professor at the University of North Dakota
"Technology may reduce the need for or demand for particular types of jobs, but, at the same time, it can open up other types of jobs."

-- David Flynn, economics professor at the University of North Dakota
"I think we're going to be in a state of flux for a long time. Will we ever come out of it? I know we won't come out of it by 2020."

-- Jan Kamphuis, chief nursing officer at Sanford Health