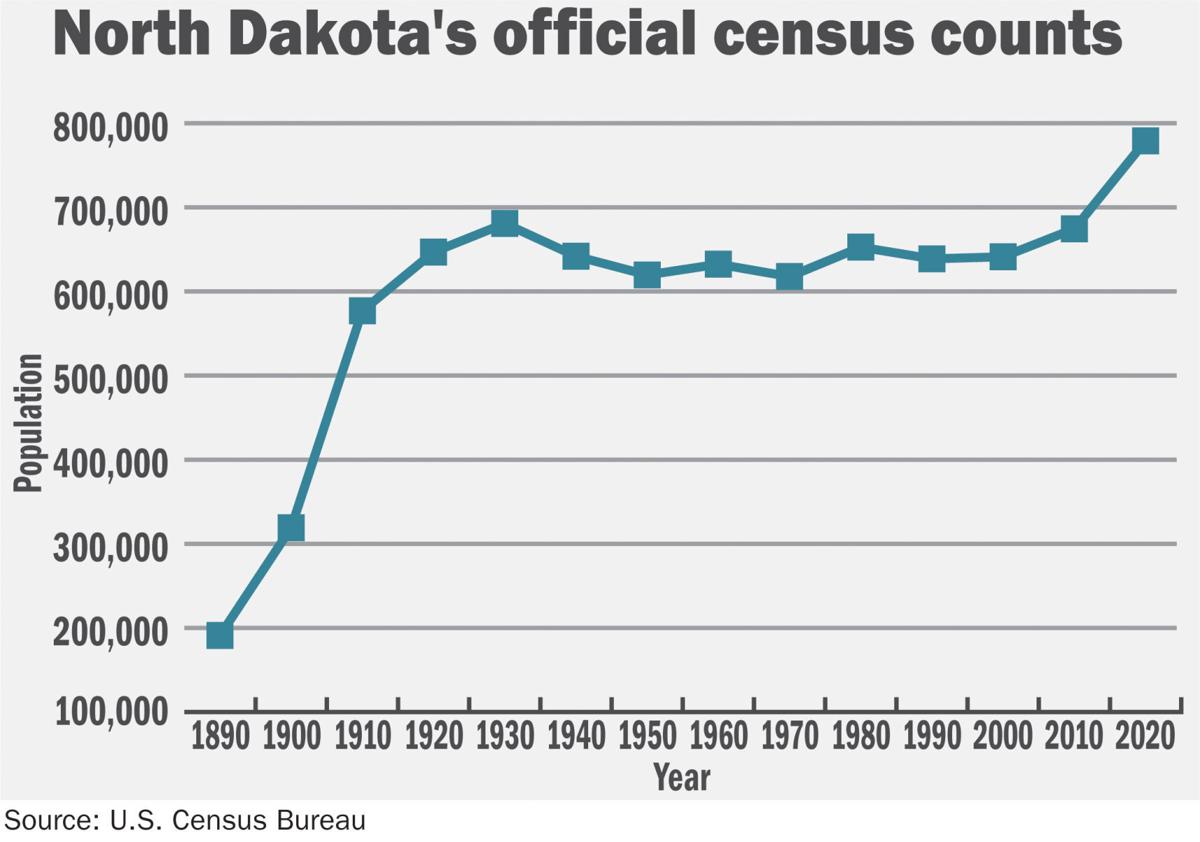 The Bakken oil boom helped boost North Dakota's population nearly 16% over the past decade to 779,094 in 2020, the official count released Monday by the U.S. Census Bureau.
The last census count put the state's population at 672,591 in 2010, a figure that grew rapidly as advances in drilling technology and the promise of high-paying jobs lured tens of thousands of people to western North Dakota.
"The oil boom was certainly huge," said Kevin Iverson, manager of the North Dakota Census Office. "My suspicions are that is not the only thing."
Other parts of the state such as Fargo have seen substantial growth over the past decade, too.
"It could be the fact that we are a low-tax state sitting next to a fairly high-tax state," Iverson said. "Roughly 50% of new residents in North Dakota come from Minnesota. I think that explains partly why you're seeing so much growth in the Fargo area, because you can save a lot more money moving across the state boundary."
Such trends will become clearer later this summer or fall when the Census Bureau releases census data broken down by city, county, age, race and gender, among other metrics.
The state's official census count showed nearly 10,000 more residents than Iverson had expected. He had based his best guess off past counts and annual census estimates, the latest of which put the state's population at 765,309.
"Obviously, it's really good to be wrong," Iverson said.
The official decennial census count -- not the estimate -- is used to determine congressional seats and how much federal funding circles back to North Dakota communities for things like roads, social services and other programs. North Dakota officials estimate that each uncounted person causes the state to lose out on $19,100 in federal funds over the course of 10 years.
Iverson attributed his surprise to several possibilities: Annual state population estimates from the Census Bureau tend to be conservative, and while it's easy to track births and deaths, it's harder to track migration.
The count reflects North Dakota's population on April 1, 2020, several weeks after the oil price collapsed amid the coronavirus pandemic. Officials feared an exodus of laid off oil workers, but it's possible that many who left the Bakken were people who lived elsewhere, commuting to the oil patch to work shifts a few weeks at a time, Iverson said.
The last time North Dakota saw growth of this magnitude was over a century ago in its homesteading days. Following statehood in 1890, North Dakota's population climbed 128,000 between 1890 and 1900, and then another 258,000 by 1910, according to historical census records. The increase from 2010 to 2020 was roughly 107,000.
The growth in North Dakota over the past decade was considerably more than elsewhere in the region. The Midwest's population rose by just 3.1%, the slowest rate of any part of the country. The U.S. population as a whole increased 7.4%. Utah grew faster than any other state at 18.4%.
"The record high 2020 Census count is great news for North Dakota and reaffirms what those of us who live here already know: that our state is a land of abundant opportunity and one of the best places in the nation to live, work and raise a family," Gov. Doug Burgum said in a statement.
Iverson noted one other significant milestone: North Dakota's population had been stuck in the 600,000-range for 100 years, never before exceeding the 700,000 mark in a census count.
"We just rolled the front digit of our population," he said. "We haven't done that since the census of 1920."
North Dakota is now the fourth-least populated state, its count surpassing Alaska's in 2020. Alaska falls into third with Vermont second and Wyoming maintaining its status as the state with the fewest residents. South Dakota came in fifth at 886,667.
The 2020 census was conducted last year, and the response time was extended due to the pandemic. People filled out the census via mail, the internet or phone.
Census workers went knocking on doors to account for people who did not respond, and the bureau used administrative documents such as tax records to augment the count.
State and local officials made a concerted effort to encourage people to respond, including using a $1 million legislative appropriation to fund advertising and other activities surrounding the census.
North Dakota will continue to hold just one seat in the House of Representatives. The number is based on a state's population and can change every 10 years after the census count.
The count will be used by state lawmakers to redraw legislative districts later this year.