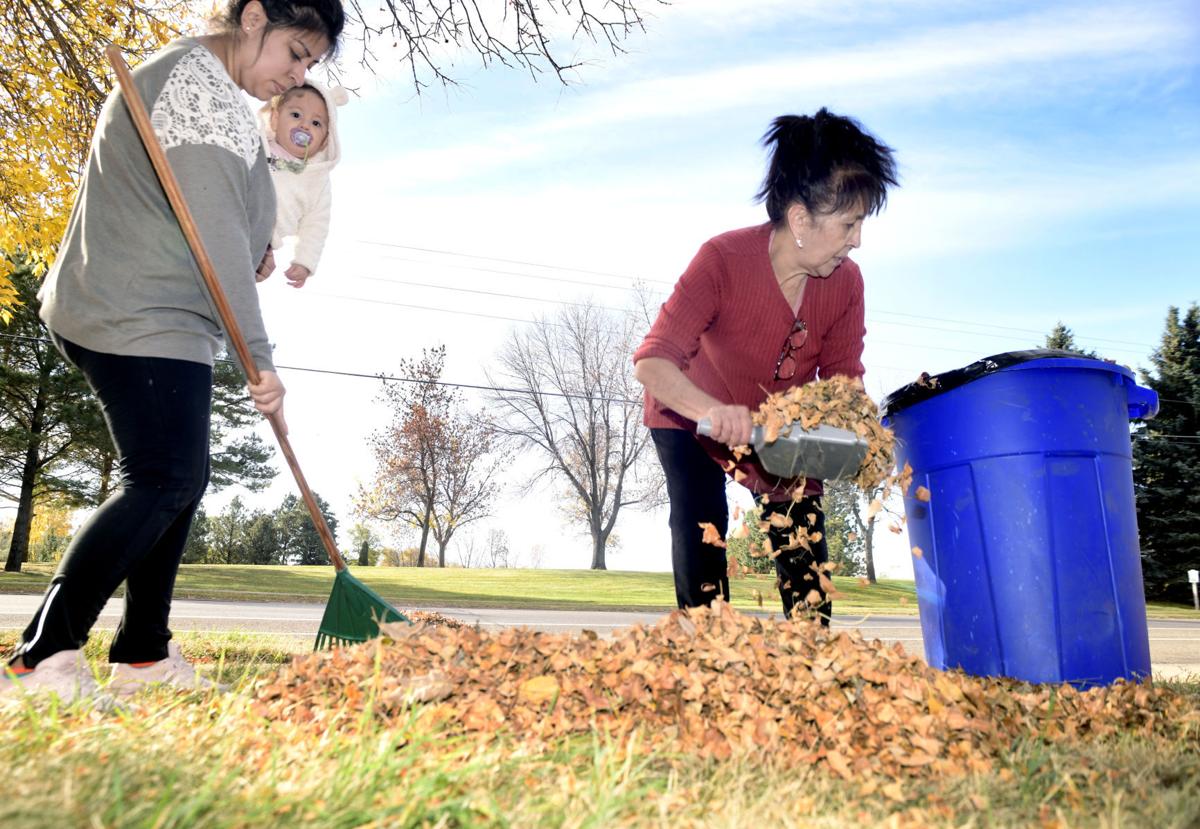 Last week's unseasonably warm weather will give way to the coolest temperatures of the season this week in North Dakota, with the potential for a snowy weekend in the Bismarck-Mandan area.
Snowfall could be measurable. While it's not likely to stick around for long, it will be a good reminder to dig out cold-weather clothing and get winter equipment such as snowblowers in working order, according to National Weather Service Meteorologist Todd Hamilton.
With the relatively balmy fall, "I'm sure no one has really thought of it much this year," he said. "Hopefully we won't have to use them, but a good reminder to get them ready, because eventually we will."
High temperatures this past Saturday were in the 70s, but a cold front that tracked through the region late Sunday and early Monday will drop daily highs into the 60s, 50s and then 40s as the week goes along, with overnight lows dropping into the 20s later in the week. Warm air has been coming from the Pacific and warming even more as it crosses the Rockies, but a shift in the jet stream means air will now be coming from Canada, according to Hamilton.
"By the middle of the week -- Wednesday night, Thursday night -- pretty much the whole state will be below freezing, well-below freezing in some areas," he said.
The middle of the week also will be marked by another cold front blasting across the nation's midsection, according to AccuWeather.
"The transition to colder weather will be accompanied by a storm that can bring snow or a mixture of rain and wet snow to the northern tier of the Plains and the Upper Midwest from Wednesday to early Thursday," AccuWeather Meteorologist Matt Benz said.
The best chance for midweek snow in North Dakota is along the Canadian border, according to Hamilton. However, the Bismarck-Mandan forecast calls for a chance of snow from late Friday into early Sunday.
"It's not going to be cold enough that we have snow all day, but we do have the potential" for snow, Hamilton said. "It's certainly possible we could see something measurable this weekend ... (but) nothing like the big storm we had last year at this time."
The Oct. 10-13, 2019, storm dropped as much as 1 ½ feet of snow in the Bismarck region and up to 3 feet in the Harvey area.
Last year was an El Nino year, when a warming of water in the central and eastern Pacific influences weather in the continental U.S. This year is the opposite -- a La Nina year, when there is a cooling of water. In such years, the first measurable snowfall in Bismarck is Nov. 1, a week later than in El Nino years.
Any rain or snow this week in North Dakota should help with dry conditions. The most recent U.S. Drought Monitor Map shows 86% of the state as being either abnormally dry or in drought. About one-third of North Dakota is in moderate drought, and another fifth -- including the Bismarck-Mandan region -- is in severe drought.
"With how dry we've been, for most, if you're not harvesting or something, most people will welcome the moisture," Hamilton said.
Be the first to know
Get local news delivered to your inbox!