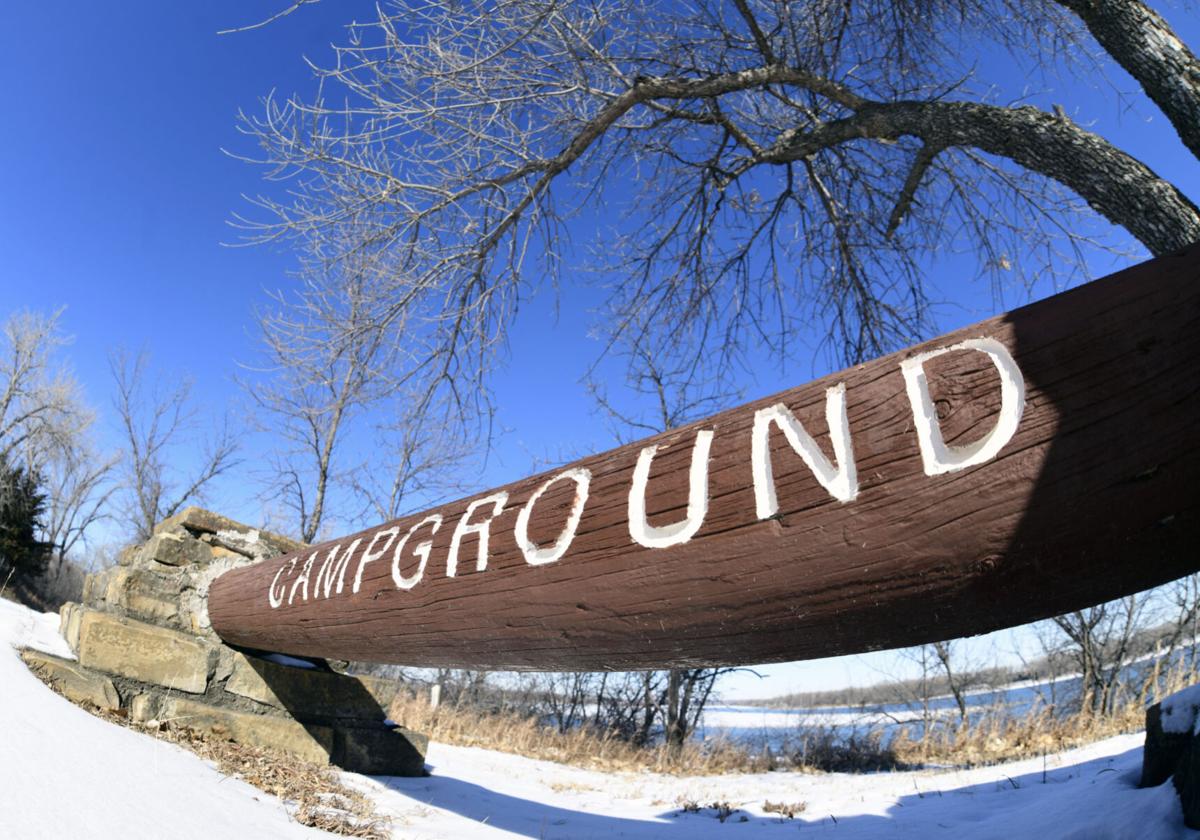 North Dakota's Parks and Recreation Department is looking to upgrade state parks after a record year of camping in 2020. 
Gov. Doug Burgum's budget blueprint included nearly $20 million to address deferred maintenance and to modernize park amenities. The House Appropriations Committee approved $7.5 million for deferred maintenance in the $48.1 million two-year department budget the House passed 81-13 late last month. The bill now is in the Senate.
"We have a big asset in the state, and that's our parks and rec," said Rep. Mike Nathe, R-Bismarck.
Keeping up
Amid the coronavirus pandemic, North Dakota's 13 state parks saw a 35% increase in campsite nights from May 1-Oct. 31 last year compared to the same period in 2019.
North Dakota's state parks chief expects the interest to remain high in 2021; in the first weekend of January, more than 1,500 people signed up for Parks and Rec's new "12-months 12-parks" hiking challenge.
Amid mild weather in January, some campers came out with ice fishing houses -- even one with a big tent and a stove.
Parks and Recreation Director Andrea Travnicek said the department wants to maintain the campsites and facilities it has but "also continue to modernize them as well so that we are keeping up with our visitors' customer needs, their expectations of what they're hoping to find when they come out to our property."
North Dakota's state parks have a $74 million backlog of deferred maintenance, including buildings' painting, shingling, plumbing and utilities, as well as park roadways.
Burgum's budget recommendation asks for $10 million for deferred maintenance and $9.9 million for upgrades such as broadband technology and greater electrical services, Travnicek said.
Fort Abraham Lincoln State Park south of Mandan has an estimated $8 million to $9 million of deferred maintenance, according to Parks and Rec spokeswoman Kristin Byram. A spring survey will document the needs.
Items are mostly electrical and campsite upgrades; and some buildings in need of siding, shingles or plumbing, along with accessibility upgrades, Park Manager Dan Schelske said. There are needed road and shoreline repairs, too. 
The Depression-era Civilian Conservation Corps built a lot of the park's structures, including the visitor center, main office and picnic shelters.
Challenge grant
The governor's budget recommendation also included a $10 million State Park Challenge Grant Program. The state would use earnings from Legacy Fund oil tax savings to match nonstate donations to go toward park projects.
Travnicek cited potential examples of rebuilding a CCC shelter that burned down last year at Fort Abraham Lincoln State Park, or building a campground at the Pembina Gorge State Recreation Area near Walhalla. The challenge grant program could bring together individuals and community organizations, she said.
"Right now the state is focusing on the properties that we do have, knowing that budgets have been a little bit more restrained, so how do we continue to maintain the properties that we do have but also look into the future for some of those properties and amenities and experiences that people are looking for?" Travnicek said.
She said the increased use in 2020 made clear the priority to maintain and modernize facilities and to plan for the future, "being responsive to what we're seeing from our visitors that are coming to the parks so that we are meeting their needs, their expectations."
The House Appropriations Committee didn't include the proposed challenge grant program or the money for modernizing amenities. Nathe said the budget process is fluid. The Senate will take up the budget, and a forthcoming revenue forecast this month could bear rosy numbers, he said. A House-Senate conference committee also could make changes.
"This budget is far from over," he said.
Events
State parks also are undergoing updated master planning with public review. Some parks' master plans haven't been updated since the 1980s. Travnicek called it an opportunity "for us to see what the public is looking for as we really look (toward) the next 10 years of each of these state park properties."
Parks and Rec recently gathered public input through a $150,000 survey on park amenities and services, and will produce a report this spring.
Special events at parks also are slowly returning, such as night hikes, but with social distancing protocols.
Schelske said Fort Abraham Lincoln State Park held its first guided hike last month since March 2020, when the coronavirus pandemic emerged in the state, restricting events and gatherings.
Daily visitation is above the average year, he said. People come out daily to hike. And three campers spent 10 cumulative nights in the park during mild January weather. Two of them were from Texas and Minnesota.
"That's like a thousand percent up from normal," Schelske said.
The park is planning for more events and programs this summer. State park hiking and photo challenges likely will prove popular, he said. 
"We're anticipating a good year, with the pandemic kind of fading out a little bit, I hope," Schelske said. "Whatever the normal is, we're going to try to do it."