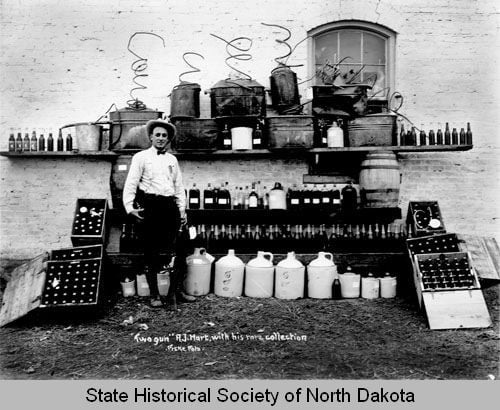 A look at a couple of pivotal votes illustrates that North Dakota's ambivalence about alcohol goes all the way back to statehood.
The drafters of the North Dakota Constitution in 1889 approved prohibition for the new state, but were unsure enough of its general popularity that it was submitted to Dakota Territory voters separately, lest it capsize ratification of the whole document.
It passed, but by a mere 1,159 votes.
Observers at the time wrote that Germans, particularly, resented prohibition, which they felt was being forced on them by Scandinavians in the Red River Valley, according to historian Bill G. Reid in "The North Dakota Political Tradition."
In the wild west days that followed, illegal taverns, called "blind pigs," flourished, and when the 18th Amendment brought prohibition to the entire country in 1920, North Dakota saw rum-running from Canada, home brew, mobs smashing stills out in the boonies — even gunfights between law officers and bootleggers were reported in places as unlikely as Wyndmere and Mapleton, into the 1930s.
In 1932, when North Dakota voted again, this time to repeal prohibition, it passed by 35,000 votes.
Among the first Europeans to settle in Dakota Territory were East Coast folks of the Methodist and Presbyterian strains of Protestantism.
Many became the established community leaders of old Dakota Territory. Their religious denominations made up a strong base of the WCTU — the Women's Christian Temperance Union — which agitated for prohibition laws to combat what they felt were the evils of widespread alcohol use.
People like Elizabeth Preston Anderson, elected as president of the WCTU in 1893, led the group in the state for 40 years, according to the North Dakota State University Libraries' Institute for Regional Studies.
As part of her commitment to social reform, she also fought North Dakota's 90-day divorce law, which brought the wealthy to Fargo, the Reno of its day, for quickie three-month divorces. She also advocated for the right to vote for women.
The second wave of Dakota immigration brought in German- and Scandinavian-speaking settlers, predominantly Lutheran and Catholic.
Frank White, an assistant professor in the University of North Dakota's Sociology Department, has taught a course, "Drugs and Society," for the past 24 years.
Alcohol was imbedded in the culture of Germans and Scandinavians, he said, where it was an integral part of life.
"Working hard led to celebrating — at wedding dances, sports events, harvest parties," he said.
In the "old country," alcohol was part of life, and people didn't think of it as a negative in their culture, White said.
However, it had a specific place: "People didn't drink in the morning. They didn't drink alone," he said.
These attitudes are passed on from one generation to another in North Dakota, White said: "They see (alcohol) as their God-given right."
Other political winds shaped North Dakota attitudes toward alcohol, including distrust of the new German-speaking arrivals and their culture.
As a conservative, Republican state, anti-immigrant, anti-German attitudes were strong, he said, particularly during World War I and World War II, when Americans were suspicious of any group which might harbor German sympathies.
Anti-immigrant sentiments also showed up in disapproval of other substances such as marijuana (associated with Mexicans) and heroin and opium (associated with the Chinese), he said.
North Dakota's founding as a state coincided with the era of social reform in America, White said, when groups such as the WCTU formed as a reaction against the social ills caused by alcohol.
Americans had been drinking since the country's founding. From 1620 on, to America's peak of drinking in 1830, "everyone drank," White said. Politicians mingled with voters at saloons, soldiers got paid in alcohol, children drank, even pregnant women, in an era when alcohol still had some nutritional value and was often safer to drink than the local water.
"Public drunkenness, however, was frowned upon, especially in women, who were seen as sinners and of weak moral character," he said.
It wasn't until the 1950s, with the World Health Organization and the American Medical Association's stands, that alcoholism began to be seen as a disease, he said.
White notes that North Dakota always seems to be at the top in rates of binge drinking, and that UND is always No. 1 or No. 2. Alcohol is still the No. 1 killer on college campuses, he said.
The lowest rates of binge drinking are, not surprisingly, found in Utah with its strong Mormon population, and the Baptist and evangelical strongholds of some Southern states, with their strong religious values.
"In North Dakota, we still have religiosity, but maybe not the same strength as our parents' generation," White said.
On the whole, North Dakota's relationship with alcohol is a two-edged sword, White said.
"We still see it as part of our culture, our rights, a central part of sports events, tournaments, gatherings, harvest. That part is still strong.
"But since the 1980s, America has become more health-conscious. We are working out more. There's been a decrease in some kinds of drinking, people turning to light beers, and so forth."
The alcohol industry also has turned its focus to women — "they already had the men" — with lighter drinks, flavored, fruity cocktails, all with fewer calories but more alcohol-potent, he said.
What's alarming is what White sees as the motivation for drinking, at least in younger populations.
"Drinking used to be a celebration; now we see more kids drinking just to get drunk," White said.
Education has made a dent in attitudes toward not drinking and driving, but one of North Dakota's problems is that it doesn't have lots of access to mass transit or cab services, White said.
Furthermore, North Dakotans grew up in a culture where kids are driving tractors at 12.
"Driving is such a part of our culture," he said — we drive young, we drive everywhere, over greater distances.
"And the economy is better," he said. "Now everybody has a car."