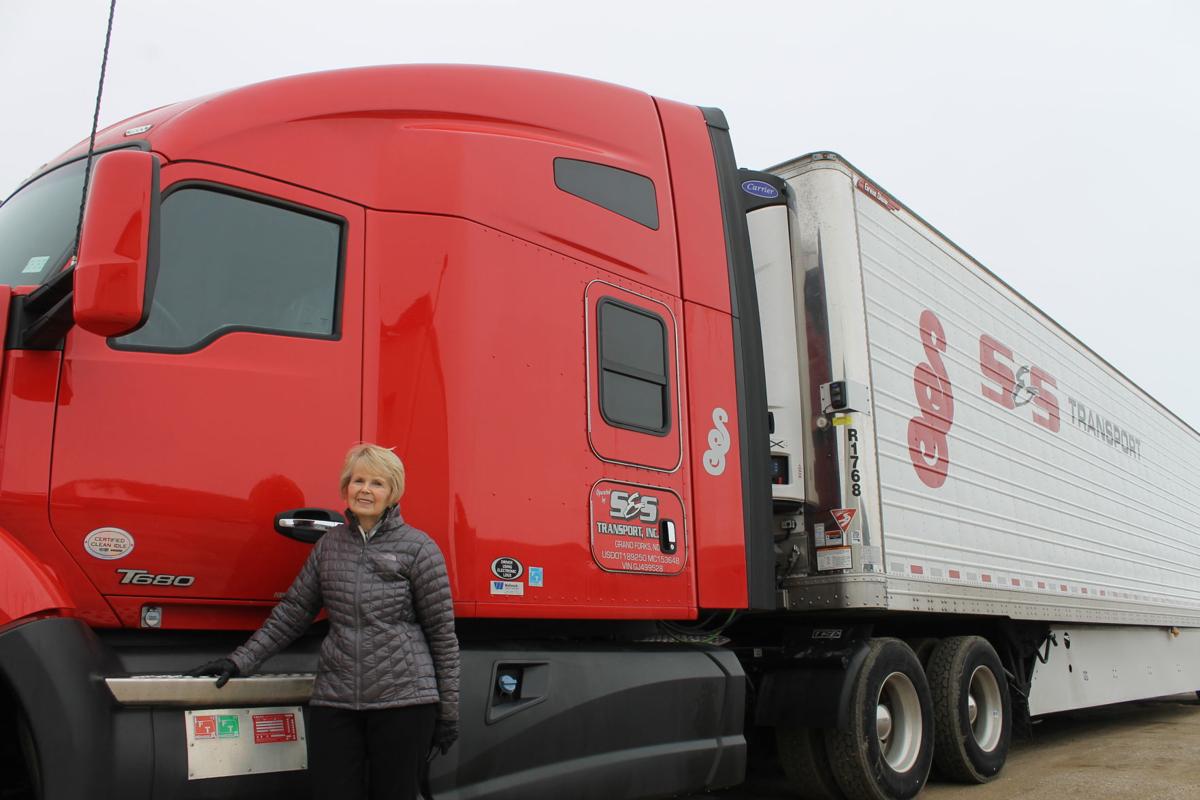 GRAND FORKS — When June Seng and her late husband, Pat, started S&S Transport in 1981, they had two employees and a borrowed semi.
Pat drove truck for another company. June worked as an accountant for Coca-Cola Bottling Co. by day and ran the trucking company at night.
"We started on a shoestring," she said of the early days. "We started from scratch."
In the early 1990s, S&S was certified as a Disadvantaged Business Enterprise/Woman-Owned Business Enterprise, which meant it could take on bids that required the use of that type of certified business. From there, the company grew to employing 140 workers and owning 18 semis and 40 trailers. The business transports freight to every state in the contiguous U.S. and across Canada. It also is certified as a women-owned business in multiple states.
"We have a great group of employees that are very dedicated," she said. "We can't do it without them."
S&S is one of 21,500 business in North Dakota owned by a woman, according to this year's State of Women-Owned Business report released this month. The study commissioned by American Express found North Dakota ranked first in the U.S. for growth of jobs created over the last 20 years, as well as third in that timeframe for growth in revenue.
Those numbers aren't surprising for Jill Jore, Tamara Hennessy or Jan Tellmann, three Grand Forks-area women who opened the furniture repurposing business Market 180 in early October.
"We are very tenacious in North Dakota," Hennessy said.
By the numbers
The seventh annual report from American Express tracks women-owned firms, revenue growth and employment across the U.S. and compares those figures over a 20-year period. Nationwide, there were an estimated 11.6 million women-owned firms this year, an increase of about 300,000 firms from last year and a positive change of 114 percent from 1997. Employment has increased in those firms by 27 percent in the last 20 years.
North Dakota saw an estimated drop of 100 women-owned firms from last year, but it still has more than the 12,471 firms reported in 1997. North Dakota ranked 27th in the U.S. for firm growth.
Still, the report says North Dakota is a leader in job creation and economic clout, a combination of firm, employment and revenue growth over the last 20 years. The state ranked fourth in that category, with Nevada, the District of Columbia and South Dakota topping North Dakota, according to the state. North Dakota's employment rate among women-owned businesses grew from 13,482 employees in 1997 to an estimated 25,900 this year, or 92 percent. Sales by women-owned businesses grew 291 percent in the same timeframe for an estimated total of $4.57 million, according to the report.
"Populous states like California, Florida, Texas, New York and Georgia may have the most women-owned businesses, but small rural states, such as South Dakota, North Dakota and Wyoming are proving that they are giants when it comes to their growth rates of women-owned businesses," the report said.
Minnesota took second behind North Dakota for employment among women-owned businesses, growing from 124,616 employees in 1997 to 202,100 this year, or 62 percent, according to the report. About 170,300 women-owned firms, an increase of 57 percent compared to 20 years ago, generated $27.2 million in sales last year, or a 110 percent jump from 1997.
It's possible rural states like North Dakota do well because its traditional businesses — storefronts and manufacturing — do well, American Express research adviser Geri Stengel said.
You have free articles remaining.
Built-in heritage
In 2012, Christy Remmick and her family moved from Grand Forks to Devils Lake, her husband's hometown. She decided to become a stay-at-home mom, but her talents as a seamstress came into play as she started making travel bags to carry supplies for her three children.
"We kind of go on a lot of adventures," she said of her family. "We are always kind of on the road and traveling. That's kind of how the product started."
She started a blog, and by word of mouth, people and local businesses started to ask her to make the bags for them. It evolved into her business, Rilos and Mimi, named for nicknames given to her twin daughters, Riley and Emersyn.
Now her products are in more than 50 stores in multiple states. A hospital in Utah also contracts her to make diaper bags for new parents.
She did about $80,000 in sales last year, she said. She contracts two full-time sewers to help with the work, but depending on the load others have helped her part time.
"It's just getting bigger and bigger," she said, adding she has doubled her growth almost every year. "I'm hoping to at least break the $100,000 mark this year."
North Dakota has a strong skill set for women, Remmick said when asked about the growth in women-owned businesses for North Dakota.
"In our heritage, that's how we grew up," she said of learning skills. "We have that dedication to get things done."
Women also are understanding of family issues and are adaptable to an employee's changing circumstances, Jore said. She, Hennessy and Tellmann all have experience in the business world and wanted to come together to bring something different to Grand Forks.
The longtime friends wanted to incorporate their love of taking old furniture or household pieces and "upcycling" them into something new. That's how Market 180 came to life.
"We just had this dream of how we envisioned it," Hennessy said. "We had that dream, build it and they will come."
Tellmann, who previously co-owned the Red Pepper restaurant in Grand Forks, said customer service and knowing what they want is key to a business' success.
"We really want it to be very welcoming, and I think we are," Tellmann said of Market 180. "We make a point to communicate with people when they are in here."
Seng attributed the success in S&S to hard work and her employees, adding growth happens gradually.
"Service is our selling point, and trying to make things easier," she said.