North Dakota's Tribal Taxation Committee concluded its work on Wednesday, advancing proposals for developing tribal tax agreements but with no recommendations for resolving a dispute over oil tax revenue.
The interim committee, led by Gov. Doug Burgum, discussed two legislative proposals that would give the governor authority to enter into agreements with individual tribes to administer sales and use taxes as well as wholesale taxes on alcohol and tobacco.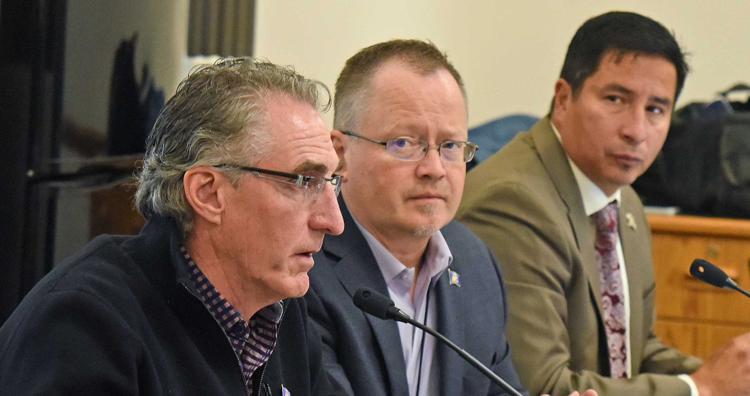 Sen. Dwight Cook, R-Mandan, who plans to introduce the bills when the legislative session begins in January, said his proposals create a framework for entering into future tax agreements. Cook emphasized that legislators understand that tribes can impose taxes on tribal members, but he said it would be easier for the state to collect the tax and send revenue back to tribes.
"My goal is to simply remove any obstacles that may exist that hinder a tribe from imposing a tax," Cook said.
Leaders from all five of North Dakota's tribal nations gave feedback on  Wednesday on the proposals. Mandan, Hidatsa and Arikara Nation Chairman Mark Fox said tribes needs their fair share of tax revenue to provide infrastructure improvements and services for tribal members.
"We can't provide for our people when this revenue is lacking," Fox said.
Cook said his proposal related to taxes on wholesale alcohol and tobacco would be a good first step.
"My hope is that will happen and that it will help bridge the gap, build some confidence between the tribes and the state," he said.
Currently, the state collects $8.8 million a year in wholesale taxes on alcohol and $28 million a year on wholesale tobacco taxes, according to Tax Commissioner Ryan Rauschenberger. None of that revenue goes to the tribes.
Cook's proposal would recognize how much of the product is going to each reservation and sold to tribal members, sending the revenue back to each tribe based on a formula. Rauschenberger estimated the impact would be about $300,000 a year divided among the tribes for alcohol and more than $900,000 a year for tribes for tobacco.
The Standing Rock Sioux Tribe has been asking for an agreement on wholesale alcohol taxes for years, said Karol Two Bears, the tribe's tax director for the North Dakota portion of the reservation.
"Everybody knows alcohol is getting shipped onto the reservation; it is sold and consumed," she said. "We are not getting any of that tax money. We haven't for years."
Tribal leaders advocated for changes to the language of the bills to make it clear that the state is not imposing taxes on the tribe. Tribal leaders also advocated for casinos and other tribally owned businesses to be tax-exempt if the proceeds support the tribe.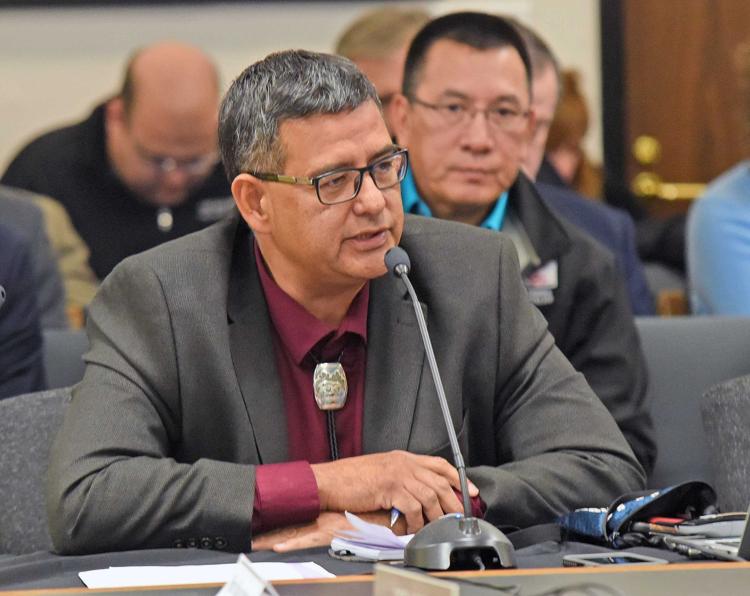 Fox said he's concerned that the committee, which has met over the past 1.5 years, has not taken steps to resolve the ongoing disagreement with MHA Nation over oil tax revenue. Fox continues to argue that the tribe should receive a greater share of the revenue, saying it would not only benefit the tribe, but the state. Fort Berthold accounts for about one-fifth of the state's oil production.
"Let's figure a more equitable way of splitting that tax from oil and gas so that we can retain those revenues to build our infrastructure," Fox said. "We grow stronger, you grow stronger."
Cook said he does not plan to introduce a bill related to the oil tax and Rauschenberger said he was not aware of any proposals in the works.
Indian Affairs Commissioner Scott Davis said he hopes state leaders will continue to meet with MHA officials before January to develop a bill draft to address the oil tax dispute.
Burgum said the committee, which held three formal meetings as well as one-on-one meetings with individual tribes, has led to productive dialog for collaborating on tax policy.
"Philosophically, we believe if you've got a stable tax and regulatory environment, that attracts business and capital," Burgum said, adding that the investment is good for all citizens of the state.