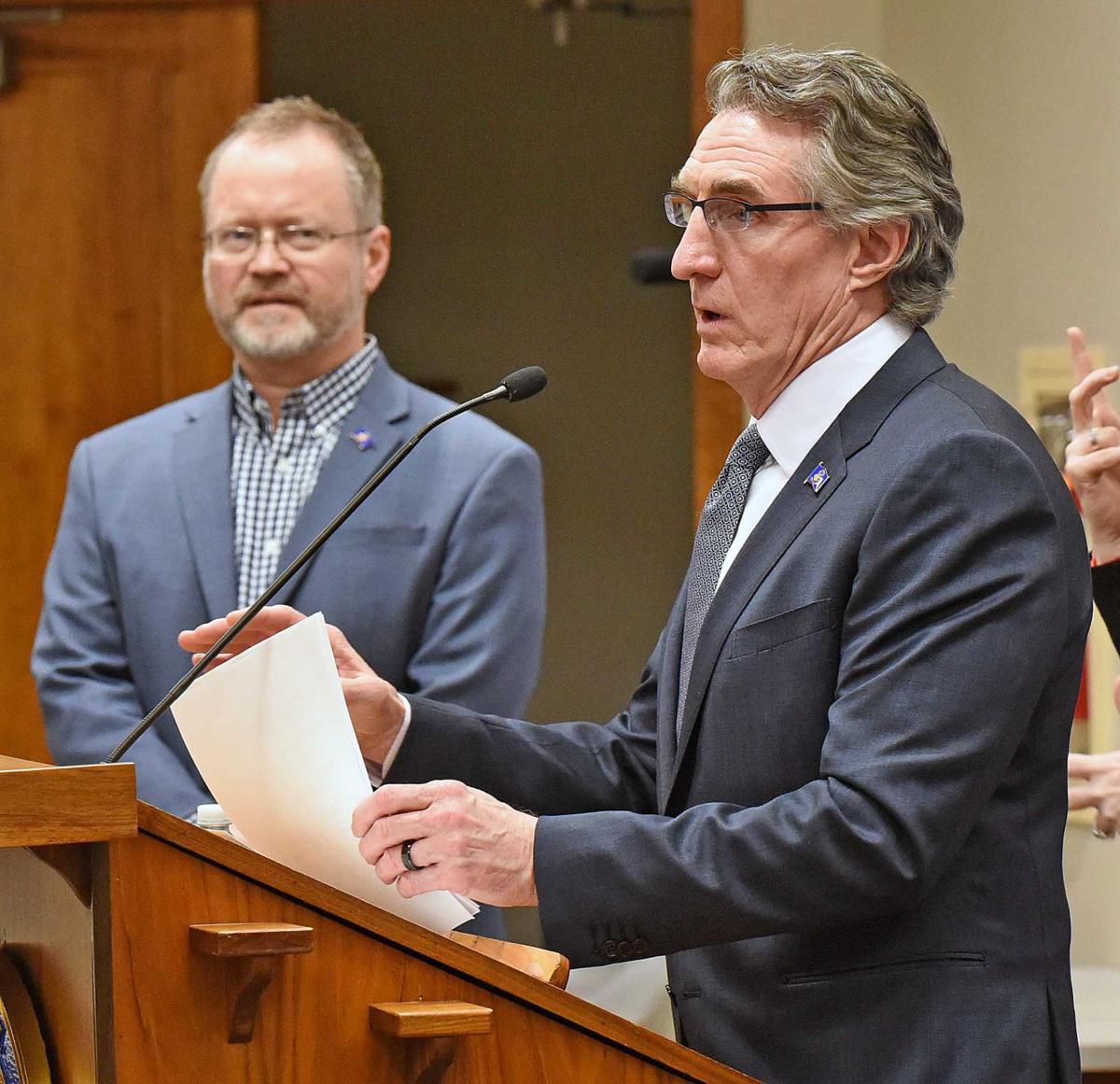 FARGO — North Dakota Gov. Doug Burgum has been in daily contact with lawmakers about the coronavirus and hasn't ruled out the possibility of calling a special session, a spokesman said Wednesday.
Mike Nowatzki, Burgum's communications director, said that although "it's too early to speculate" about whether to call in lawmakers, the governor's office continues to evaluate the COVID-19 pandemic on an "hour-by-hour" basis. They're also monitoring the impacts of the oil price crash, Nowatzki said.
The state has reported a total of 45 confirmed cases of the virus and eight people are hospitalized. Health officials had tested a total of 1,955 people as of Wednesday afternoon.
Nowatzki noted that the governor has taken numerous steps to provide relief, including issuing nearly a dozen executive orders and allowing students to defer loan payments to the Bank of North Dakota for six months. The Legislative Council, which serves as a research and service agency for lawmakers, is also advising the governor's COVID-19 team.
"We're also waiting to see what comes from Congress in terms of an economic stimulus package to determine where the state may need to fill gaps" on providing relief, Nowatzki said.
North Dakota's Legislature holds a regular session every other year.
Rep. Chet Pollert, the Republican House majority leader, said lawmakers should exercise caution about promoting a special session. He said it could take up to two months to crunch the numbers from the drop in oil prices. He added that the governor can cut agency budgets on his own and has the authority to access a budget stabilization fund that is capped at more than $726 million.
Pollert, of Carrington, said Burgum is "doing a good job" handling the COVID-19 crisis with executive orders and keeping residents informed.
U.S. Sen. Kevin Cramer of North Dakota told The Associated Press on Wednesday that he agrees with governors who doubt that the coronavirus crisis will have subsided enough that the country can be "opened up" by Easter, as President Donald Trump has suggested.
Cramer, a Republican and steadfast Trump ally, said he appreciates Trump's "aspirational" talk.
"One thing about the president, he is an eternal optimist," Cramer said. "He never said for sure we're going to do it."
A day after Burgum and South Dakota Gov. Kristi Noem both said the COVID-19 crisis would persist in their states well beyond Easter, Cramer said he agreed.
"It's hard to imagine at that point it's going to be the right time to do it," Cramer said. "I'd hate to see us backslide after so much has been done and people have sacrificed so much of their freedom already."
Burgum said Tuesday that North Dakota could be one of the last states to lift restrictions meant to help contain the coronavirus, mainly because it's part of the final wave of the pandemic.
Burgum has restricted restaurants and bars to delivery and takeout service and has closed several recreational businesses like health clubs and movie theaters. Many small shops have shut down on their own. He has not issued a stay-at-home order.
For most people, the new coronavirus causes mild or moderate symptoms, such as fever and cough that clear up in two to three weeks. For some, especially older adults and people with existing health problems, it can cause more severe illness, including pneumonia and death. There have been no deaths reported in North Dakota.
Associated Press writer Doug Glass contributed from Minneapolis.
Concerned about COVID-19?
Sign up now to get the most recent coronavirus headlines and other important local and national news sent to your email inbox daily.