The pending sale of Coal Creek Station has many in my orbit speculating about what's in store for the power plant's future.
As the Tribune's energy reporter, I've written well over a dozen stories about the facility since I first started hearing rumors in early 2020 that it might shut down.
The situation is fascinating because Coal Creek is intertwined with so much. A neighboring mine feeds it, and the plant's steam is used to produce ethanol at another business next door. Coal Creek is connected to a transmission line that many want access to, especially wind developers. Its future has turned political at times, with fights involving the plant and its power line playing out in McLean County, at the state Capitol and with coal critics in Minnesota.
I, too, wonder about Coal Creek's future now that the plant is poised to change hands. I thought its days were numbered until I began hearing whispers earlier this year that Bismarck-based Rainbow Energy Marketing Corp. wanted to buy it.
The rumor mill surrounding Coal Creek has long kept energy reporters busy. That's the first thing I realized when I set out on a mission a few days ago to learn more about the plant's beginnings.
The Tribune got it wrong in the first story it published about the project in March 1973. The headline on the cover read, "Huge Land Dealings Reported Near Falkirk." That was accurate, but the story focused on "unsubstantiated rumors" that the land farmers were selling was to be used for a coal gasification plant (which never materialized, at least not at that site). The paper redeemed itself a few months later with an article describing plans for a power plant at that location.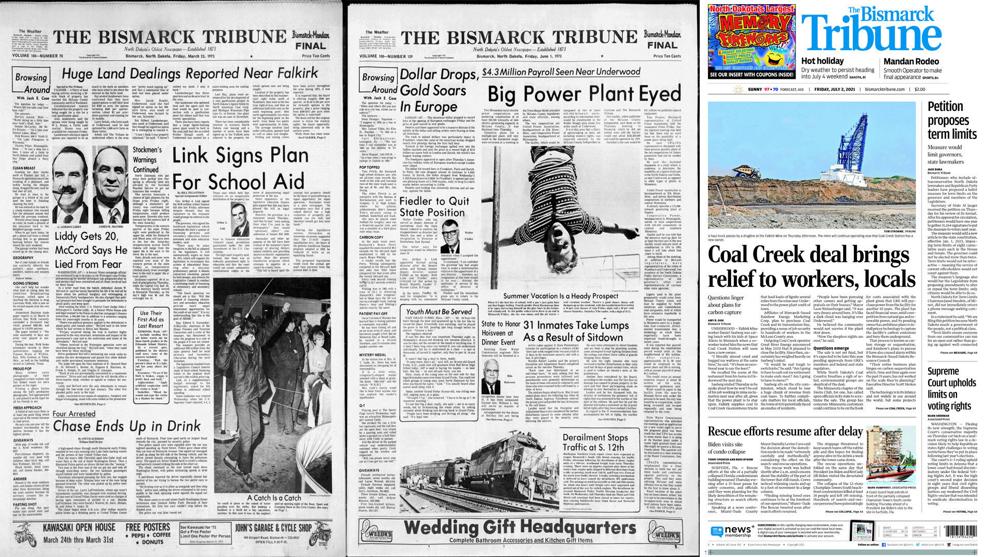 It would be another six years before the plant started burning coal. John Weeda was a young engineer at the time hired on during construction of what would become the largest power plant ever built in the state.
"I was driving along the road on the west side of the plant and looked at this monstrosity built on the prairie thinking, 'Wow, what did I get myself involved in?'" he recalled.
Forty-five years later, he's director of the North Dakota Transmission Authority and is one of the state officials involved in talks about the plant's sale. I met with him and another longtime engineer, Charlie Bullinger, this week to learn more about the plant's early days. Both worked for Coal Creek owner Great River Energy for the bulk of their careers before retiring from the company.
Bullinger said the power industry "was really getting going" in North Dakota when plans for Coal Creek emerged. Smokestacks from several coal-fired power plants already stood tall above the plains in the central part of the state, and several more would follow.
Until Bullinger was hired on at Coal Creek, he'd been working for what's now known as the Energy and Environmental Research Center in Grand Forks.
"I was hired on with them to test pilot scrubbers," he said. "Acid rain was the rage."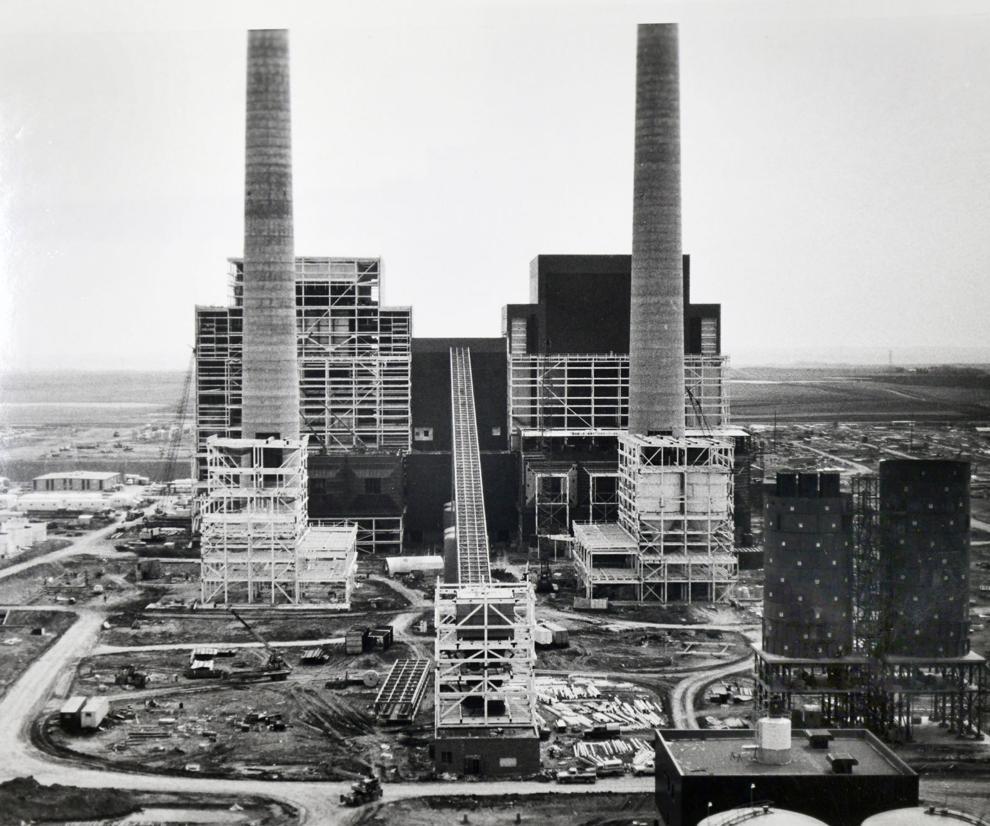 Coal plants produce a pollutant known as sulfur dioxide, which doesn't draw as many headlines in the Tribune now as it did in the 1970s when the state sought to comply with changes to the federal Clean Air Act. Coal plants installed controls known as scrubbers to prevent the pollutant from escaping into the atmosphere.
If that concept sounds familiar, it's probably because of the chatter today in North Dakota about carbon capture. Instead of preventing acid rain, this technology is meant to curb climate change by filtering out the carbon dioxide from a coal plant's exhaust gas. The gas would be compressed and injected deep underground where it would stay, permanently.
Carbon capture for coal-fired power is rather new and expensive. Critics call it unproven. It makes for a lot of headlines in the Tribune these days because it's what our state's energy leaders have chosen to pursue. They view it as a way to keep the state's lignite coal industry alive for many years to come. The Energy and Environmental Research Center is leading efforts to study the technology in North Dakota, including at Coal Creek where Rainbow wants to install such a system.
If Rainbow succeeds in the plans it's announced to keep running the plant, it will allow hundreds of residents in places like Underwood and Washburn to maintain their jobs.
Those communities became boomtowns when Coal Creek first went up. About 3,000 people worked at the site during the peak of construction, Weeda said.
The plant operators -- predecessors of GRE -- and their contractors took out numerous ads in the Tribune seeking workers, and many landlords in McLean County used the classifieds to try to find tenants.
Weeda and his wife bought land in Washburn and snagged an apartment above the Cut 'n' Curl salon while building their house. Bullinger lived in Mandan at first, carpooling at times to commute to the plant.
Weeda told me I've driven "the improved version" of the road that leads to Coal Creek. It used to be gravel, and the site of chaos when the day shift ended and workers barreled home.
"At night if your spouse was coming to meet you to pick you up after work, you'd tell her do not come between these two times," he said. "It was three lanes headed out."
Bullinger added, "Some of those guys would take the ditch to get to Highway 83."
Workers occasionally went on strike at the construction site, and the plant owners faced significant pushback on their plans for the transmission line. Farmers in Minnesota led a revolt against the line amid concerns that it could harm humans and livestock. Protesters known as "bolt weevils" shot out insulators and downed towers, according to news reports. At one point, the governor called in what at the time was the largest deployment of state troopers in Minnesota history to provide security to construction crews.
It seems people have fought over Coal Creek and pinned their hopes on it for decades. I expect that won't end when Rainbow takes over, given the company's ambitious plans to continue running the plant, install carbon capture technology and send renewable power across the transmission line.
I can't predict Coal Creek's future, but I have a hunch it will be as interesting as its past.