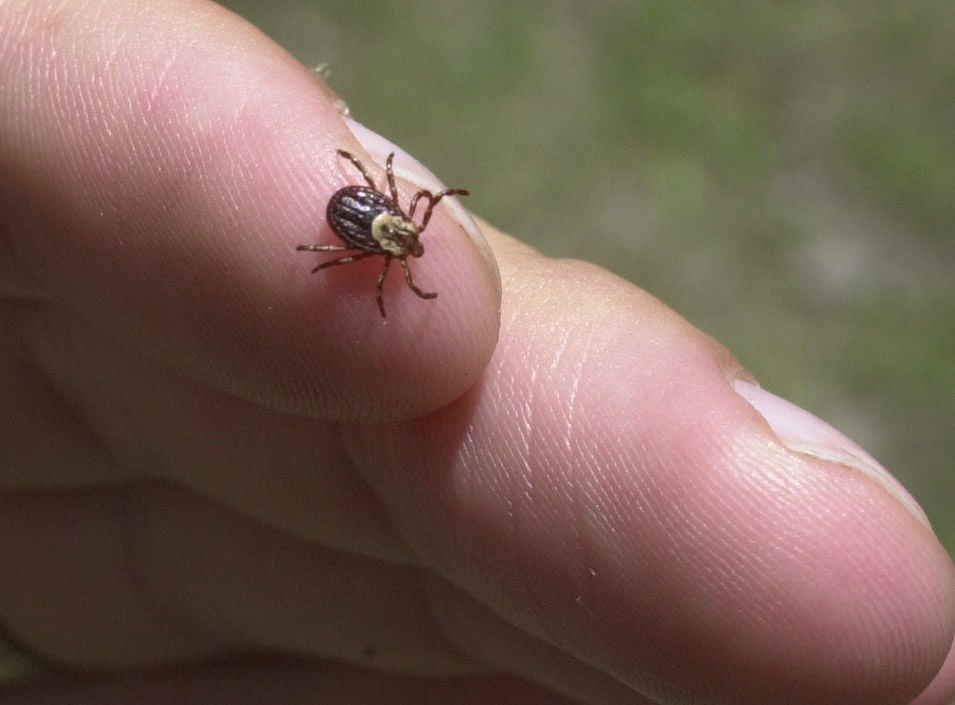 MINOT  -- It is the season of the wood tick -- and another new dangerous virus carried by the creature has been been reported in Minnesota and Wisconsin.
The virus, however, has yet to be confirmed in North Dakota..
The latest scary virus known to be carried by the lowly woodtick is Powassan. It's rare, to be sure, but a few cases have already been documented in neighboring Minnesota and Wisconsin.
Approximately 75 cases of the virus disease were reported in the U.S. over the past 10 years, with most cases in the northeast U.S. and the Great Lakes region, according to the U.S. Centers for Disease Control and Prevention.
About 15 percent of those people bitten by woodticks carrying Powassan do not survive. Those who do survive have a 50-50 chance of suffering long-term neurological damage.
Signs and symptoms of infection can include fever, headache, vomiting, weakness, confusion, seizures, and memory loss. There is no specific treatment, but people with severe POW virus illnesses often need to be hospitalized to receive respiratory support, intravenous fluids, or medications to reduce swelling in the brain
"It's getting closer," said Laura Cronquist, epidemiologist and division of disease control for the North Dakota Health Department. "There's a probability that physicians are not really testing for it."
However, that does not necessarily mean Powassan hasn't already arrived in the state. Cronquist said it is probably only a matter of time before someone is diagnosed with Powassan in North Dakota.
While deadly Powassan certainly raises the awareness of the havoc a tiny woodtick can cause, there are other diseases that those bitten by wood ticks are more likely to encounter. Lyme disease and Rocky Mountain Spotted Fever are among the most well known.
"You can have joint pain, muscle pain, fatigue, chills, headaches, fever, rashes," said Cronquist.
Fever and headaches are the most common symptoms. Sometimes a rash will be present too, but not always. Some diseases can be transmitted from ticks to humans within an hour or two. Symptoms take a few days to develop, often causing infected persons to believe they are coming down with the flu.
You have free articles remaining.
Prevention is the key, said Cronquist. She recommends people use Environmental Protection Agency registered insect repellent when going outdoors, such as when camping or hiking. There's a few other recommendations to help keep wood ticks away.
"Hikers should walk in the middle of the trail, not in the grass and brush where you are more likely to find woodticks," advises Cronquist.
Woodtick checks should be performed on a regular basis. Placing clothes in a dryer on high heat for 10 minutes will kill wood ticks attached to clothing. A person who suspects they have been exposed to wood ticks should bathe or shower as soon as possible after returning home from an outing.
"Don't forget about your pets," said Cronquist. "They can carry wood ticks into your car or your house. I can't really recommend any preventive measures, but I do advise that you check with your veterinarian."
Tips for reducing wood ticks
Use EPA-registered insect repellent.
Use products that contain permethrin on clothing and tents.
Wear light colored clothing to expose ticks.
Wear long pants tucked into your socks.
Keep your shirt tucked in.
Examine gear and pets for wood ticks.
Source: ND Department of Health