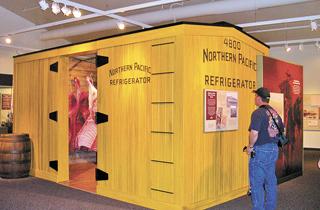 MEDORA (AP) - The newly opened interpretive center at the Chateau de Mores State Historic Site in Medora offers insights into the life of the French nobleman and 1880s entrepreneur, the Marquis de Mores.
"Besides being able to display things we haven't displayed before, I really like the interactive aspect of it," said Ed Sahlstrom, the assistant supervisor.
The exhibit room offers an interactive lesson related to the meat packing plant and two saddles for people to sit on.
"I see adults just as much as children playing the little games. I think it is much more visitor friendly," Sahlstrom said.
The site is administered by the state Historical Society of North Dakota. The center includes exhibit space, a gift shop, offices and a multipurpose room opening into an outdoor patio.
The newest exhibit features a dog cart the marquis' family used for errands around Medora. It could be considered a predecessor to a speedy roadster.
There's a custom-made hunting wagon, which the marquis modeled after one of Napoleon's hunting coaches.
Another feature is one of the marquis' four stagecoaches, was used by the Deadwood and Medora Stage and Forwarding Co.
Visitors will notice the marquis' cavalry armor, sword and dueling pistols and Medora's riding outfit.
These items have not been on display for many, many years, Sahlstrom said.
"The problem that we've had until now is, in order to display certain clothes and items, they have to have a controlled area. Now, we are able to do that," he said.
The display is centered by a smaller-scale replica of a refrigerated railroad car. Yes, the original cars were a hue of yellow.
"It's hard to visualize until you really see one and the explanation of how it works," he said. "Still to be added very soon is an interactive exhibit within the car that shows the ice loaded into it. Children can turn a crank and watch the ice," Sahlstrom said.
The upcoming 150th birthday celebration of the marquis is a good opportunity to visit the center.
"Look out back at the beautiful patio, we will be utilizing that as well," Sahlstrom said.
The locals have expressed appreciation about the completed center.
"People around here say, 'It's about time.' I hear that quite often," he said.
Participation in the History Alive! Program or re-enactors is another priority for the interpretive center.
"We have programs every weekend now through Labor Day," Sahlstrom said.
A Smithsonian Institute traveling exhibit titled "Between Fences" is showing from June 20 through Aug. 1. The exhibit tells American stories through diverse fence types. It's a partnership project with the North Dakota Humanities Council and the Billings County Museum.
Dickinson native Lance Rustand portrays the Marquis de Mores in celebration of the nobleman's 150th birthday.
Rustand, who has entertained area audiences in theater and music for many years. It is his first season as the marquis.
"I found it intriguing to take on a historical role instead of something fictional. It's very personal," he said.
In the historical conversation with the audience, the marquis talks about his business ventures and life in the Badlands.
The Marquis de Mores was born June 14, 1858, to a family of Spanish, Italian and French nobility. He came to Dakota Territory in 1883 to find fortune in the cattle industry. He planned to slaughter range cattle at the town he named after his wife, Medora, and then ship dressed meat east in refrigerated rail cars and provide urban customers with a better-quality product.
Investing millions in his dream, he built a packing plant, bought cattle and land, and employed area cowboys. He built the chateau as a summer home.
When the marquis' meatpacking project collapsed in 1886, his commercial empire did as well. He left the United States and traveled to Europe and Asia.
On June 9, 1896, five days before his 38th birthday, the Marquis de Mores was killed in North Africa. The meatpacking plant at Medora burned in 1907, but the smokestack still stands east of the Little Missouri River in Chimney Park.
In studying about the marquis' life in Dakota Territory, Rustand came to appreciate the inherent amount of confidence the man had for accomplishing his goal.
"I do think he really put into his mind that this was going to work," he said.
The marquis tells stories about his hunting and ranching adventures. He speaks of his acquaintances with historic figures such as Theodore Roosevelt.
"They actually worked together and he vouched for him to join the Montana Stockgrowers Association," said Rustand.
"He was a family man. One thing the studies really do show is his admiration and true love for Medora … the fact that she was a hunter and he was a hunter. In contests, he said she was a better shot than he was," said Rustand.
That admiration is best described in one of the marquis' quotes: "Oh, to see Medora galloping across the landscape - what a sight that was."
Rustand, who has a career in insurance when not portraying the marquis, said a re-enactment is one of the most effective ways of learning.
"You can bring human emotion into it. People can see how they relate, how they agree, how they bring in their own opinions, of which there is no right or wrong," he said.
Be the first to know
Get local news delivered to your inbox!