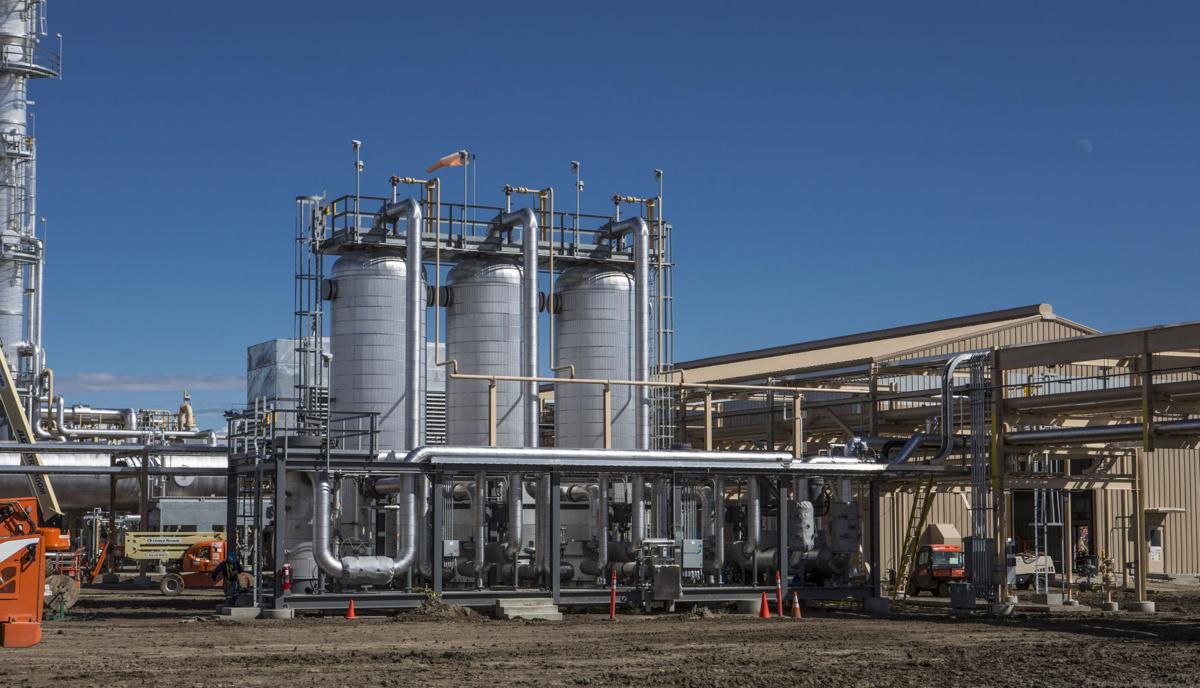 A $150 million natural gas processing plant proposed for McKenzie County will help North Dakota reduce flaring and keep up with increasing volumes of Bakken natural gas.
Hess Midstream Partners announced Thursday plans to partner with Targa Resources Corp. to construct the Little Missouri Four plant to process 200 million cubic feet of natural gas per day.
The facility would be located at Targa's existing facility south of the Missouri River near Watford City. The plant is expected to be complete in the fourth quarter of this year, according to a news release.
North Dakota produced nearly 2.1 billion cubic feet per day of natural gas in November, a record for the state. Producers flared about 14 percent of natural gas produced that month due to insufficient infrastructure.
Oil production was 1.19 million barrels per day in November and is expected to exceed the previous record of 1.23 million barrels per day this year. However, companies may have to slow oil production to meet natural gas capture requirements.
Gov. Doug Burgum said Thursday the state welcomes the significant investment, which he said will grow the state's economy while also protecting the environment.
"This processing plant will provide much-needed capacity at a time when North Dakota's oil production nears record levels and associated natural gas production continues to climb," Burgum said in a statement. "It's a huge step in the right direction toward continuing to meet our flaring reduction goals and encouraging responsible energy development and infrastructure investment."
Hess also announced plans to invest $100 million in pipelines to gather gas for the Little Missouri Four plant. Targa will manage the construction and operate the plant. 
The announcement from Hess and Targa is one of four natural gas processing plants in the planning or construction stages in North Dakota. The four projects would add an additional 615 million cubic feet per day of additional processing capacity, said Justin Kringstad, director of the North Dakota Pipeline Authority.
Oneok recently filed an application to the Public Service Commission to expand its Bear Creek natural gas processing plant north of Killdeer. The company proposes to expand the plant from a capacity of 80 million cubic feet per day up to 175 million cubic feet per day.
Crestwood Equity Partners also has applied to the commission to expand the Arrow Bear Den gas processing plant near Watford City, adding another 120 million cubic feet per day of processing capacity. The Oasis Wild Basin processing plant is expanding to process 345 million cubic feet per day in McKenzie County.
North Dakota is expected to need even more gas processing capacity in 2020, Kringstad said.
"The Hess-Targa gas plant is an important investment in the Bakken, which will add value to our oil and gas industry, support the viability of operations throughout the region and help reduce flaring," said Sen. John Hoeven, R-N.D., in a statement Thursday.
Sen. Heidi Heitkamp, D-N.D., said announcement of the project underscores that energy development is still growing in the Bakken.
"As North Dakota's oil and gas production continues to set new records or climb back towards all-time highs, we must invest in the energy infrastructure necessary to safely move our oil and gas, reduce flaring and process or refine the resources in North Dakota," Heitkamp said.
Natural gas processing plants that process 200 million cubic feet or more per day require approval from the North Dakota Public Service Commission.
Targa received approval from the PSC in 2015 to expand the Little Missouri Gas Plant. Commission Chairman Randy Christmann said regulators were seeking information to clarify if the plant announced Thursday was the same project that was previously approved.
Be the first to know
Get local news delivered to your inbox!