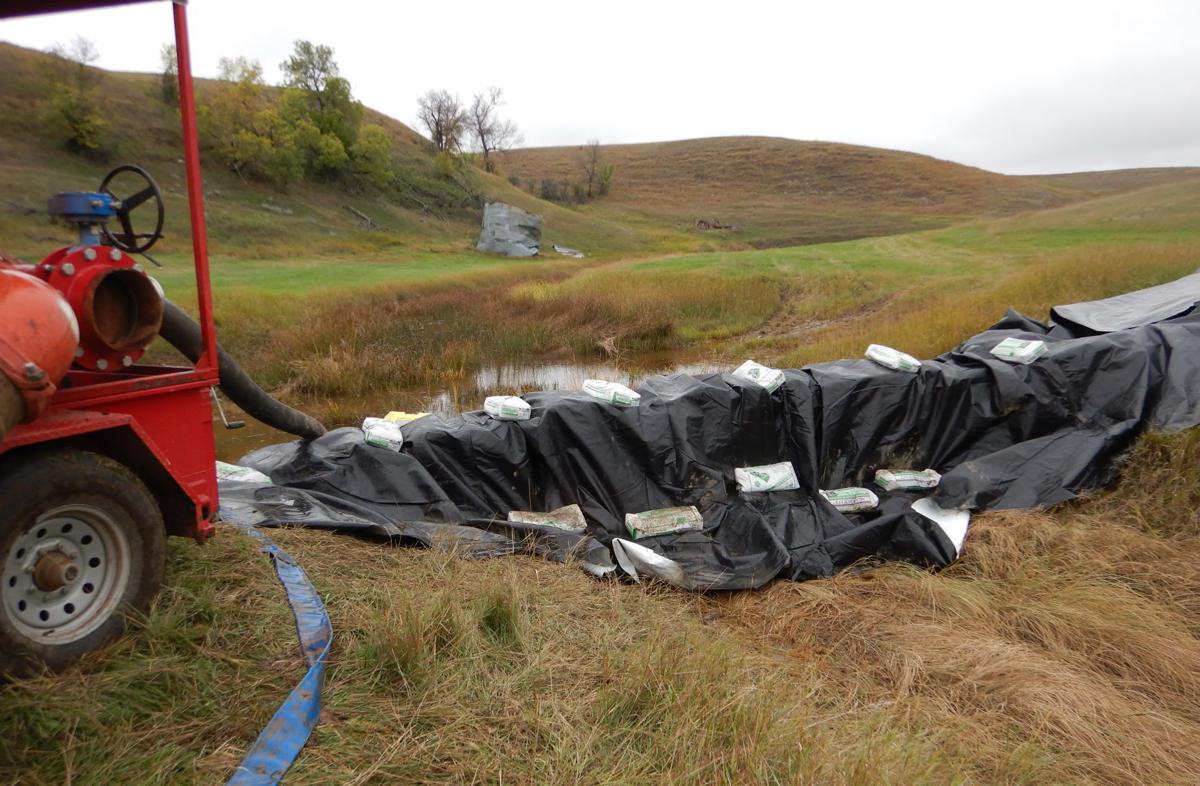 A leak on a pipeline in Dunn County last month spilled more than 1.3 million gallons of brine that contaminated a pasture, a creek and the water supply for cattle.
The leak is among the biggest oilfield spills to occur in North Dakota, according to Bill Suess, spill investigation program manager for the state Department of Environmental Quality. 
The spill caused elevated salt concentrations in the creek and a stock pond, he said. No cattle were harmed, but they have been moved to a new area and supplied with clean water.
The updated spill volume, which is equal to 32,826 barrels, was released by Environmental Quality on Friday after the agency received new information from Marathon Oil Co., which operates the pipeline.
The company initially reported a far smaller volume estimate of 500 barrels to the state when it detected the leak on Oct. 1. That amount is equal to 21,000 gallons.
"We knew it was going to be bigger," Suess said, adding that the first estimate just examined the surface impact of the spill.
Suess said analyzing of electromagnetic surveys, excavation work and data from meter readings went into Marathon's new size estimate.
"It was important to use the best data available to accurately update the estimated volume released, and that review and analysis has taken some time," Marathon spokesman Zac Weis said in a statement.
You have free articles remaining.
Brine is a byproduct of oil drilling that can render land infertile when it spills. The fluid is highly concentrated saltwater that comes to the earth's surface in wells alongside oil. It is typically carried by pipeline or truck to injection sites, where it is pumped back underground for permanent storage.
The leak occurred near a well site about 1.5 miles northeast of Manning, according to Environmental Quality. The line was equipped with a leak detection system, but Suess said a crew working at a well site in the area found the spill. He did not know what caused the leak and said the state Oil and Gas Division would handle that investigation. A division spokeswoman did not immediately respond to a question about the cause.
Suess said he was unsure how long the line had been leaking. Marathon recently placed it back into service, he said.
The brine contaminated a creek and migrated into a stock pond. Efforts continue to make sure it does not enter the Knife River, which is a mile downstream from the stock pond. Several soil dams covered in a plastic liner have been installed.
"The stock pond itself has its own dam," Suess said. "Three additional dams were built below it to capture any water flowing through."
He said no elevated salt levels have been detected in the river.
Suess said he did not know the exact amount of contaminated pastureland, but "it's a pretty good-sized excavation area they have going."
State inspectors are visiting the site regularly, he said.
Weis, with Marathon, said the company has been in regular communication with regulatory agencies, landowners and mineral owners regarding the leak.
The spill is not the largest in state history. A pipeline in 2015 leaked 70,000 barrels or 3 million gallons of brine. That spill affected Blacktail Creek near Williston and reached the Missouri River.