North Dakota's Game and Fish Department is offering license refunds to thousands of deer hunters for a second straight year due to an outbreak of disease in western North Dakota.
The agency has been gathering reports of dead deer after epizootic hemorrhagic disease -- commonly called EHD -- surfaced in late August. The viral disease that's transmitted by biting gnats is present in North Dakota at a low level most years, but sometimes environmental conditions create perfect breeding areas for the insects, and outbreaks occur.
"Compared to previous years, a much larger portion of the state seems to be affected," state Wildlife Chief Casey Anderson said. "Unfortunately, substantial mortality has been documented in some areas."
Game and Fish has received nearly 1,000 reports, according to Game and Fish Wildlife Veterinarian Charlie Bahnson.
"A theory would be it's a result of the drought and very warm temperatures that we've had into October," he said, referencing the prolonged statewide drought and record-breaking heat earlier this month. "That lends itself to more midges and more viral spread outside of our traditionally affected areas."
The heaviest concentration of reports is along the Missouri River, especially to the north and south of Bismarck-Mandan.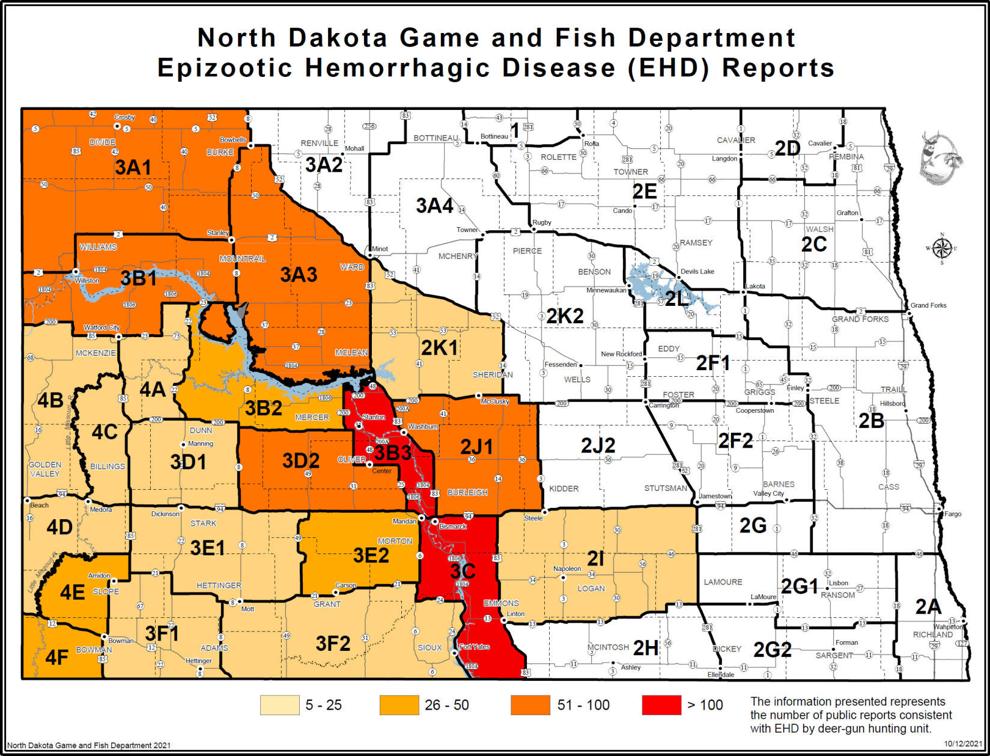 Last year's outbreak was in the southwest and west central parts of the state, and Game and Fish offered license refunds to hunters with whitetail licenses in 12 hunting units. This year, reports have come in from throughout western and central North Dakota, and the state is offering refunds to hunters with whitetail or "any" deer gun licenses in 22 units: 2H, 2I, 2J1, 2K1, 3A1, 3A3, 3B1, 3B2, 3B3, 3C, 3D1, 3D2, 3E1, 3E2, 3F1, 3F2, 4A, 4B, 4C, 4D, 4E and 4F.
Nearly 30,000 hunters are potentially affected, according to Bahnson. And Game and Fish will continue to monitor reports to determine if licenses in additional units should become eligible for refunds. Hunters and landowners are asked to report any dead deer along with photos, if possible, to the department through the online wildlife mortality reporting system, at gf.nd.gov/mortality-report.
The disease impacts white-tailed deer more than mule deer, due to the makeup of the animals. It's not considered a danger to people.
EHD outbreaks end only after a hard freeze kills off the midges. That could happen in parts of western North Dakota yet this week, according to the National Weather Service forecast.
License holders who qualify and want a refund must mail their tag, along with a note requesting a refund due to EHD, to the Game and Fish Department's Bismarck office no later than Nov. 4. Envelopes postmarked Nov. 4 will be accepted. The mailing address is 100 N. Bismarck Expressway, Bismarck, ND 58501-5095.
Game and Fish in September offered refunds to more than 400 special herd-reduction bow season license holders in south Bismarck-Mandan and northern Burleigh County because of the outbreak. Those special licenses allow hunters to pursue deer in certain areas such as within city limits, on state Corrections Department land and at the federal Northern Great Plains Research Laboratory in Mandan, to reduce problem deer.
Nearly 200 hunters have taken advantage of the local offer, according to Bahnson.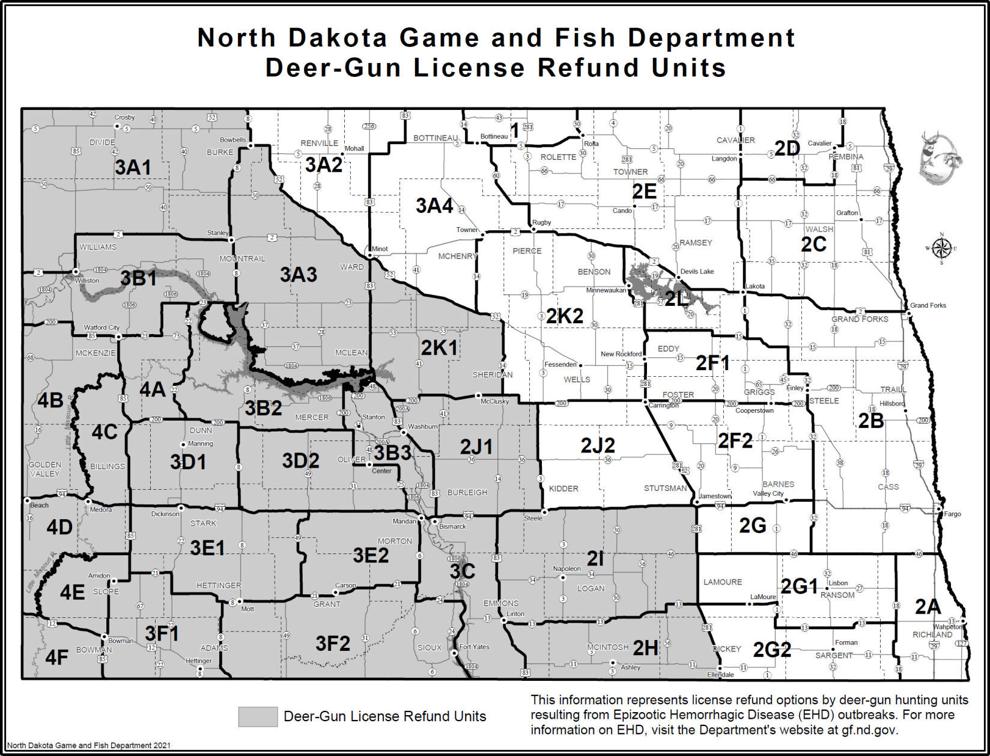 Game and Fish last year offered license refunds to more than 9,000 deer hunters, and only about 400 hunters took up the offer. There also was an outbreak in 2011, and only about 300 of 13,000 possible hunters requested a refund.
This year might be different, at least in some units, particularly those along the river, according to Bahnson.
"We know that some of those units were pretty heavily affected, and also visibly affected in terms of lots of people finding dead deer," he said. "I would suspect we're going to have higher refunds in those units. A lot of other units, (disease prevalence) was low-density."
Anderson recommends hunters research the extent of mortality in their hunting unit before deciding on whether to seek a license refund.
"Consistent with previous EHD outbreaks, the impact can at times be severe in localized areas while other areas within the unit have little to no impact and a good deer harvest may still be needed," he said.
This year's deer gun season is Nov. 5-21. The state made 72,200 licenses available this year, the sixth consecutive year of an increase and the highest level of licenses in 10 years.