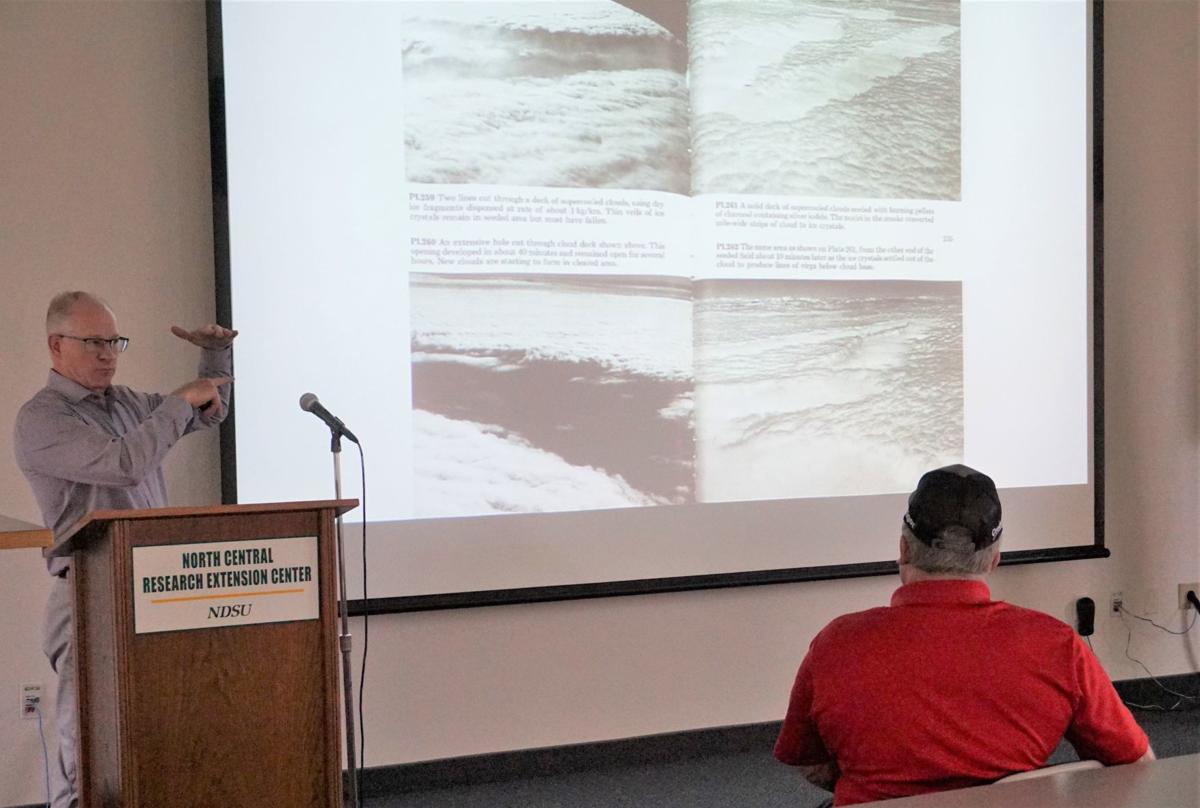 MINOT — The weather modification program in western North Dakota is generating a return on the investment, the director of the state Atmospheric Resource Board told officials Monday at an Elmer Jesme Conference of Counties meeting in Minot.
"The program in North Dakota has been going on for a long time, and I think, based on the evidence, pretty successfully over time. The benefits to agriculture far outweigh the costs," Darin Langerud said.
The cost of the program in North Dakota this year is estimated at 40 cents a planted acre, he said. Meanwhile, studies within and outside of North Dakota find a 5% to 10% rainfall increase from weather modification.
Langerud reported North Dakota State University recently completed a study on the economics of cloud seeding that found 5% precipitation enhancement provides an extra $21.12 billion in crop benefits, or just over $9 per planted acre. At 10% increased rainfall, benefits are estimated at nearly $42 million, or about $18 per planted acre.
Reduction in hail loss from weather modification is estimated at another $6.9 million a year.
Looking at the cost-to-benefit ratio, a 5% rainfall increase generates $30 for every dollar spent on weather modification, while a 10% increase generates $53 for every dollar spent, Langerud said.
"This only looks at ag benefits. This is not looking at any benefits that can be attributed to reducing hail damage on vehicles, homes, businesses, any other infrastructure," Langerud said. "What this says is you only have to have a very, very small impact through seeding to have a pretty big impact and have an impact that more than pays for itself in the end."
Langerud's presentation to officials representing Ward, Mountrail, Sheridan, McHenry and Pierce counties came as weather modification faces controversy in Ward County. The Ward County Commission has been trimming its weather modification spending and this year voiced concern about the oversight of the local weather modification authority. Commissioners are looking at setting a public vote to determine continuation of the program.
The current program authority expires in 2020.
Counties can create a 10-year weather modification authority through a vote of the people or petitions signed by 51% of the number of voters in the last presidential election. As an option, the county commission can establish a temporary authority for four years by resolution.
You have free articles remaining.
Voters also can petition and vote to discontinue participation in weather modification. Eighty percent of Williams County voters agreed in 2000 to establish a 10-year authority after expiration of a temporary program. Bowman County, which has been in the program since the early 1960s, voted in 2016 with 70% approval to continue. Burke County's four-year temporary authority ended in 2018, and voters came four votes short of approving continuation.
Two cloud-seeding units exist in North Dakota. The northwest district includes Williams, McKenzie, Mountrail and Ward counties. Planes can seed within the 10-mile buffer around those counties, enabling the seeding impact to take effect when reaching the district boundary. Seeding in this buffer area is not typical, though, Langerud said.
The southwest district includes Bowman and part of Slope counties. There is a radar unit in Stanley and planes stationed in Watford City, Williston, Stanley and Kenmare. Dickinson had a plane this year for the first time.
Asked about the heavy hail in Mountrail County this year, Langerud said there were more storms than the district could handle with four planes. The program had one less plane in the northwest district because of budget cuts that led to the Minot plane being moved to Dickinson.
Statewide, participating counties contributed $607,316 to the 2019 budget, while the state contributed $306,684 to the total budget of $914,000.
"We don't have final expenditures for the program yet. It's going to come in under this total because we didn't use all of our flight hours, especially up in the northern district," Langerud said.
Not all flights are for seeding. Langerud said about half of flights are for reconnaissance, to check out a cloud system to determine its suitability for seeding.
He also mentioned ongoing research that includes a rainfall evaluation and modeling study by the University of North Dakota and an analysis of radar-estimated hail development with the National Center for Atmospheric Research, using the Minot radar facility.
Langerud also highlighted some previous, independent research on cloud seeding in North Dakota. A few studies consistently found about a 43% reduction in hail loss.
One study found crop yields 6% higher, on average, in seeded areas compared to a downwind control area. However, Langerud countered concerns by counties east of Ward that seeding upwind reduces rainfall downwind.
"Results from here and elsewhere show the exact opposite of that. Downward effects in an area where you're able to increase precipitation are always positive," he said. "If you are increasing the efficiency of the cloud in the seeded region, that efficiency increase doesn't stop at an arbitrary county boundary, or buffer zone or target area. That increase actually persists downwind for a while before the seeding effect wears off."
Chemicals used in cloud seeding are increasingly efficient. For the June through August season in 2019, only about 300 pounds of chemicals were used for the 10,000 square miles of program area.