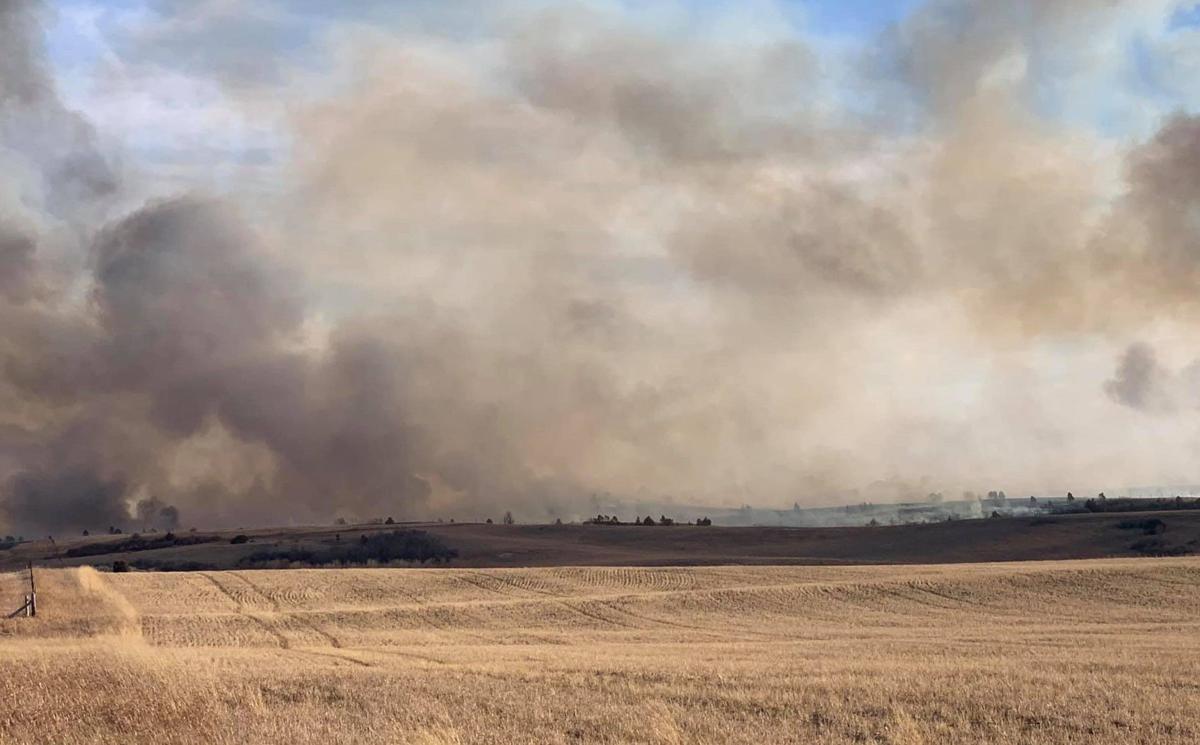 A wildfire blazing in the North Unit of Theodore Roosevelt National Park has grown to nearly 8 square miles, but fire crews have made progress on boxing it in and protecting threatened structures.
The Horse Pasture Fire on Tuesday was estimated at 5,000 acres and 45% contained, according to Beth Hill, acting outreach and education manager for the North Dakota Forest Service. The cause was still under investigation, though authorities think it likely was caused by a person.
Fire crews have used back-burning -- eliminating vegetation with controlled burns -- to create a fire perimeter roughly on the east, north and south sides of the park area, and they were working on the western flank Tuesday, according to Park Superintendent Wendy Ross.
"The objective is to keep it in the box -- that 5,000 acres is that box," she said, adding that the entire area is not ablaze.
"The fire is burning in a mosaic in that box," Ross said. "Large groupings of juniper are going up -- quite explosively -- and then you've got barren buttes, as well. It's not 5,000 acres solidly burned."
Still, she said, "It's shocking how black the park looks from the road."
Closures expand
The fire that began over the weekend has prompted the closure of the North Unit, which is south of Watford City in McKenzie County and encompasses a rugged and scenic stretch of the Badlands.
The U.S. Forest Service has expanded the closure area to include the CCC Campground, the Maah Daah Hey Trail from that campground south to National Forest System Road 823, the Long X and Sunset Trail, Summit Campground and the Summit Overlook.
The closure applies to all National Forest System lands including roads and trails in the area. Complete details and a map of the closures can be found on the U.S. Forest Service-Dakota Prairie Grasslands Facebook page, at https://www.facebook.com/DakotaPrairieGrasslands 
The shutdown is to protect public health and safety and also to aid the firefighting effort.
"We need to be able to race back and forth on that (park) road, we need to be able to block certain areas, we need to be able to bring engines to certain areas," she said. "And we certainly don't need visitors trapped."
In the park's South Unit area, where a fire that burned about 3 ½ square miles last week briefly threatened the tourist town of Medora, closures impact the Buffalo Gap Trail from Interstate 94 southeast to its intersection with the Maah Daah Hey Trail, and the Maah Daah Hey from the National Park boundary south to Sully Creek State Park.
The U.S. Forest Service has banned shooting, smoking and fires on National Forest System land within many western North Dakota counties, as well as several in eastern North Dakota and in South Dakota. The prohibition against discharging a firearm includes air rifles and gas guns.
The North Dakota counties the order applies to include Billings, Golden Valley, Grant, McKenzie, Sioux, Slope, Ransom and Richland. The South Dakota counties are Corson, Perkins and Ziebach, all in the northwestern part of the state.
Threatened structures
No people have been injured by the Horse Pasture Fire, and there have been no documented wildlife or livestock losses.
Ross said she is confident that fire crews have protected the North Unit's visitor center, entrance station and housing for the unit's 12 permanent staff and for seasonal workers.
"I am more concerned about the (CCC) Campground, the River Bend Overlook, the road, our handling facilities for bison and some administrative facilities," she said.
Historic structures such as picnic pavilions built by the Depression-era Civilian Conservation Corps also were still at risk, as well as the park fence. Six miles of fence already have burned.
"We have crews out there working on emergency stabilization of the fence to keep bison in," Ross said, adding that the park is working on a contract to have the fence permanently repaired.
The National Park Service has brought in a team comprised of 40 firefighters from around the country. Numerous other local, state and federal agencies have responded, with a total of about 140 people battling the blaze. Two U.S. Forest Service air tankers brought in from South Dakota that drop fire retardant also remain on the scene.
"Those relationships that are created before a fire are essential to good working relationships during an incident like this," Ross said.
Air quality concerns
State environmental officials on Tuesday warned of poor air quality downwind of the fire.
Residents should consider limiting prolonged outdoor activities in the area, particularly people with respiratory conditions, the elderly and young children, the North Dakota Department of Environmental Quality said.
Small particles of ash and soot known as particulate matter were increasing in the area around the North Unit on Tuesday morning, the department said. Particulate matter can irritate the respiratory system, especially in people with chronic obstructive pulmonary disease, asthma or allergies. People who have trouble breathing as a result of the smoky skies should seek medical help.
The department warned that the issue could worsen this week, as high winds are expected. The worst smoke impacts were concentrated in western North Dakota on Tuesday.
Dry conditions continue
All of North Dakota is in some form of drought, with extreme drought covering almost all of the west, according to the latest U.S. Drought Monitor map. That has elevated the wildfire danger.
No areas of North Dakota were in a red flag warning on Tuesday, though the National Weather Service said "near-critical" fire weather conditions existed in the south central and much of the southwestern parts of the state. The forecast continued to call for little chance of significant precipitation into the weekend.
A storm system is expected to drop a few inches of rain in the central Plains this week, but "Farther north in the Upper Midwest, the potential for severe thunderstorms is low," AccuWeather Meteorologist Adam Sadvary said. 
Wildfires have burned more than 30,000 acres in North Dakota already this spring, compared with fewer than 10,000 all of last year. Nearly all counties have implemented some form of outdoors burning restrictions. Most central North Dakota counties on Tuesday remained in the "high" fire danger category, but the risk in most western counties was lowered to "moderate." The risk was "very high" for some north central and southeastern counties, however.
Prolonged fight
Ross, who was a firefighter earlier in her Park Service career, expects it could be several days before crews start turning the tide on the blaze.
"And that's just for the perimeter. The interior of this box has some really heavily loaded buttes," she said. "We're going to be putting pockets of junipers out for possibly weeks and months."
Officials expect extreme fire weather conditions for at least another five days, and flames spreading to private property or into a coal seam are still concerns. Coal seam fires can smolder for months or even years, according to Ross.
But with no impacts to people, animals or buildings, "Right now, we have been successful," she said.
(Reporter Amy R. Sisk contributed to this story.)