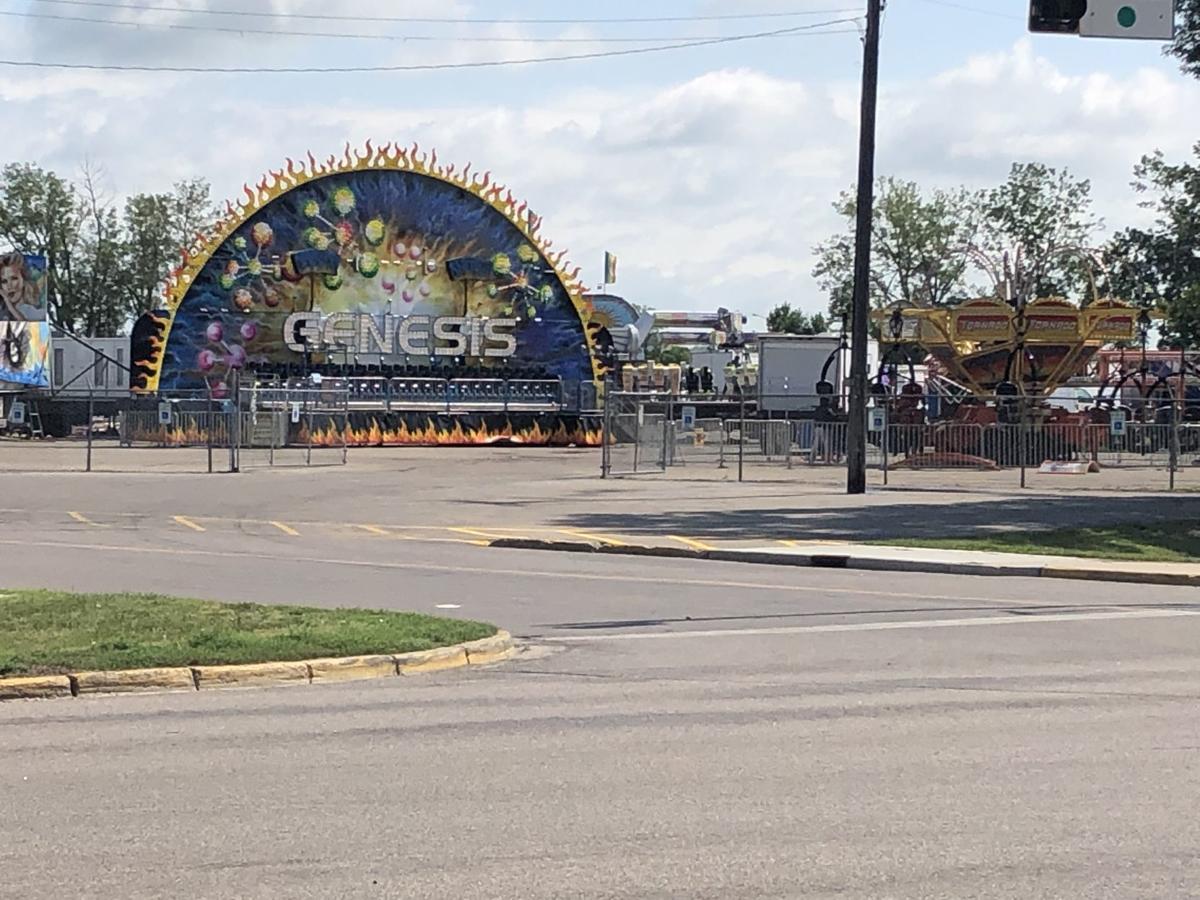 MINOT — The North Dakota State Fair will be kicking off its nine days of exhibits, music, rides, food, vendors and fun. The fair will start at 8 a.m. today, with the first ag event, FFA Tractor Driving Contest, in the All Seasons Arena. From there, the events will kick off with activities planned every hour.
Every day, the carnival section of the State Fair will open at noon and run until midnight. It will feature children's rides from bumper cars to the Giant Wheel to the Circus Train and more. More thrilling rides will include the Spin Out, Starship, Orbiter, Tornado and more.
Fairgoers can purchase individual tickets for each ride with every ride costing three to four tickets per ride, a daily unlimited Carnival Ride Wristbands form $35 or a Mega Ride Pass, allowing for unlimited carnival rides for all nine days, for $70.
Each day will feature a long list of agricultural exhibits from the many livestock showcases and events to the machinery row and other outside exhibits. A busy schedule of events are planned throughout the fair from the many animal shows to the NPRA Bull and Ranch to the Ranch Rodeo and more.
The state fair will be bringing back plenty of fair favorite food vendors too. From Flowering Onion to cheese curds to a variety of corn dogs and other deep fried treats, there will be plenty of options for all who attend.
Among those options will be 15 brand new items that will be a part of Food Frenzy, a competition that will give food vendors bragging rights if won. The competition will take place Friday and fairgoers are encouraged to try out the new items.
When fairgoers need a break, they can stop in at three different commercial buildings throughout the fairgrounds to shop from a variety of vendors. Each building will have different items for sale from candy to home items to art to jewelry and clothes and more.
Every night will feature a different show taking over the grandstand. Starting off the guest performers will be Rascal Flatts on Friday. From there, performers include Justin Moore with special guest Chase Rice, Midland, Ned Ledoux, Rick Springfield with Starship featuring Mickey Thomas and Greg Kihn, Tim McGraw with Mark Mackay and Weezer.
You have free articles remaining.
New things at the fair
A variety of new things are coming for fairgoers to enjoy. These new items include a new stop for kids called the Kid's Space, a special dedication ceremony from the United States Postal Service, a new traveling memorial, a new carnival with a new payment option and 15 new food items.
The Kid's Space will feature three different areas with activities for a range of ages. The space is an exploration center, according to NDSF Director of Development and Communication Stephanie Schoenrock, and will feature the Magic City Discovery Center, Full STEAM Ahead and the University of North Dakota NASA STEM ambassadors.
Each section will offer something different with one section focused on robotics offering quick, 20 minute sessions where children can learn about different topics and get a taste while not taking out an hour of fair time.
On Thursday, at 11 a.m., the United States Postal Service will be holding a Stamp Dedication Ceremony for their new State and County Fair Stamp. Schoenrock says ND State Fair is honored to be the one chosen for the ceremony.
A new traveling memorial will be at the fair this year too. Remembering the Fallen is a photographic memorial that will include both military and personal photos of those who lost their lives during wars. The memorial will be outside the State Fair Center from noon to 7 p.m. Wednesday through Saturday.
According to "North Dakota State Fair: 50 Years of History and Fun," the Murphy Brothers Exposition brought the many carnival thrills to Minot every year since 1967. This year a new carnival, Crabtree, will be taking over and will be bringing a new payment option along with it.
For those interested in not purchasing tickets or carrying around cash, money can be put on a "Magic Money" card. This new card will allow fairgoers to pay for rides, games and food within the carnival area.
The new option also comes with an app for those who want to transfer funds from somewhere else to a card.
The final new item coming to the state fair actually comes as 15 different items. Food vendors will be featuring brand new food items for this year's fair as a part of the starting day competition, Food Frenzy. Fairgoers are encouraged to try the new, never-before-sold at the fair items.