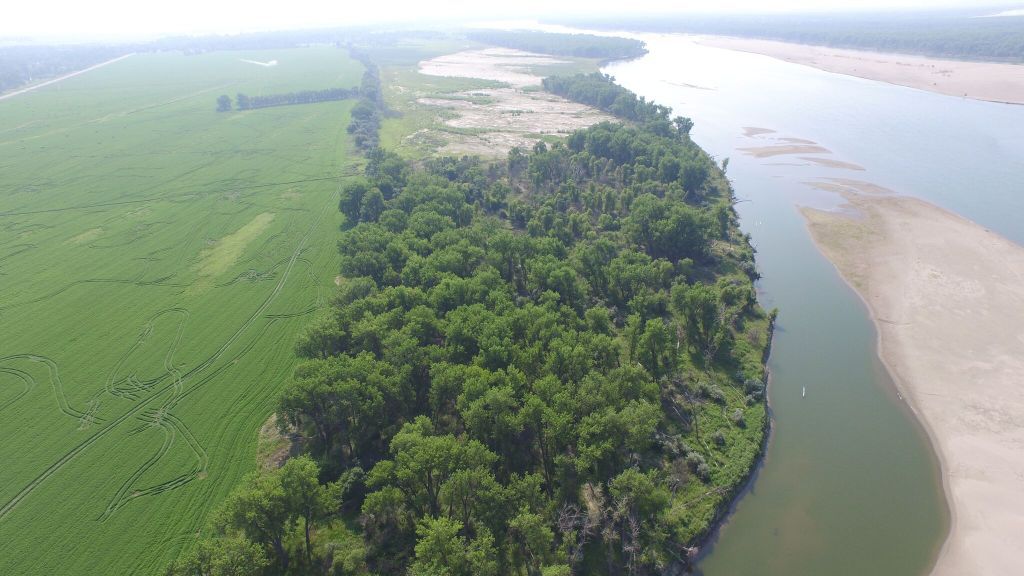 Plans to develop more than 200 acres of state-owned land along the Missouri River in Bismarck into a day park -- the first new state park in more than 25 years -- top the list of projects targeted for $11.75 million approved by state lawmakers last spring for state park enhancements.
North Dakota Parks and Recreation Department Director Mark Zimmerman was given discretion over how to spend the money. The project list includes the day park, additional campsites, upgrades to showers and restrooms and road and trail improvements at parks across the state.
The department will begin interviewing engineering and architectural firms for the day park within the next week or so, said Jesse Hanson, manager of the planning and natural resources division.
He said hiring a firm will trigger a more involved design process of surveying the park and holding public input meetings, likely starting in September.
The 213-acre swath of trees, open field, wetlands and sand dunes is owned by the state Department of Corrections and Rehabilitation. It lies south of the minimum-security Missouri River Correctional Center and west of the Bismarck Parks and Recreation District's General Sibley Park. Hanson said the two state agencies have a verbal agreement to deed the property to the parks department.
Because the property is in the floodplain, Zimmerman said the day park won't have any permanent structures but will provide hiking trails, river access for kayakers, canoers and shore fishermen and possibly a natural wading area with access to sandbars.
"We don't see this as a Bismarck-Mandan park. It's a state park. We've heard from folks … there is that interest in having access to the Missouri. It's a great recreational resource for the state," he said.
A farmer rents the DOCR-owned land between the proposed day park and the correctional center, and Zimmerman said he expects that land will continue to serve as a "buffer" between the two areas.
One challenge will be creating access to the site across DOCR property on the north side, Hanson said.
"We have to be sensitive to how they operate the correctional center," he said.
State lawmakers last spring approved $14.75 million in one-time funding for park enhancements, but $3 million of that was earmarked for the state's takeover of the Lewis and Clark Interpretative Center in Washburn from the Lewis and Clark Fort Mandan Foundation.
The $14.75 million was less than half of the $30.4 million that Gov. Jack Dalrymple proposed during last fall's campaign season as an alternative to a conservation fund ballot measure that voters ultimately defeated in November. Dalrymple's budget proposal called for $30 million for park investments, including $10 million for the Missouri River day park, though that was before crude oil prices plummeted and the state lowered its revenue projections and cut spending proposals.
Other state park projects include:
Fort Abraham Lincoln State Park and On-A-Slant Mandan Indian Village: Redoing roads, adding 10 campsites and upgrading a 1930s picnic shelter and the earth lodges at the sites near Mandan, a $1.5 million project.
Lake Sakakawea State Park: Building a "reunion lodge" to accommodate large families and other groups. Zimmerman said the $1 million project is modeled after similar lodges at South Dakota's Custer State Park. The department plans to spend another $1 million surveying and installing infrastructure at the Bay Point peninsula, with the possibility of seeking funding for campgrounds in 2017.
Grahams Island State Park: Expanding the bait shop at the park along Devils Lake to improve concessions and other services to accommodate the park's growing popularity. The new $1.2 million shop will incorporate the main park offices, now housed in a maintenance shop.
Fort Stevenson, Icelandic, Turtle River and Lake Metigoshe state parks: Replacing comfort stations at the parks. Three of the restroom-and-shower facilities don't meet Americans with Disabilities Act requirements, and the Icelandic State Park station is borderline compliant, "so it's pretty critical," Hanson said.
Fort Ransom State Park: Building a new visitors center at and possibly converting the existing center, a homestead house built in 1879 known as the Bjone Home, into a rental cabin.
Lake Metigoshe State Park: Repairing and upgrading electrical service at the historic dining hall.
Cross Ranch State Park: Adding electrical service to campsites at the park north of Bismarck to eliminate the need for gas generators, which have been a point of consternation for some campers seeking serenity and a primitive camping experience, Hanson said.
Cross Ranch was the last state park added in North Dakota, officially opening in 1989.
Zimmerman said the state park system, which is celebrating its 50th anniversary this year, is on pace for a record year for camping. Last year saw a record 68,480 camper nights in state parks, and this year's count was 46,584 through Aug. 2 – 491 camper nights ahead of the same point last year.