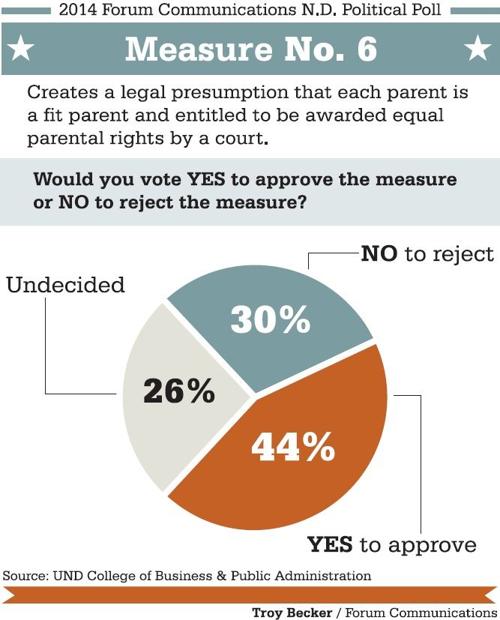 GRAND FORKS — North Dakota's Measure 6 may have support from a majority of potential voters, but a significant number are still undecided, according to a new poll.
Forty-four percent of respondents indicted they were in favor of the measure, which would create a legal presumption that each parent is fit and entitled to equal parental rights.
Another 30 percent responded they would be voting against the measure, according to a poll commissioned by Forum Communications Co. and conducted by the University of North Dakota College of Business Administration and Public Affairs.
The remaining 26 percent of respondents said they were undecided. The poll has a margin of error of plus or minus 5 percent.
Measure proponents say the changes to state law would allow more kids to have both parents in their lives after a divorce while opponents argue it puts parents' needs before those of their children.
Robert Wood, an associate political science professor at UND who helped conduct the poll, said the divide between supporter and opponents didn't fall where some may have expected.
"You would think there was going to be a split," he said. "You would think that, the way this has been portrayed by both sides, that fathers, or men, are perceived as feeling that they've been slighted in the current process."
To the contrary, the poll shows no gender divide over the measure with broad support across demographic groups.
Men and women are split nearly even on the issues with 43 percent of men and 45 percent of women responding they were in favor of the measure.
Another 31 percent of men and 29 percent of women planned to vote no on the measure. Data shows 26 percent of both genders responded as being undecided.
The trends also are consistent across age groups, location and political parties, according to Wood.
"There's not any real spike to indicate this particular demographic group is opposed to this or even particular demographic group is undecided," he said.
Breakouts of poll data indicate there is broad support for the measure among most groups.
Splitting up the state, respondents in the eastern half were 45 percent for the measure, 31 percent against and 24 percent undecided. In the west, 43 percent supported the measure, 28 percent were against it and 30 percent were undecided.
Going by age, those 18 to 30 were the most decided of the four groups polled with only 9 percent unsure of how they would vote. They also were the only age group not favoring the measure with 46 percent saying they'd vote against it.
In the 31- to 45-year-old range, 47 percent said they would vote for the measure compared to 46 percent of 46 to 65 year olds and 37 percent of those 65 and older. The 65 and older group was the most undecided age bracket at 37 percent.
The most strongly opposed demographic was those with less than a high school diploma at 57 percent with another 28 percent saying they were undecided. Generally, those with at least an associate's degree or above favored the measure, but respondents with bachelor's degrees were split on the issue with 38 percent for and 37 percent against.
Respondents across the political spectrum supported the measure, except those identifying as Libertarian, who were split 39 percent in favor and 40 percent against. The measure saw the strongest support from independents at 54 percent.
Favoring the measure were 40 percent of Republicans and 45 percent of Democrats. Those who were considered politically undecided favored it at 36 percent.
The proposal seems to have a lower profile when compared to other measures, according to Wood.
"I haven't seen a lot of mobilized opposition," he said. "Supporters will go to the polls based on this one issue. But opponents, there doesn't appear to be the same organized opposition to Measure 6 that there has been to Measure 1 or Measure 5."
North Dakota Shared Parenting for Kids Initiative, the committee headed by measure proponents, recently began running TV ads sponsored by national organizations and touting endorsements from celebrities such as Kiefer Sutherland of TV show "24" fame.
So far, the committee has raised $4,200, according to campaign contribution reports from the secretary of state office.
Keeping Kids First, a committee organized in opposition of the measure, received $60,000 in campaign contributions from the State Bar Association of North Dakota in late September, according to campaign contribution reports. The group has paid $53,000 to Prairie Airwaves in Fargo, the reports said.
With three weeks left until the election, Wood said the Keeping Kids First and other opponents may be cutting it close if they hope to sway some of the undecided voters.
"At this stage … proponents aren't going to be persuadable," he said. "But you've got 26 percent that are undecided … they need to persuade that 26 percent.
The poll indicates history may not repeat itself. A similar measure was brought to voters in 2006. The measure, which sought similar equal rights for parents, was defeated with 56 percent of voters choosing no.