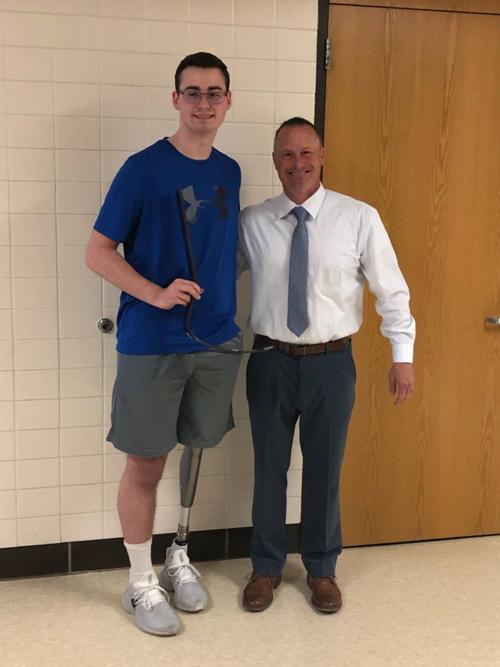 In early 2018, Wahpeton student Jacob Petermann lost his leg to cancer.
At the same time, then-Heart River basketball coach Greg Pruitt announced the founding of the Little Buddy Foundation, which aims to help local amputees purchase a prosthesis. Prompted by the sheer timing of it all, Pruitt selected Petermann as the first recipient of his foundation.
Petermann uses a prosthetic leg that allows him to perform basic functions such as walking and standing, but the Little Buddy Foundation purchased the Cheetah Xplore prosthetic foot for the basketball player.
The Cheetah Xplore is a prosthetic foot designed for everyday use, and it also "allows the user to engage in various sports and activities," according to Össur, the company that created the foot.
On Wednesday, in front of the student body at Wahpeton High School, Pruitt presented Petermann with the foot, which will allow him to get back on the basketball court and the track.
Pruitt said giving Petermann the prosthesis was a great ending to what he hopes is just the first chapter of a big book.
"That's our goal with the Little Buddy Foundation, is to help a child every year and maybe grow that into helping two children a year," Pruitt said. "Going into it, it was a lot harder than what I expected, but at the end, just to give Jacob the Cheetah foot, and to do it in front of his school and the student body, was just a special moment for Jacob. I'm excited to see what he can do with the Cheetah foot and we're excited to help the next child."
After selecting the Wahpeton athlete, Pruitt has done everything he can to make the recovery process better for Petermann. In December 2018, Pruitt was able to get in touch with Dallas Cowboys rookie linebacker Leighton Vander Esch and Seattle Seahawks rookie linebacker Shaquem Griffin, who lost his hand at age 4 after being born with amniotic band syndrome.
Griffin sent Petermann a motivational video, while Vander Esch sent him a signed football.
Through all the communication, Pruitt didn't meet Petermann until the day he gave him the Cheetah Xplore foot.
"The first thing I thought was, 'Boy, this is a tall boy' when he walked over to me," Pruitt said. "Just his smile and the way he carried himself, I could tell he was just a class-act kid. All that Jacob went through, and still to carry a smile, it was exciting for me. He's just a good, all-around kid."
Pruitt named the Little Buddy Foundation in honor of his late mentor, Northern State basketball coach Don Meyer. Meyer had his leg amputated as well, and called his prosthesis his 'little buddy.'
Pruitt, who is now the Glen Ullin-Hebron boys basketball head coach, pledges his coaching salary to the foundation each year. He also fundraises through basketball camps.